When I was a newspaper reporter, we would say this when assigned a story that we knew was a nothingburger: News is whatever the Editor-in-Chief sees on his drive into work.
Today is different. We have lots of data and a slew of audience listening tools to see exactly what content our buyers and prospects are consuming and sharing. The capabilities of these tools build on social listening and add live context to traditional buyer profiles and personas. Using them can help marketing teams get ahead of emerging trends, identify influencers and partners, and define high-engagement topics and channels.
Buzzsumo is an audience listening tool focused on what's trending. It has the typical insights into social channel engagement, which is helpful to identify influencers, topics and channels that resonate with your audience, as well as to see how your own and your competitors' content is performing.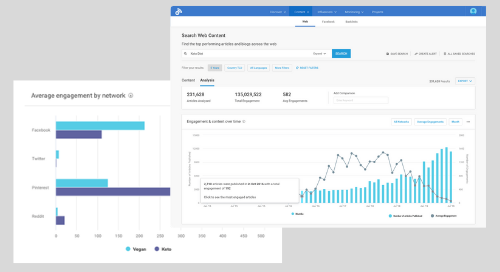 But Buzzsumo also integrates news articles and lets users receive news digests and news alerts based on topics they want to follow. Leia Reid, a data journalist with Brandwatch (another audience listening tool), writes about how she uses Buzzsumo to pick up on and learn more about trends brewing in the sub-groups and brands she follows. When a Buzzsumo custom feed alerted her to problems gamers were having with Cyberpunk 2077, she was able to marry information from the article with insights from Brandwatch consumer research and create newsworthy content.
Using audience insights to spot brewing trends enables newsjacking like this so you can get in on buyer conversations early when their circumstances are changing.
Identify Influencers & Partners
The audience listening tools I've used pull and present aggregated, anonymous data, but the data is linked to websites, social profiles and other content created and posted by people and brands. Filtering lets you drill down into this content data to see whom your target audience is engaging with the most.
For example, I used SparkToro, and filtered their database of tens of millions of social and web profiles by "My audience frequently talks about audience listening tools." I found that the most common social sites this group engages with are HubSpot (18%), Jeff Bullas (16%) and Buffer (15%). Also listed are three "hidden gems" (people/groups with smaller overall reach but higher audience engagement): Mandy Edwards, Feldancreative and Ann Handley. I can go a layer deeper, for example looking at words frequently used in the bios of the people who follow Jeff Bullas, as well as websites frequently visited by Jeff Bullas followers.
Clearly, all of this is great insight when identifying influencers and brand partners that will resonate with your target audience.
Define High-Engagement Topics
The data categories and sorts are fairly basic on the tools I've used, but it's easy to identify what your audience is talking about and where they're doing their talking. I like to look at the podcasts, YouTube channels and news accounts people engage with for content ideas and learn more about their challenges, influences and interests.
You can also see niche channels that are not well known but are rich with information about specific industries and roles. For example, I worked on a project about three years ago that involved creating content for data scientists. I was introduced to KDnuggets, a website and newsletter that has been around since the late 1990s. It's not a "brand" in the traditional sense but an authentic digital community that grew around the sharing of information about data science. KDnuggets helped me learn a lot about data science and scientists in a short time.
I wasn't surprised, then, that when I used SparkToro to ask what social accounts data scientists engaged with, KDnuggets was in the top three.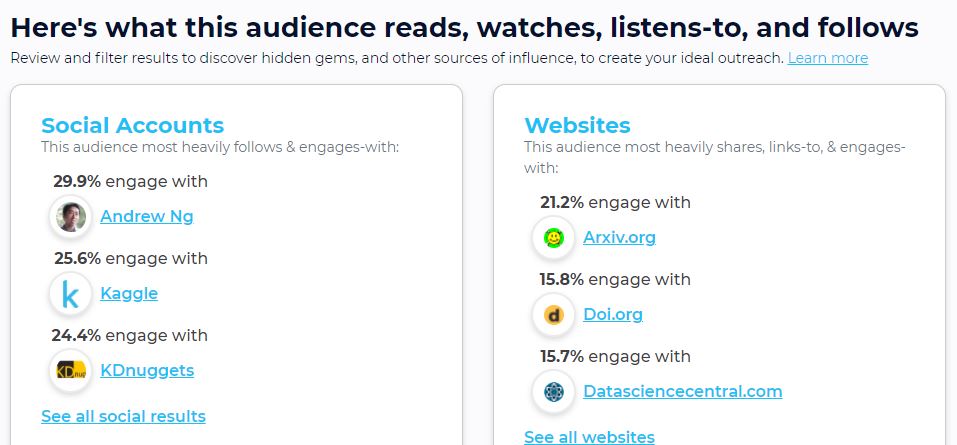 Use Listening Tools to Really Listen
Although audience listening is a data-driven exercise that returns results down to the tenth of a percentage, it's not really about numbers. It's about people, and people are constantly changing. Using these tools to tap into that stream of change will help you stay aligned with the needs of your buyers and prospects as you plan and create content.
Experiment with different tools, sources and sorts to find one that feels comfortable and provides the key information you need about your audience.
To learn more about connecting with your target audience, read Persona Research: Support Buyer-Focused Content with New Insights.

As Vice President of Content Strategy & Services for Content4Demand, Tonya Vinas oversees the agency's team of content strategists and works across content-creation and delivery functions to ensure on-point, quality content services. She has more than 20 years of experience in B2B content development and formerly worked as a business and news journalist. When she's not driving marketers to push the content limits, she's cooking, reading about global trends and the economy or taking a leisurely walk in the valley parks along Lake Erie.