With over 90% of B2B marketers now leveraging content marketing, there is a lot of information out there, but much of it gets passed by without a thought. Not because it wasn't ranked on Google or didn't shoot out of every social cannon possible, but because it failed to hook its audience.
Similar to Hollywood movies, content must speak to your audience in a way that evokes emotion, grabs them, and doesn't let them go. Or else you lose.
As many of you know, last week was #C2C15 and it was there that this story began. Among the many influencers that spoke, was Laura Ramos of Forrester Research. Ramos built her presentation around storytelling and assured us that if we weren't already creating customer focused narratives in our B2B content, it was time.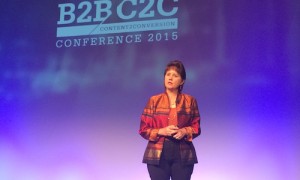 "To add a human touch, B2B marketers should approach their content development plans with the objective to connect with their buyers as people, not as companies or statistics. People are wired physically and emotionally to remember stories and share them with others…

So the content you develop should:"
Follow time-tested story structures
Develop empathy
Focus on character development, not developing personas
This was just our hook…our friends at Demand Gen Report have each of these points broken down, thanks to Ramos, and can be found here.
Tonya Vinas, Senior Content Strategist, here with Content4Demand, mentioned storytelling as part of her C4D workshop presentation on creating buyer-focused ideation. Vinas said beyond using basic storytelling techniques, content writers and artists need to be sure they are using the right tone, language and visual motifs for their target audience and make sure the content storyline maps back to where the target is in the buying journey. These are all "hooks" that help to draw in the target.
Now, young apprentice, you are on your own, the story is in your hands. Just remember, align to your buyers and bring that sought after contextual content up front and you'll do just fine – buyer-centric content is your hook.