Is your business increasingly demanding to see tangible, bottom-line results from your marketing efforts? If so, you're not alone. Let's dive into 2020 Demand Generation Benchmark Study: Quality Over Quantity Takes Center Stage for Demand Marketers and review its highlights.
Two Major Priorities Top Marketers' Lists
Demand marketers are being asked to measure success based on lead conversion rates and contribution to revenue. That means that their priorities are moving away from simply generating leads to getting quality leads that convert into sales opportunities.
So how are the savvy marketers attracting those quality leads? The top strategy in terms of budget prioritization is account-based marketing (ABM). ABM is maturing with intent and signal data and better alignment with sales to identify leads that are truly interested in evaluating and purchasing solutions.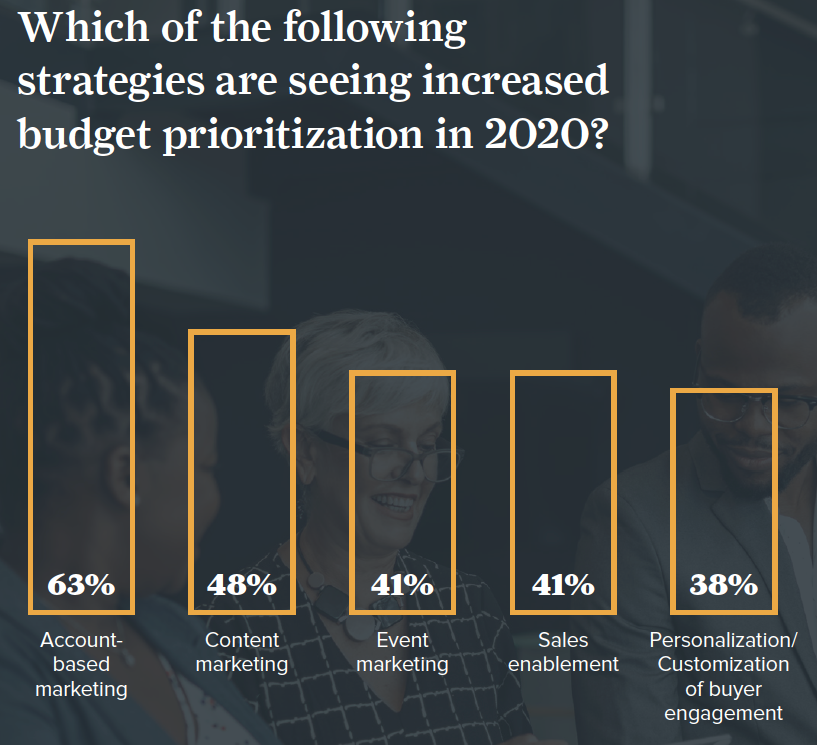 A/B Testing Plays a Role in Marketing Success
Interestingly, when asked how they are tackling the quality-versus-quantity challenge, 45% of respondents mention A/B testing of messaging. What better way to find out if your messaging is working than to start testing different messages with your target audiences?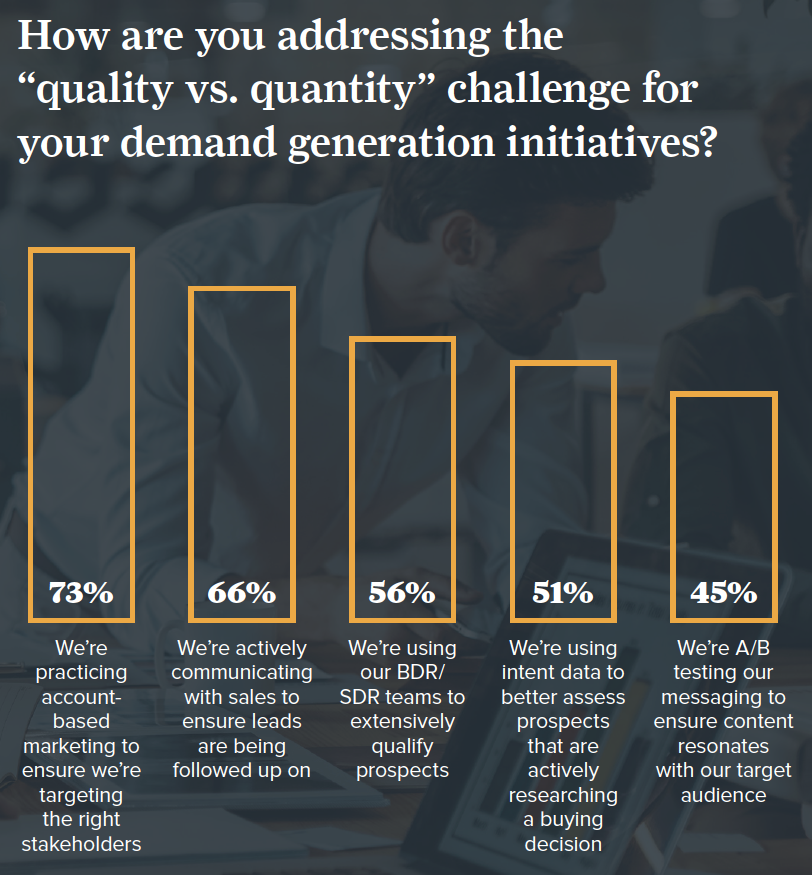 This is an excellent strategy that all content marketers should be using — and using more often. With today's marketing automation platforms, it's easy to send half  your audience one message and half another and then measure the results. But be careful that you don't confound your variables. Always make sure you're testing one variable at a time.
It seems obvious, but it's often ignored. If you send two entirely different emails, for instance, and one performs better than the other, you won't know which variable made the difference (or more than one). Was it a catchy subject line? Was it an inside headline? A better CTA?
More compelling body copy? When you test one variable at a time, you will gain deeper insights into how to move the needle more the next time, and you can make adjustments incrementally.
Revenue-Related Metrics Gain Prominence
The message is loud and clear: You need to show your marketing is adding to revenue.
If you're like many of the marketers in the study, you're aligning your marketing efforts with sales to shift from lead gen to pipeline conversion. In the study, the top two metrics performance metrics were opportunities generated and revenue generated (49% for both).
Further, 27% of respondents said they were tracked against specific revenue quotas.
The good news is that marketing's efforts are showing up in revenue. The survey reported that 30% of respondents said they are driving 11% to 25% of revenue, and 21% said marketing-sourced leads represented a whopping 26% to 50% of revenue.
Match Your Efforts to the Funnel
What's working and when for successful demand marketers? At the top of the funnel, the DGR study found that email came in first at 56%, websites at 51%, and in-person events at 44%.
Further down the funnel, the most successful tactics for converting and accelerating qualified leads were lead nurture campaigns (56%), case studies (53%), webinars (49%, field events (46%), and industry events (39%).
Gain Insights Into Your Bottom Line
Businesses are moving away from piling up as many leads as possible when they don't turn into sales opportunities.
Modern B2B marketers are relying heavily on strategies, tactics and channels that will lead to better pipeline performance in 2020. Their priorities signal a shift from generating as many leads as possible to reaching the right quality prospects through ABM, lead nurturing and qualification.
If you want to see how you match up against these B2B marketers, read the entire benchmark survey report.