The 2020 B2B Marketing Exchange (#B2BMX), taking place Feb. 24-26 in Scottsdale, AZ, will feature an expanded lineup of workshops as part of a packed agenda with more than 100 sessions over three days. The program will be divided into six tracks: content marketing, demand generation, digital strategy, ABM, channel marketing and sales enablement.

Since its launch in 2012, #B2BMX has become a staple event for B2B Marketers. In 2019, more than 1,300 sales and marketing professionals attended. The conference saw 29% YOY growth and a 4.5- out of 5-star attendee rating. The organizers (parent of Demand Gen Report) expect a similar outcome of attendees at this year's event.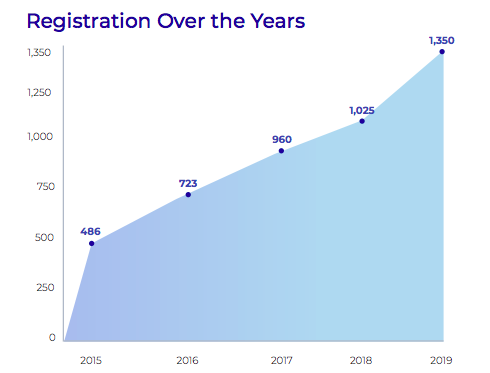 "This is our strongest roster of workshops to date, with 11 sessions covering a variety of B2B topics on the minds of today's modern marketers," said Andrew Gaffney, Editorial Director of Demand Gen Report, host of B2BMX.
As part of the workshop program, David Lewis, CEO, DemandGen International, will lead a Demand Generation Masterclass & Certification session. This meeting plans to focus on frameworks and demand generation principles.
"DemandGen has been involved with the event since the very first one in NYC, where I taught Neuromarketing techniques for content marketers that was very well received," said Lewis. "Last year, I was invited to do the keynote and focused on the importance of providing a frictionless customer experience.
"I'm particularly excited to deliver a custom workshop that I've put together for B2BMX attendees this year," said Lewis. "I'm taking a departure from delivering an inspirational keynote to provide a course that teaches the essential skills needed for high-performance marketing.  The course is titled: "The Demand Generation Master Class," and I will teach key frameworks and demand generation principles that every B2B digital marketer needs in their tool chest. The course spans ABM, lead management, sales enablement, measurement, data and some related martech essentials. But it doesn't end at B2BMX, as I'll be reinforcing the learnings by providing copies of my book and toolsets to my workshop attendees."
Digital transformation is the topic of another workshop being conducted by The Pedowitz Group. "In our session, we'll cover everything leaders need to think about to do a digital transformation the right way, including the hard and soft skills for success," said Jeff Pedowitz, President and CEO, The Pedowitz Group.
As a long-time B2BMX participant, Pedowitz will also be moderating a CMO panel.
"B2BMX has always been one of our favorite shows to attend," Pedowitz said. "The content is excellent and the attendees are some of the best B2B marketers. Over the years, we have seen the event shift focus from demand generation basic components to omnichannel to marketing operations to digital transformation and the customer experience."
Kelvin Gee, Sr. Director, Integrated Marketing, Oracle, praised the conference's expanded focus since its inception in 2012. "It used to be a great conference for just content marketing when it was known as Content2Conversion. It has since gotten better when it broadened to B2B marketing."
Gee also noted that the size and quality of the conference make it ideal for networking and learning. "I look forward to the conference each year because of its 'Goldilocks' size. It's not too big and not too small. They've also done a great job attracting great keynote speakers over the years."
Bringing B2B Marketing to Life
One of the strengths of B2BMX, according to attendees, has been the opportunities to hear real-life examples of B2B marketing success and interact with fellow practitioners.
The upcoming conference will see more than 30 case studies to help attendees experience first-hand how B2B marketing impacts all types of businesses. "Attendees have told us they really like the how-to aspect of our program, and we listened to their feedback," Gaffney said. "We've brought in marketers from a wide variety of verticals, including financial services, healthcare and technology, to tell their stories."
The case studies will also cover a wide range of today's most talked-about B2B technologies and strategies, with companies outlining their success with ABM, integrated content and leveraging data to boost engagement, among other topics.
There will also be a host of opportunities for attendees to connect with other marketers and industry leaders to swap stories and discuss trends, including:
CMO Mentors, a networking opportunity that offers up-and-coming marketing managers and directors an opportunity for one-on-one conversations with established marketing mentors. Topics of discussion include the skills needed for advancement and working in challenging environments;
B2B Labs, which will provide hands-on guidance from industry leaders on the latest applications of intent data, interactive content, ABM and more; and
The B2BMXpert Bar enables attendees to pose their questions to a panel of experts, including Howard Sewell of Spear Marketing Group and Pam Didner of Relentless Pursuit. These hand-picked marketing pros will address specific marketing challenges.
This year's agenda also includes a richer menu of Lunch and Learn sessions, according to Gaffney, enabling attendees to dive deep into a particular issue as they refuel for a busy afternoon. Lunch topics include sales-ready leads, intent data, lead attribution, event marketing and digital content creation.
Capturing Creativity
While B2B marketers often focus on data and tools, they're also eager to learn about the creative side of the business, which will also be highlighted at this year's event.
"We listened to feedback from past attendees, and they told us that they wanted more sessions and discussions around the creative aspect of the business," Gaffney noted.
In response, Tuesday's keynote speaker, Todd Henry, Author of "Herding Tigers" and "The Accidental Creative," will share practical tactics to help marketers and their teams bring their best creative ideas to the table every day. In his session, "Tackling B2B's Creativity Problem: How To Find Moments Of Brilliance In Everyday Chaos," Henry will discuss the three types of work that creative professionals engage in, and the one that they ignore at their peril.
The focus on content development will also be evident in the "Visual Storytelling With PowerPoint" workshop on Monday, led by Oracle's Gee. "The workshop gives marketers an easy-to-learn framework on how to tell stories and make their presentations more memorable and impactful. Attendees walk away with practical tips and techniques they can incorporate right away. This is the third year I've been teaching this workshop because it has been so well received."
Other noteworthy sessions throughout the three-day event include:
Feb. 25, 10:45-11:15 a.m., "ABM And Demand Generation: Taking A Blended Approach." Robert Peterson, SiriusDecisions, will outline the distinctions between ABM and traditional demand creation and how ABM and demand creation co-exist as complementary strategies for B2B marketers.
Feb. 26, 8:40-9:10 a.m., "How AI Is Already Impacting Every Stage Of Buyer Engagement." AI has begun impacting our lives in more ways than you may realize. In this session, Author and Advisor Pam Didner will explore some AI myths and share insights to help identify potential AI initiatives that can impact each of the specific stages of buyer engagement.
Feb. 26, 9:10-9:55 a.m., "From Content Producers To Media Brands: How B2B Companies Are Redefining The Way They Create And Amplify Content." During this panel, content and media experts will discuss this new shift and offer best practices that will help B2B marketers and content strategists rethink their approaches.
Meet Me at the Marketplace
Attendees will be able to interact with solution providers throughout the three-day conference. While many conferences offer an opportunity to interact with vendors, B2BMX takes an integrated approach to showcase applications, according to Gaffney.
"Today's B2B applications are not siloed, and the Marketplace highlights how integrated tools add value for marketers," Gaffney said.
He also noted that the exhibit floor will showcase some of the hottest areas in B2B technology, including performance marketing, chat, lifecycle marketing, product utilization and ABM.
Tickets for the 2020 B2B Marketing Exchange — Feb. 24-16, 2020 — are still available. Join 1,300 of your peers in Scottsdale, Ariz. for three action-packed days of networking and content. Get more information and see the full agenda here.

This article was written by Kim Zimmerman and republished with permission from Demand Gen Report.