I can't imagine any business saying it's not customer-centric, but the truth is that most aren't there yet. Mission statements, branding and personas might indicate a focus on customers, but the real test is the metrics that organizations use to measure performance: Do they reflect what internal stakeholders' value most or what customers (aka buyers) value most?
Plenty of research and case studies have shown that a customer focus and outside-in business model—rather than inside-out—lead to efficient growth and market leadership.
A commonly cited example is Toyota Motor Corp., which upset the dominant U.S. auto industry in the 1980s by introducing design and production principles that prioritized the buyer's desire for reliability and quality over snazzy features. By obsessively measuring and improving vehicle quality, Toyota eventually grew to lead U.S. per-unit sales and is now is the second-largest producer in the world, behind Volkswagen.
And here's the most amazing part of Toyota's story: The company did it in a pre-Internet world with a comparative dearth of customer data. Fast forward to today, and despite having access to more than enough customer data, many companies still use mostly organizational metrics to guide and measure marketing and sales performance—and this is holding them back.
Forrester|SiriusDecisions principal analysts Ross Graber and Anthony McPartlin presented new research on this at Summit 2020 this year in their keynote presentation, "In the Age of the Customer, Why Is B2B Measurement All About Us?"
Mismatched Metrics in the CX Era
Through their experience and research, the analysts have concluded that despite a larger movement toward customer centricity, many B2B companies have not successfully evolved how they measure their go-to-market functions. They are still hyper-focused on the revenue engine, measuring things such as revenue, bookings, win rate, opportunities and pipeline, deal size, and activity and engagement. However, customers value other things, such as productivity, learning opportunities, cost savings, utilization rates and ease of doing businesses.
Graber and McPartlin's research revealed that 70% of metrics B2B leaders use in their dashboards reflect organizational value, and 30% reflect customer value. That means sales and marketing functions are incentivized to focus 70% of their efforts creating internal value rather than value for prospects and customers. This is incongruous from where other parts of the enterprise are headed: prioritizing CX.
A secondary missed connection is that internally focused performance metrics tend to ignore what happens after prospects become customers, despite the fact that it's more profitable to grow revenues with existing customers vs. landing new customers.
The problem is that internally focused systems of measurement don't provide sufficient insight on how organizations generate value for buyers and customers, and this weighs down growth potential. Forrester research shows that more than half (54%) of B2B companies characterized as "fully customer obsessed" achieve growth rates of more than 10%. Companies with less of a customer focus don't do as well.
"

The takeaway is that businesses that make customer obsession part of what they do are more likely to grow not only when times are good, but also when times are tough," Graber said.
Why is that?
"Buyers don't care about our operational mechanics, unfortunately," McPartlin said. "They've got their own need for efficiency and effectiveness. During the buying process, they're looking for providers whose products not only meet their requirements, but for engagements that add value, that help them learn and think through problems. They're looking for providers who they can visualize working with and who exude credibility and partnership."
Giving buyers what they need during the buying process advances them faster and more efficiently to the next stage in the process, so it's worth measuring and continuing to refine these capabilities.
Of course, organizational metrics are important and shouldn't go away. Rather, Graber and McPartlin recommend using a balanced measure model to assess marketing and sales performance.
A More Balanced Approach
Graber and McPartlin presented the SiriusDecisions Value Balance Model to help B2B companies incorporate more customer value and customer lifecycle metrics.
Large B2B organizations spend roughly 25% of revenues on sales and marketing, and those efforts tend to be focused on "more," Graber said: more leads, more engagements, more meetings, etc. But buyers still say they aren't getting what they need during the buying process, while sellers are continuing to mistake having done more with success. Flipping the script to include how satisfied buyers are during the buying process is the solution.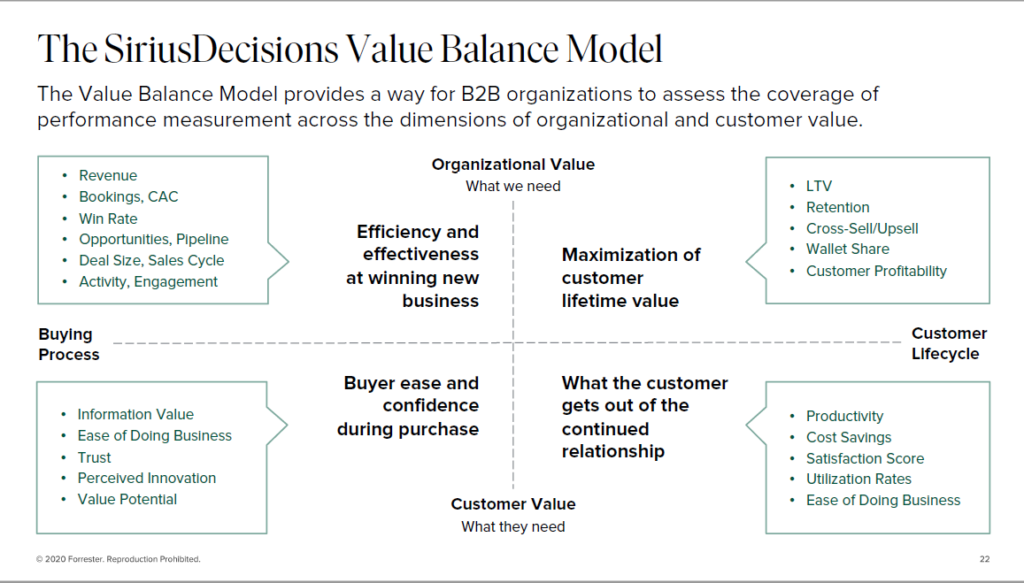 The right metrics and skills exist at large B2B organizations for existing customers, but they don't reach backward into the buying process. It's more of a blind spot than a lack of insight, but this can change with better alignment.
"This is where functions like CX need to become far more tightly aligned with revenue ops," McPartlin said. "They have the expertise when it comes to attitudinal surveys, running voice-of-the-customer programs and customer advocacy. It's a really complementary set of skills and experience, and when we bring these together, it allows us to close this gap in customer understanding while enabling a broader sales and marketing perspective."
One win-win outcome of better CX/revenue operations alignment is that the organization will start to better understand the transition from marketing/selling to prospects to marketing/selling to customers.
The team concluded their keynote address with these suggestions on how to get started:
Identify available customer value and lifecycle metrics and elevate into leadership to incorporate on their regular review cadence.
Identify and aggregate indicators of customers' health into a trackable score.
Conduct buyer interviews so you can identify and refine dimensions of buyer value.
Turn dimensions of buyer value into numeric scores for tracking over time.


I've been reflecting a lot on this presentation and am even looking at my daily performance in a new light. How focused are each of us on customer value vs. internal value? That might be more difficult to assess, but the above action items are a great place to start to look at sales and marketing performance from a more balanced perspective.

As Vice President of Content Strategy & Services for Content4Demand, Tonya Vinas oversees the agency's team of content strategists and works across content-creation and delivery functions to ensure on-point, quality content services. She has more than 20 years of experience in B2B content development and formerly worked as a business and news journalist. When she's not driving marketers to push the content limits, she's cooking, reading about global trends and the economy or taking a leisurely walk in the valley parks along Lake Erie.