You've likely seen research that shows the connection between pointless (or poorly planned) meetings and plummeting productivity. Sure, as a modern marketing professional, meetings are part of the job — for better or for worse. It's a status quo that feels impossible to steer from.
We need meetings to brainstorm concepts, align on strategy and regroup on performance. But we simply can't ignore the sheer volume of meetings peppering our calendars and, ultimately, the amount of time they take from our already-hectic schedules.  
 
In U.S. workplaces alone, 11 million meetings are held every day, with the average employee attending about 62 meetings per month. Consider the fact that most of these meetings are 30 minutes long, and that equates to more than 1,800 minutes. That's 30 hours we could spend on heads-down creative work, learning a new skill or tackling that pesky task we've been blowing off for weeks.  
 
And now, as more organizations go all in on their work-from-home policies to adapt to new realities of COVID-19, a flood of virtual check-ins, roundtables and meetings are likely going to be clogging our calendars even further.  
 
This certainly isn't the time to shout "BAN ALL MEETINGS" from the rooftops, but it heightens the urgency for us to rethink the way we schedule and plan meetings so we get the most value from our time together — even if it's through a screen.  
 
This is something that creativity expert and author Todd Henry firmly believes in. During a recent chat, he shared with me that in a world of managers and makers, managers now have more power to set this precedent.  
 
"As managers, we have to understand that every meeting we call has to be precise, it has to have a specific desired outcome and it has to be as long as it needs to be to accomplish that outcome," he said. "And only the people that have to be in the room to add value should be in the meeting."  
 
Todd shared some tactics to shake things up, including testing 17-minute, "bare bone" meetings that are structured to solely address a predetermined list of questions or action items. The idea inspired me … but it also sort of scared me. What if we don't cover everything we need to? What if the shorter meeting sparks the need for a series of follow-up meetings when we could've just had one meeting to begin with?  
 
My mental spiral confirmed how programmed we are to default to 30- to 60-minute long meetings. I know I personally tend to do this so I have some extra buffer time, especially if key stakeholders are involved. However, Todd's advice encouraged me to think more critically about when to schedule these longer meetings — and if I did, to always set an agenda with action items and a key goal to accomplish by the end of the discussion.  
 
Then I came across a blog from Shane Snow, journalist, Contently co-founder and now founder of Snow Academy, an "innovation school" designed to provide continuing education for business professionals. Snow's best practices align with Todd's, noting that successful meetings always include a clear objective and should only have the right parties in the room.  
 
Then, Snow shared a game changer: a flowchart that outlines three main objectives, supporting goals and the best meetings that align to these parameters. Some follow-up questions are also included, so you can ensure you're getting the most value out of people's time and aren't annoying them with unnecessary meetings. Like the meme says, there are some meetings that can, in fact, just be an email or chat message.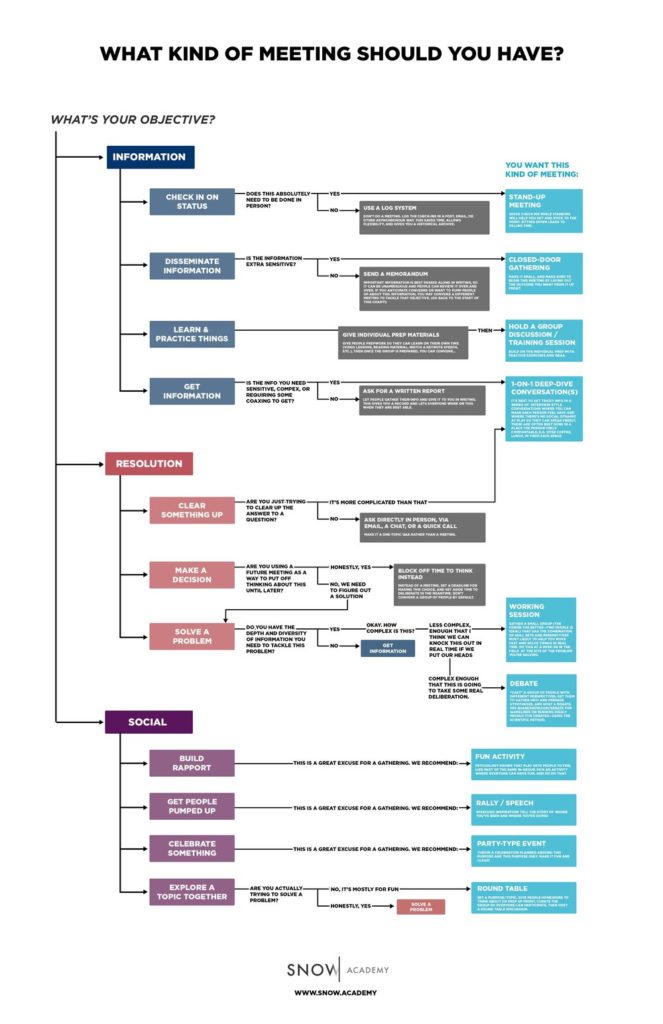 My first thought: Who doesn't love a good flowchart? It truly is the most high–impact, yet severely overlooked, content format in the B2B world. My not-so-inner content nerd squealed at how engaging and easy it was to navigate.
My second thought: I never grasped how many distinct meeting structures there were and how these structures impacted our ability to reach specific goals. Making this connection allows us to think more holistically about why, when and where we schedule meetings, as well as how. The how, I realized, has a significant domino effect on a meeting's success, impacting:  
Attendance:

You can't make sure the right people join the meeting without being transparent about structure

and action items.

 


 
Clarity:

Once you decide on a meeting format, structure and objectives, provide these details in your meeting invite. This will

create clarity around responsibilities and expectations for everyone.

Because let's face it, who looks at a vague meeting invite and says, "I know EXACTLY what I'm getting into"?

 


 

Engagement:

Different meeting formats like games or ice breakers minimize multi-tasking

or senseless social media scrolling. (Don't glare at me, we've all done it.)

 


 

Participation:

Asking all participants to come to the meeting with an idea or suggestion

ensures

more voices

are

heard, which leads to a more robust and valuable conversation.

 

 
As a creative professional, I truly believe there's nothing more gratifying than a productive meeting. Hearing new viewpoints, collaborating with my peers and uncovering new ideas together is what makes my work so rewarding. My love for good meetings is what has inspired me to cut out the bad and downright ugly. This flowchart definitely inspired me, and I hope it does the same for you, too.