B2B marketers face so many challenges. You don't need to add to yours by creating content that puts your buyers to sleep, if they even decide to look at it. As Lee Odden, co-founder and CEO of TopRank Marketing, said it, "B2B doesn't need to mean boring-to-boring." In "Break Free of Boring B2B With Interactive Influencer Content" at the B2B Marketing Exchange this week, Lee crammed a short course on delivering effective interactive influencer content into one definitely not-boring session.
Two major trends are at work that make interactive plus influencers so powerful? First, as we've been hearing for some time, our business buyers are bringing their consumer buying experiences to the workplace. They now have high expectations to be engaged and entertained by the content they encounter. And that means that interactive works. What kind of interactive? According to a Content Marketing Institute and ion Interactive survey, the top five interactive content formats are:
Contests
Games
Quizzes
Interactive infographics
Assessments
While business people today expect more, they trust less. That's the second major trend. And, surprisingly, more than half (55%) don't trust information that comes from the businesses from which they buy. A chart Lee presented shows marketers somewhere way below baristas in trustworthiness. Who do they trust? According to the 2018 Content Preferences Survey Report from Demand Gen Report, 76% of B2B buyers place a higher emphasis on the trustworthiness of the source, and 65% prefer credible content from industry influencers.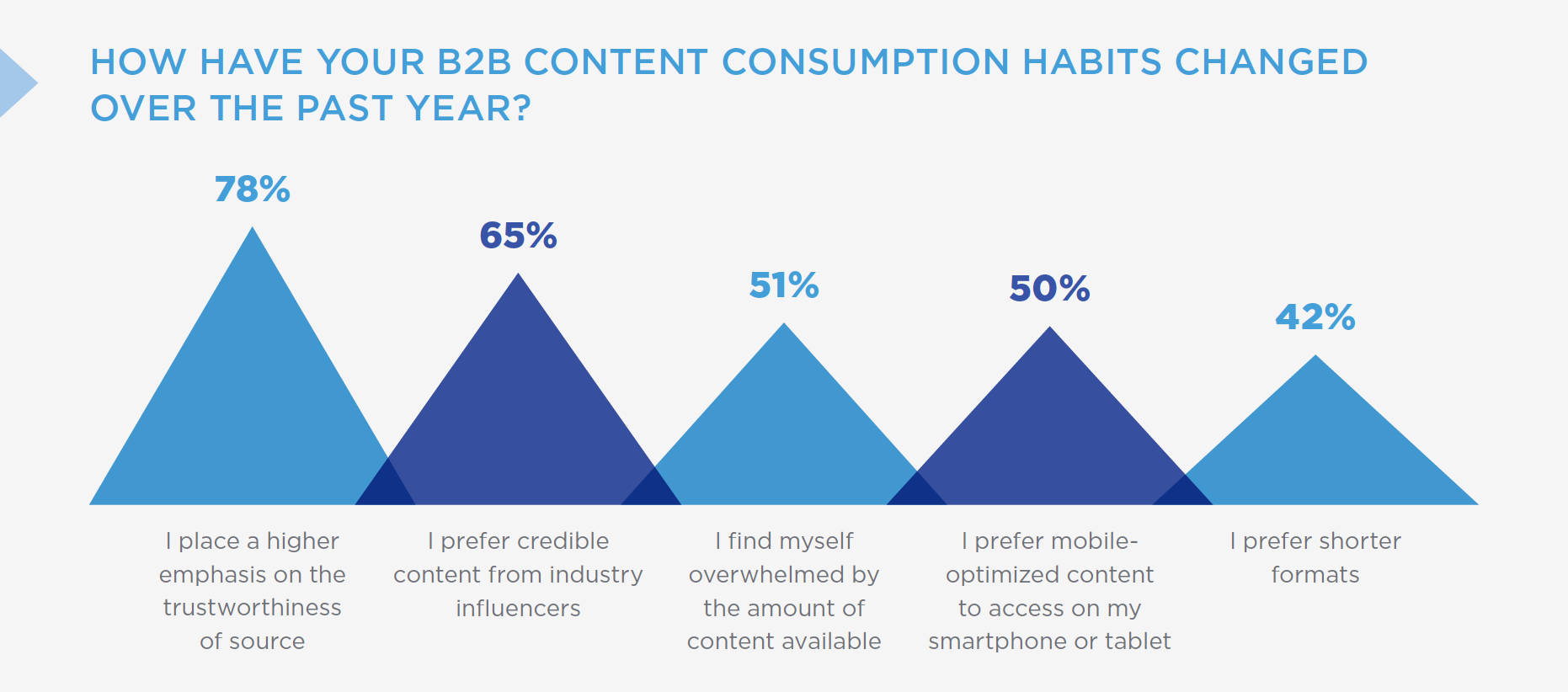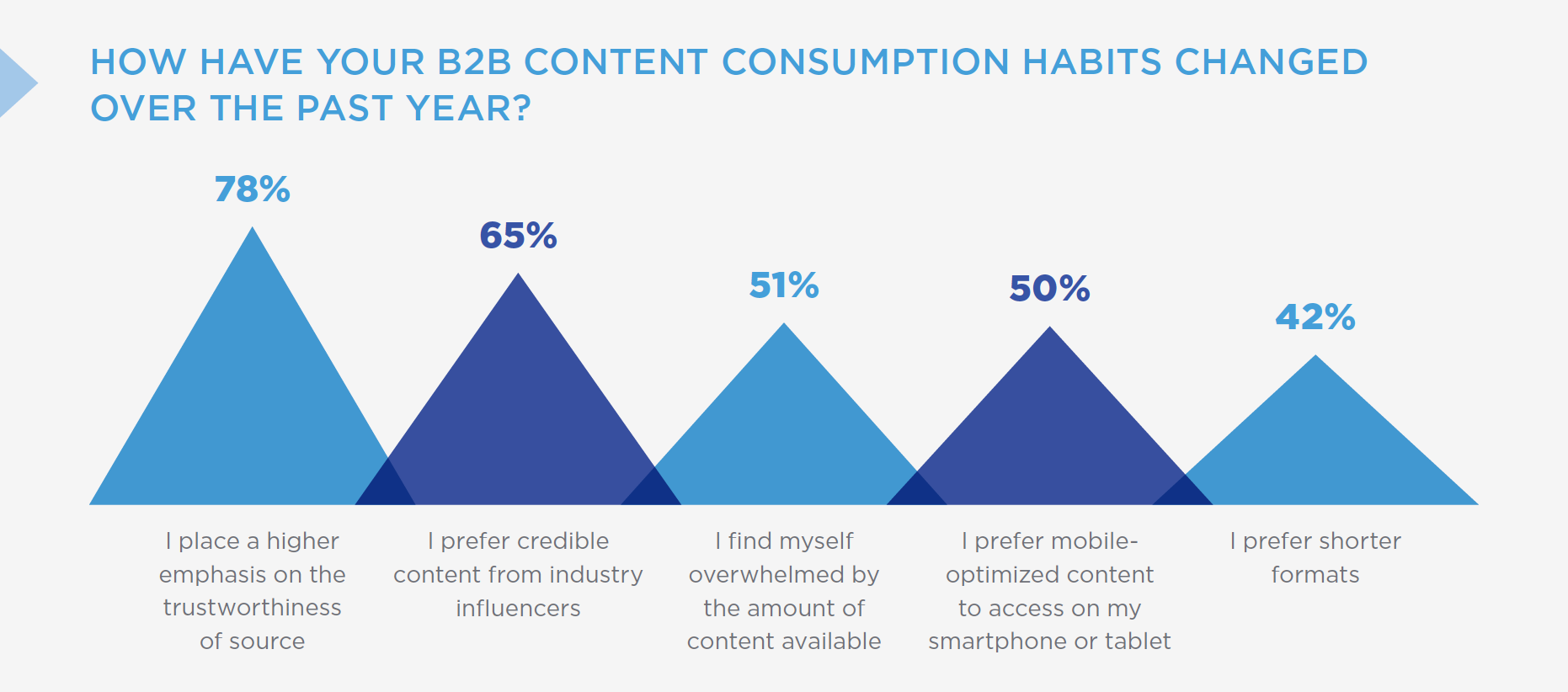 Our job as marketers is to provide credible, engaging content that buyers can trust. Voila! The magic formula is interactive plus credible industry influencers.
Influencers Play a Role in Every Stage of the Buyer's Journey
Lee emphasized that influencers can be used beyond thought leadership pieces in the early stages of the buyer's journey. In fact, they can and should be used effectively at every stage. What we need to do is identify the questions that our buyers have at each stage and then match them up with the influencers who can address those questions. Here's the graphic he showed. I'll point out a few highlights.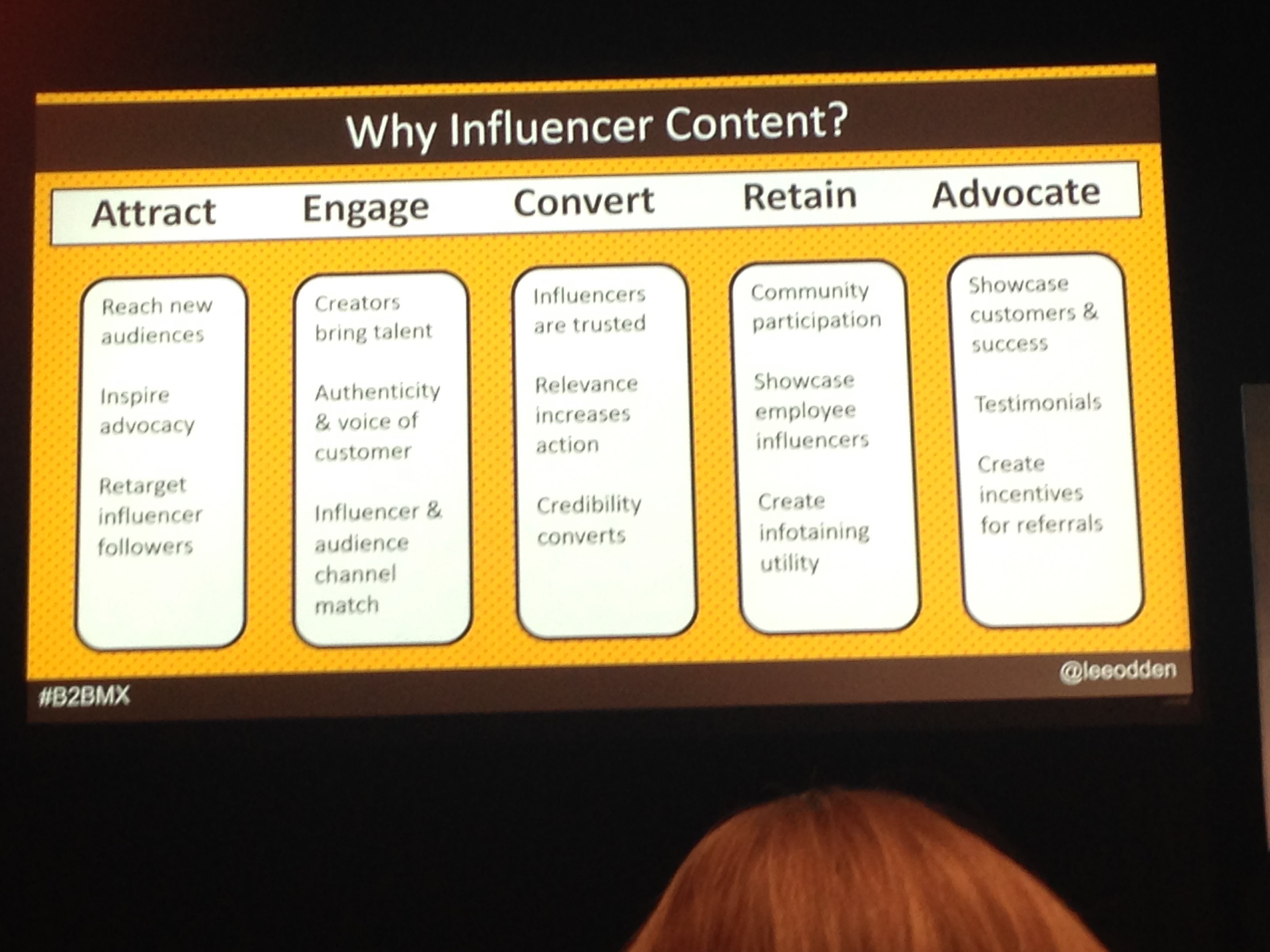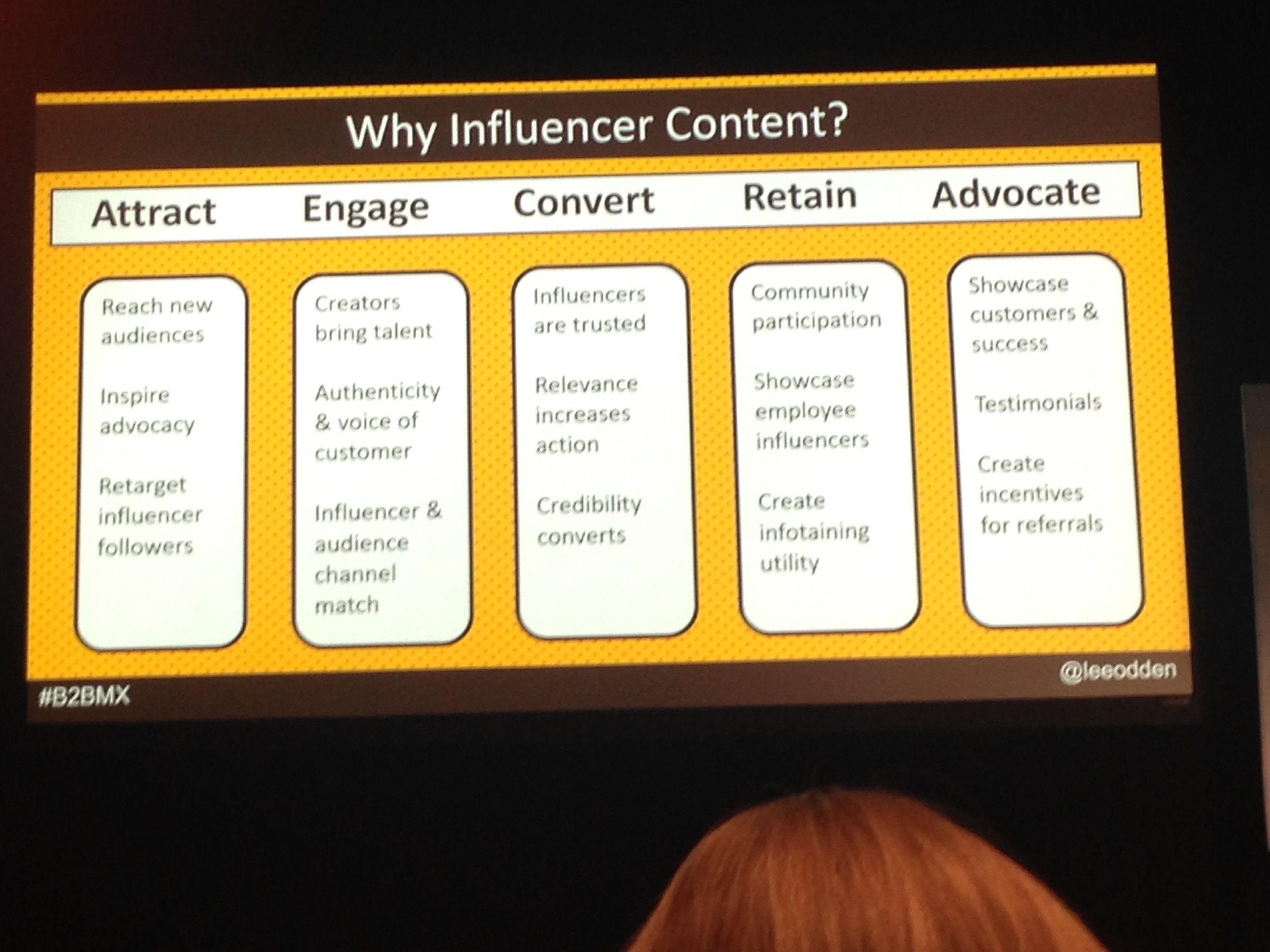 In the first stage, influencers can help us reach new audiences. We're all probably familiar with this role. At the engage stage, they can provide that credibility, the authenticity and voice of the customer. We can also match influencers with the channel we're targeting. When we're trying to convert, influencers can help provide that trustworthiness of the objective third party. Once we convert, we might use influencers to create communities that are distinct from our brand activities or use some of our own internal influencers once we've built trust with our customers. Finally, we can use our customers as influencers who can advocate for our brand through customer success stories, testimonials, or referrals.
The Real Power Comes in Pairing Interactive Content With Influencers
Creating interactive influencer content adds value to the buyer's experience, and it provides value to the influencer because it's more engaging for the influencers who will share and advocate for us through that content. An entertaining asset will encourage influencers to share it.
Back to the first premise, when it's time to create interactive influencer content, Lee challenged the marketers in the audience to be creative. He gave some great real-world examples. In one, Prophix, a financial planning and reporting software company, cleverly conducted research and then interviewed experts to comment on the research results. These influencers' views of the research were then incorporated into a quiz. The number of views beat the established goal by 600%.
Quizzes are just one example of an effective format. Lee noted that calculators and interactive white papers – or iPapers – work exceptionally well in the middle and late stages of the buying cycle.
What's on the horizon? How about adopting virtual and augmented reality (VR and AR) into content? Cisco reports that VR/AR adoption is expected to increase 12-fold globally between 2017 and 2022.
5 Tips for Engaging Influencers
Lee finished up with some great tips to identify and engage the best influencers for your brand:
Identify, qualify, validate: use data to find influencers for specific stages of the buyer's journey
Personalize the pitch: make it succinct and tap into the influencer's ego
Co-create: match the influencers to channels they normally use, and MAKE IT EASY
Amplify: pre-write social copy; provide images, embedded video, and tips; and communicate progress (MAKE IT EASY)
Monitor, nurture, repurpose: keep the influencer love alive and build a relationship
If you don't know where to start with an influencer program or simply don't have the resources on your staff, Content4Demand can help you get started, from engaging influencers to creating and even hosting your interactive content. Contact Holly Celeste Fisk for more information at holly@content4demand.com.