By Alicia Fiorletta and Holly Celeste Fisk 
Crystal clear skies, a warm, vibrant sun and 80-degree weather blessed all of the B2B marketers who traveled to Scottsdale, AZ for the 2016 B2B Content2Conversion Conference. We took to the marketing streets, er…Solution Zone, and we had so much fun meeting our fellow marketers and learning new insights to bring to our content strategies. We had some great conversations at our STRAIGHT OUTTA CONTENT booth and gave away some sweet swag: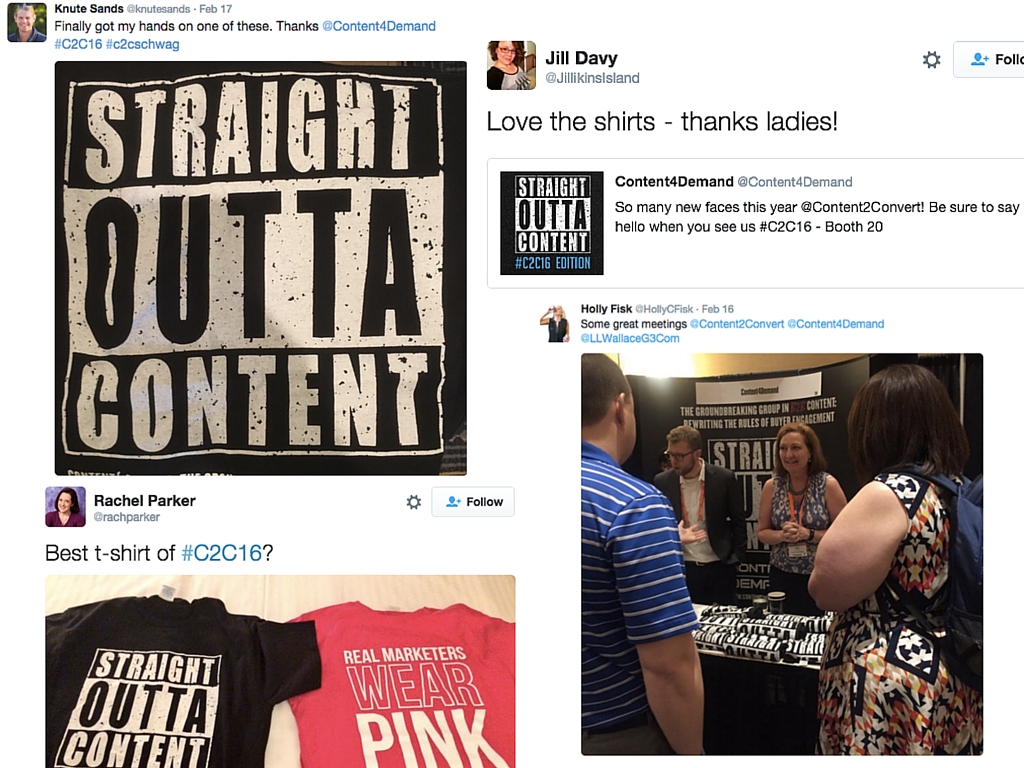 We even managed to squeeze in some fun with a "Shoes of #C2C16" Twitter party!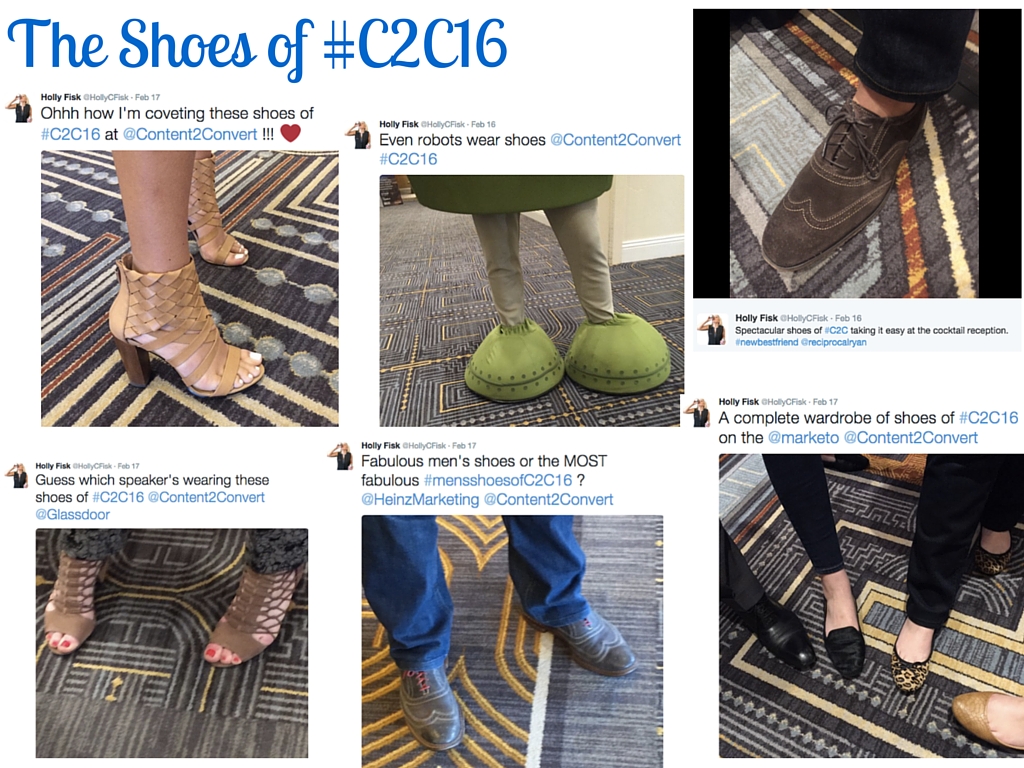 There were so many fantastic sessions to learn from. Although we have a lot of great ideas swimming in our brains and scribbled in our notebooks, we wanted to spotlight the top 10 takeaways from the show, courtesy of Demand Gen Report's Editorial Director Andrew Gaffney (also check out this awesome visual overview, courtesy of our friends at Quarry!): 

1. Think messaging, not content.
Creating content for content's sake is so 2011. Now's the time to be strategic and build your messaging around your buyer. When you do, you can ensure your content is relevant to your target buyers and aligns with their wants, needs and pain points. 
2. Think visually.
Think you need a 15-page E-book to showcase your company's value? Think again! Your buyers have spoken: they prefer more visual and easy-to-digest formats. The show included a lot of great success stories featuring B2B brands that implemented interactive content, videos, infographics and other formats to capture attention. Visual elements can also enrich your traditional content. So before you slap a vague stock image on your next asset, remember that your visual components of your message are every bit as important as the copy.
3. Market marketing.
We're pretty sure all marketers know their content won't be successful unless they get support from their peers in sales, PR, events and other divisions. During the sessions and networking breaks, we had a lot of conversations focused on sales and marketing alignment, but also PR, events and other divisions maximizing the value and reach of content. It is key to continuously get buy-in from internal teams and continue to communicate marketing's role – and its value – to the organization.
4. Get found.
If you create a piece of content and it's not promoted or found, does it make an impact? The answer, obviously, is a resounding no. A lot of sessions, such as Lee Odden's presentation on SEO, reaffirmed the importance of creating valuable content, using high-impact keywords and search terms and promoting content effectively across channels. 
5. Measure, measure, measure.
Ongoing measurement is the best way to gather the insights that will help you hone your messaging and understand what resonates most with your customers and prospects. It's not enough to just look at landing page visits and content downloads. Combine basic metrics with social shares, likes, comments, email opens, and more to get a comprehensive view of your content reach. 
6. Personalize.
Your buyers no longer respond to vague emails and one-size-fits-all messages and content campaigns. Engage your target customers by tailoring content, images and outreach so it truly resonates with them. 
7. Build advocacy.
Make advocacy a part of your strategy in building impactful, authentic content. The best content comes from your customer's voice. You can mine social feedback to see which content they like and don't like. You also can incorporate their feedback and even user-generated content into your campaigns. 
8. Test & experiment.
Put your insights to the test. Experiment with different formats, design approaches and even messaging strategies to confirm (or overturn) what you think you know about your buyers. If you find that a completely new approach resonates with your buyers, it's time to invest!  
9. Data is critical to everything.
Data tells us what matters to customers, what content they find useful, when they want to hear from us, which tactics we should continue and which we should adjust. Some content platforms even collect data around how buyers consume content, including the videos they watch, the time they spend on a page, where they zoom and more. The one thing data doesn't provide is context…or why buyers do something. Although data is critical, marketers need to also connect one-on-one with buyers and learn more about their preferences and habits. 
10. Optimize.
Like we touched on earlier, alignment with sales is key to optimizing your content messaging. When you share and educate your sales team about your content, the takeaways and messaging elements, you're empowering them to better communicate with and advise clients and prospects.  
Needless to say, it was a busy yet rewarding week at #C2C16. It was wonderful to connect with so many great people in the space and we're definitely looking forward to next year. (And we'll have another great theme and more awesome swag to boot. We promise!)