Walking into the opening keynote at this year's Marketo Summit, I saw firsthand just how busy today's marketers are. Attendees were anxiously awaiting the start of the show as they furiously sent emails, IMs and tweets. Multi-tasking at its finest.
Marketo CEO Phil Fernandez was first to the stage and immediately confirmed what was palpable in the room — "tomorrow's marketer" has never been more challenged (read: busy). Phil and the speakers that followed went on to paint a powerful picture of the many obstacles facing "tomorrow's marketer."
Summit attendees sat through nearly six hours of presentations to learn about the current marketing climate and how they can be more efficient and effective in their day-to-day lives. To help you get back to work quickly, we've created a list that highlights the top five challenges marketers face in 2016 and beyond. More importantly, we've distilled the expert advice from Marketo Summit keynote speakers so you can overcome each obstacle and take your marketing to the next level.
Tomorrow's marketer, read on!
1. CEOs are keeping a closer watch on their marketing department.
Marketo's CEO, Phil Fernandez, asserts that as marketing teams move towards the front end of the sales process, they also attract more attention from the CEO — he would know, he is one. Here are a few statistics Phil shared with the group to better illustrate his point:
In a recent study by McKinsey, nearly half of respondents said their CEOs are personally sponsoring their company's digital initiatives.
86% of CMOs believe they will own the end-to-end customer experience by 2020, according to Marketo and The Economist.
What to do about it: Stop only thinking about your next campaign and start looking for ways to lay a fabric and mindset across your entire company in a way that will help better serve your buyers. CEOs need marketers that never leave the side of the customer and who can identify platforms that enhance the buyer experience. CEOs need marketers that are constantly thinking about customer needs, who measure how those needs are changing and can adjust campaigns and initiatives so they can better serve their buyers.
2. The data struggle is real.
Fernandez was quick to bring up the power behind all of the buyer data marketers have access to these days. However, he also acknowledged it can be overwhelming to try and harness this information in a powerful way. Where do marketers focus their data efforts? Where do you even begin?
What to do about it: Fernandez invited Jason Kodish, Global Chief Data Scientist from DigitasDBi, to address the data struggle. Kodish reminded marketers that we're not in an arms race for data. Companies with the most data don't necessarily win. Companies that win invest in the right people to interpret and act on data that is being generated.
For marketers who are leery to get started, take advice shared by American mountain climber and entrepreneur, Allison Levine. During her two attempts to climb Mount Everest Allison learned two key lessons:
"Find landmarks and take them one step at a time." Find data "landmarks" that are achievable instead of only looking towards the unreachable summit of all that you can do with an overwhelming volume of buyer data.
"Backing up is not the same as backing down." When you climb Mount Everest, you work hard to reach a checkpoint. As soon as you get there, you climb back to base camp. This process is called "acclimatization" and is designed to train your body to breathe the thin air. Your approach to data should be the same. Take it one campaign at a time, "breathe in" some new data and head back to basecamp to break down what you've learned. You'll reach the summit eventually.
3. Your buyers can smell phony from a mile away.
Will Smith shared this as a personal challenge, but it absolutely applies to marketers. As his career in music and acting progressed, fans got increased access to his life through new technologies — YouTube, Periscope, etc. — he confessed it forced him to become more genuine. For tomorrow's marketer, it's no different. We manage brands and campaigns that are multi-platform and reach broad audiences. Increased buyer touch points put pressure on marketers to ensure they are putting forth a consistent message.
What to do about it: Accept trust as the new currency. Ken Wincko, the CMO of PR Newswire, shared a formula to help marketers measure trust and ensure it's at the forefront of campaign planning: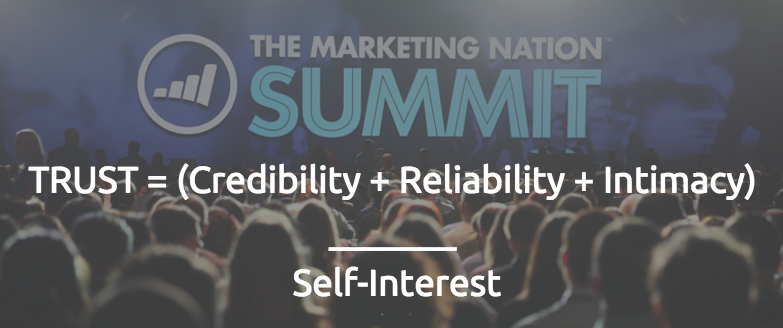 Wincko went on to say that great marketing is about serving, not selling — a shift for most companies. For marketers looking to design their next generation customer experience, he offered five key attributes buyers must see in your marketing approach:
Context
Compassion
Connection
Convenience
Consistency
It's about creating moments that matter to buyers. Ultimately, tomorrow's marketer is competing on trust and customer experience.
4. Marketers are expanding their expertise.
Marketo CMO Sanjay Dholakia shared research the company has completed that's focused on the "future of you." The goal: better understand tomorrow's marketer. One of Marketo's key findings was that tomorrow's top marketers are becoming less specialized in any one aspect of marketing. They are serving more as generalists. Tomorrow's marketer is a storyteller and an analyst — not one or the other.
What to do about it: Sanjay shared advice to help organizations find "full service" marketers. Look past skills and backgrounds when making hiring decisions. Try and identify the intrinsic qualities a candidate brings to the table. Are they naturally curious? Can they interpret data? Do they love customers?
Search for marketers who can operate horizontally. Tomorrow's marketing leaders will have to meet marketers everywhere and they will need to be creative, analytic and strategic to do it. Most importantly, look for opportunities to practice and build new skills — you're going to need them.
5. Marketers are feeling the heat from empowered decision-makers.
Marketing is becoming more and more personalized. In some cases, individualized — think account-based marketing. Almost all Marketo Summit presenters touched on the ever-increasing expectations of buyers and how marketers struggle to deliver a personal experience at scale.
What to do about it: Towards the end of his presentation, Ken Wincko provided a fantastic level-set for marketers obsessed with pleasing their empowered buyers: marketing is all about reducing friction and creating value.
Wincko went on to share the key ingredients for a holistic approach to modern marketing.
Content: Craft buyer focused messages that address customer pain points.
People: Find practitioners who are comfortable with content, data and technology.
Process: Think about how you are coordinating across your organization to foster an agile marketing process.
Technology: Ensure every single buyer interaction is coordinated across paid, owned and earned channels.
Data: Know who your customers are and what their goals are.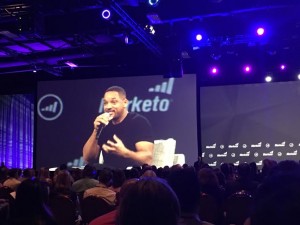 Finally, as both Will Smith and Allison Levine reinforced, you have to embrace the idea that sometimes you will not meet your buyers' expectations. You'll learn something in the process. Fail early, fail often, fail forward.
In Summary
We are tomorrow's marketers and we have our work cut out for us. We are playing on a much larger playing field and we are driving our organizations to push creative boundaries and create more immersive customer experiences. Be brave. Allison Levine reminded the group that, similar to the reality of climbing Mount Everest, "fear is ok, complacency will kill you."
In the years to come, the real value of a company won't be price or product; it will be about how you create an experience for your customer that can't be copied. I hope these five takeaways inspire you. If it doesn't, take note of what Marketo CMO Sanjay Dholakia proudly exclaimed during his presentation: Marketers take no s#hit!