Some of the Content4Demand team ventured to Sin City for the SiriusDecisions 2017 Summit. During a jam-packed week, they chatted with attendees, shared content marketing success stories and soaked up all the information they could about the latest trends and, of course, SiriusDecisions models and recommendations. 
If you weren't able to make it to the conference, this blog is a great way to get a firsthand look at some of the top tweets from the event. Scouring through the #SDSummit trending conversations, we narrowed down our search based on the most liked and re-shared posts from the past week. We hope you enjoy it!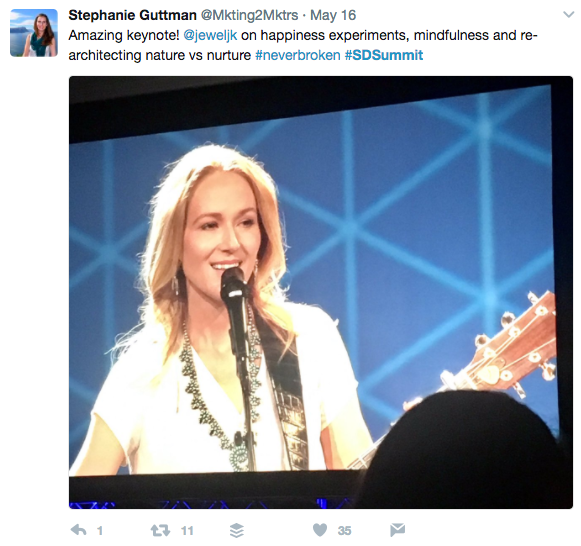 Singer, songwriter and poet Jewel took to the stage to share her perspectives on living a fulfilling and mindful life. So entrenched in our jobs and end-of-year goals, it's easy to lose sight of our own day-to-day growth and overall fulfillment. Jewel helped bring the audience back to reality and encouraged them to focus on the moments that make life truly worth living. If you want to see a more in-depth recap of her keynote, you can check it out here.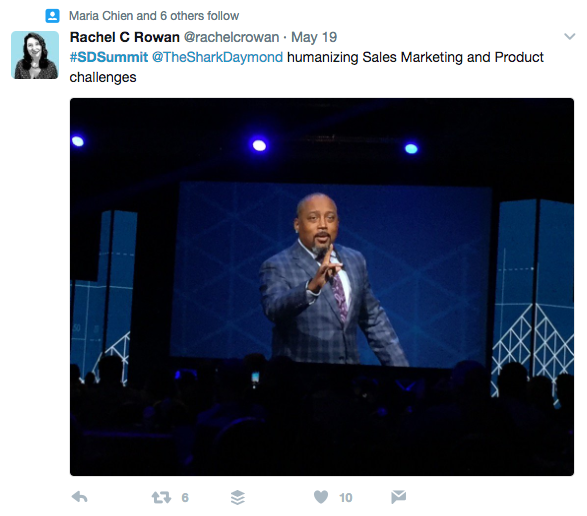 Entrepreneur, author and world renowned shark Daymond John took a different angle to his talk, focusing on the key "SHARK" points of success: Set a goal; homework; amore; remember and keep swimming. Motivational and real, Daymond's presentation included must-know advice if you want to be successful in your personal and professional life. Get all the details from the SiriusDecisions blog.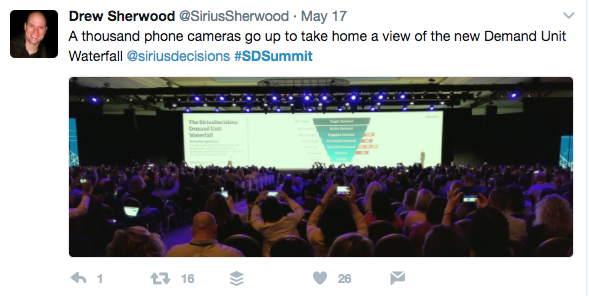 Thousands of people flock to #SDSummit to get "dibs" on the latest SiriusDecisions models. During the show, SiriusDecisions unveiled the new Demand Unit Waterfall, which many folks on Twitter described as "simpler" and "more streamlined."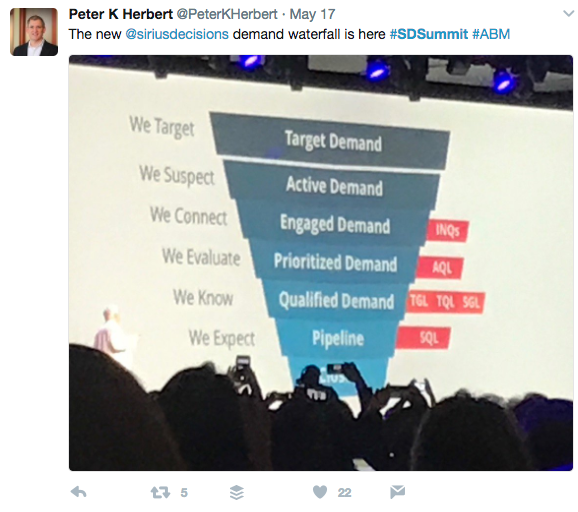 While unveiling the Demand Unit Waterfall, SiriusDecisions Senior Research Directors Terry Flaherty and Kerry Cunningham, noted that this new iteration was designed to help B2B organizations better engage entire teams, as well as better define and target their entire addressable market. Demand Gen Reporthere shared all the details .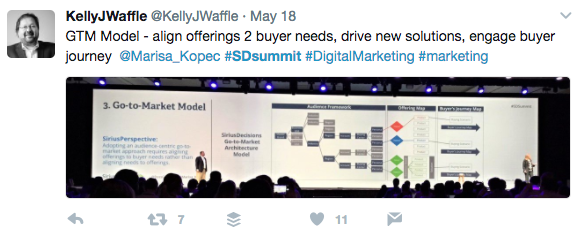 SiriusDecisions analysts spotlighted new realities and approaches to buyer engagement. One of the most pivotal realities is that B2B brands need to be buyer-centric, not product-centric. This makes a lot of sense from a high-level, conceptual standpoint, but how do you operationalize it? On Thursday morning, the SiriusDecisions team unveiled the Go-To-Market Execution Model. Want to get a closer look at how to map your products to buyers' needs? Our Senior Content Strategist Brenda Caine shared all the details here. 

This tweet from Megan illustrates a point we've been hearing a lot lately: It's no longer effective to hand off leads to sales and expect them to bring them to the finish line. Marketing and sales need to work in tandem and support each other so they can ultimately build relationships with buyers and turn them into customers.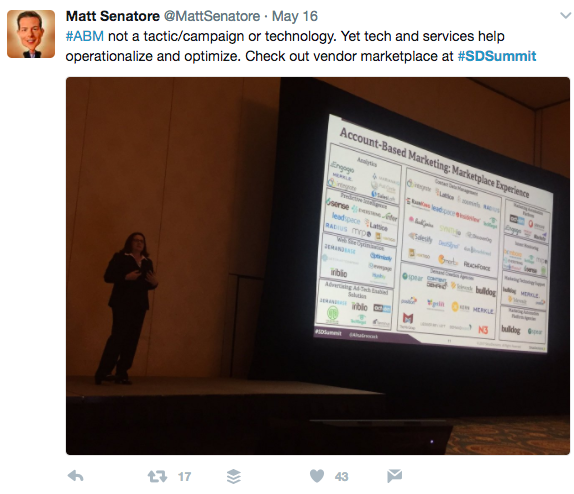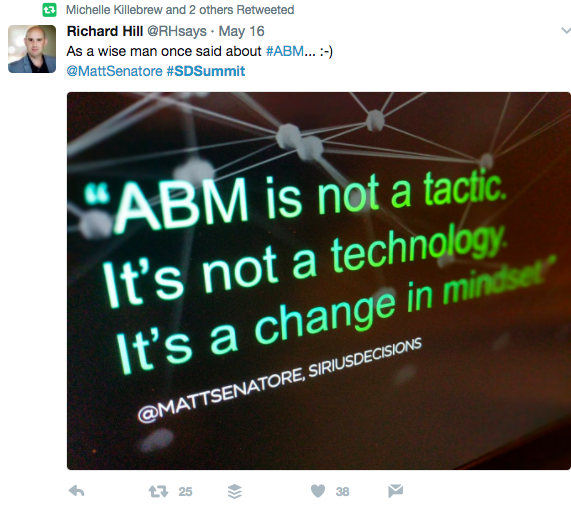 And of course, it wouldn't be a B2B event without a lot of buzz about account-based marketing. Instead of getting lots in all of the hot tools, apps and bells and whistles, B2B marketers are learning that they simply need to rethink the way they engage with buyers; the tools and technologies will merely help them augment and optimize their efforts. 
Were there any other key trends and takeaways from #SDSummit that we didn't share? We'd love to see them in the comments section below!