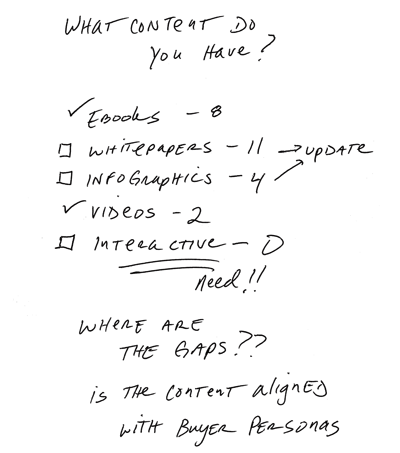 Find and fill the cracks in your content foundation
When it comes to your content library, what you don't know can definitely hurt you. While B2B firms are rightfully upping their content marketing spending, most lack the time and resources to audit their existing content, uncover gaps and identify hidden opportunities.
While some companies conduct a standard inventory of content, C4D's detailed audits are more granular and score content based on their topic, age and buyer's stage. Through this process, we can uncover issues such as:
Too much product- or brand-focused content
A lack of content addressing key buyer challenges
An oversaturation of certain content formats, such as webinars or white papers
A shortage of content aligned with buyer needs at each stage of the buying process
C4D applies a proven process to analyze clients' content libraries. We help B2B organizations understand how their assets align with buyer personas and buying stages — and how to identify high-impact assets.
Most importantly, we can recommend a strategic plan to fill the gaps — both by creating new content and by repurposing existing assets — and to maximize the value of content marketing investments.