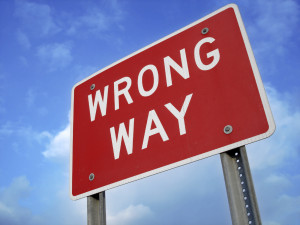 Here at C4D we see some of the world's best B2B marketing organizations do their thing with polished campaigns and outstanding content marketing strategies. But sometimes, we see folks make some pretty serious mistakes, too.
I've got a couple of examples of common mistakes that we see a lot of companies make:
1. Dumping your presentations on SlideShare without preparing them first. SlideShare is a fantastic B2B content marketing platform. It's got solid demographics, excellent analytics capabilities, and it's also a good way to capture leads.
None of that matters when companies use the site to host mountains of PowerPoint gibberish. Often, these are pulled straight out of webinars or other presentations where much — or most — of the meaning is tied to a speaker. Separate the presentation from the presenter, and it's worse than useless.
Put a little more effort into your SlideShare presentations. Make sure the slides can stand on their own, with a coherent message and compelling design. Your competitors actually make it easier to stand out from the crowd when so many of them fail to take such a basic step.
2. Failing to maximize the value of your key content assets. White papers, e-books and other long-form content are a gift that keeps on giving. With a little creativity, you can break them down into blog posts, tweets, briefs, checklists and all kinds of other assets. In the process, you'll multiply the value of an expensive asset many times over.
I know this sounds obvious, but believe me — it's not. For every company that does a good job repurposing its long-form content, there are five that don't do anything at all. They're leaving money — and potential leads — on the table.
3. Taking a one-size-fits-all approach to content formats. Your company might segment its target prospects, create personas and match them to carefully researched topic tracks. But are you putting as much thought into the content formats you'll use to reach them?
This is important because your "target audience" consists of living, breathing, individual human beings. Some of them are constantly pressed for time; some love visual content, while others prefer to read. Some enjoy watching videos, others want content they can skim and skip through. That's why the best campaigns employ a variety of content formats, at least some of which will resonate with any part of your audience.
Fixing (or avoiding) each of these problems requires a bit of planning, some creativity and — yes — an investment of time, effort and money. But I don't see this as being about what you're spending. It's about what you're saving by making the most of your existing content marketing investments.
-Matthew McKenzie