The pent-up energy is palpable as we move closer to a final exit from life under lockdown. I'm seeing reports that the global economy is poised to take off, and this has me wondering what B2B sales and marketing will look like when that happens. I consulted multiple sources for answers, and here are some highlights that I think are worth noting.
1. Demanding On-Demand Content
Buyers will want more digital, on-demand options throughout the sales journey.
We've definitely crossed a bridge with virtual health visits and remote work; expect a lot more of these compared with pre-pandemic times. As for in-person business meetings, some recent in-person conferences indicate that demand will bounce back. However, B2B buyers say they want other interactions to stay digital.
McKinsey surveyed buyers during the pandemic about identifying, evaluating, placing orders and re-ordering with new suppliers to determine how they would prefer to interact with suppliers. They found that 70% to 80% of B2B decision makers prefer remote or digital on-demand options to in-person meetings.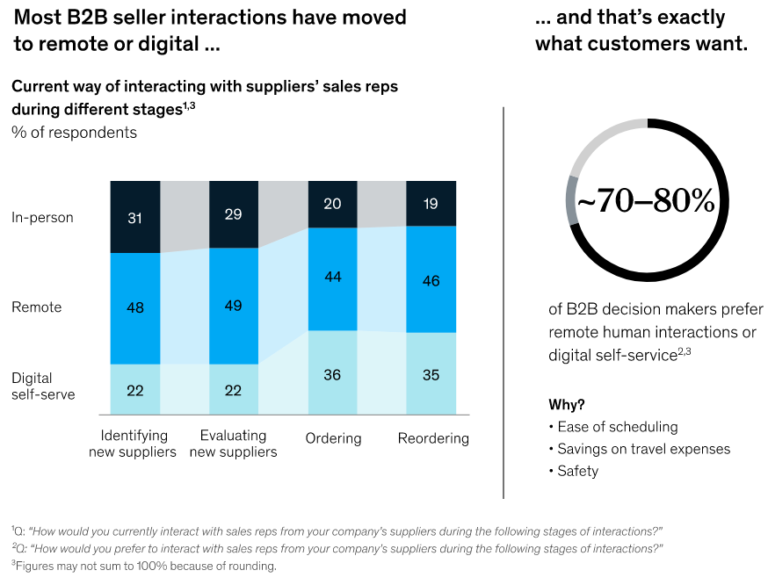 The first two phases of this cycle are perfect for offering educational content on demand, and all four phases present valuable opportunities for mature sales and marketing teams with unified CX strategies to offer personalized content on demand.
Tip: Evaluate your content and content opportunities based on the growing buyer preference for digital interactions. Remember that this shift is not a repudiation of live, in-person events but could call for refinement of your content strategy. Plan content based on what in-person channels do best (networking, human interaction) and what on-demand channels do best (convenience, speed, personalization).
Marketers are turning to ABM for post-sale engagement to deepen relationships.
The key to pandemic recovery will be attracting customers and selling more to customers, and Laura Ramos, a VP and Principal Analyst with Forrester, predicts that marketers will turn ABM practices toward post-sale marketing to engage and deepen relationships. The big impact will be in moving from customer retention to advocacy, she says.
Content is part of this, because the expectation for the buyer to become an advocate—and not just a satisfied customer—should be communicated throughout the journey.
Tip: Focus on empathy and credibility to convey that your brand wants to have a long-term relationship with the buyer. Be respectful of time and attention by using short formats, and plan straightforward language, visuals and storylines about "what's in it for me" for the buyer.
Marketing teams will need to continue to be agile.
Janet Balis, leader of EY's consulting professionals in the Americas, published a list of 10 "truths" about post-pandemic marketing, including that agility is now expected of marketing.
"We have heard for years that technological development benefits from agile cycles instead of sequential or linear 'waterfall' approaches," she says. "COVID-19 created an irreversible trend for marketing to embrace a similarly nimble mentality."
I agree that the outcome of suddenly losing the luxury of planning with historical data has turned into a benefit because this crash course on agility pushed everyone over the hurdle of "this is hard to do," and they just did it. Why not keep using what you've learned?
Tip: Balis says that agility requires continuous consumer listening and demand sensing, not only for the benefit of marketing but for the full company to capture the zeitgeist of consumer sentiment. Be sure that content tone, topic and design follow that changing sentiment.
Marketing is no longer part of a growth strategy—it is the growth strategy.
When the pandemic hit and the bottom fell out of everyone's annual business plans, the C-suite turned to marketing for answers and guidance on how to respond to customers. As far as I've heard, marketing teams more than delivered by stretching their digital capabilities and tools into new territory. It was old-fashioned innovation driven by necessity, and it worked.
Because of this experience, Balis says, the C-suite will continue to rely on marketing to be agile as they identify and generate demand, and then enable sales execution.
Tip: Continue bringing marketing and sales closer in terms of goal-setting, processes, planning and accountability. To rise to the level that Balis foresees—high above "cost center" status—marketing should be moving toward a more customer-centric strategy that includes the full customer experience.
Bringing the Good Forward
I'm trying to take the best lessons of the pandemic with me as I move forward, and that was my intent with this blog post. It's interesting to me that as data-dependent as we've become, simply living through the pandemic with our colleagues and clients has taught us so much and accelerated our personal and professional growth.
Take this short compilation forward—and reference the original sources for more—as you and your team ride into sunnier days and higher revenues.
For more expert insights on the trends impacting B2B marketing, check out our interactive Marketing Mixtape: The Greatest Hits of B2BMX 2021.

As Vice President of Content Strategy & Services for Content4Demand, Tonya Vinas oversees the agency's team of content strategists and works across content-creation and delivery functions to ensure on-point, quality content services. She has more than 20 years of experience in B2B content development and formerly worked as a business and news journalist. When she's not driving marketers to push the content limits, she's cooking, reading about global trends and the economy or taking a leisurely walk in the valley parks along Lake Erie.