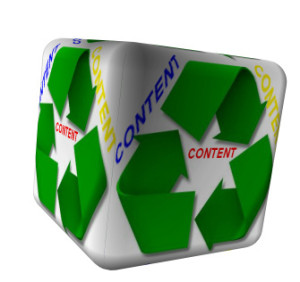 Providing buyers with quality content is part and parcel of B2B marketing, yet the process of creating content is often time-consuming and costly. One way to get more bang for your buck is by repurposing existing content into a variety of new formats and delivery channels.
For instance, one white paper can generate at least 10 other types of content, such as whiteboard videos, blog posts, infographics, webinars and more.
Here are 5 key benefits of content repurposing:
1.    Better Use of Marketing Resources – Every piece of content supports multiple formats, buyers and delivery channels without having to start from scratch every time.
2.    More Diverse Content – The 2014 Content Preferences Survey revealed that a higher percentage of respondents are using and sharing visually appealing content, such as videos, infographics and interactive presentations. With more than half of buyers (52%) now viewing infographics at some point in their purchasing decisions, there are now seven types of content used by a majority of the respondents. Repurposing makes it easier to create content in multiple formats.
3.    Reinforced Core Messages – Using similar messages in multiple formats and channels can help to reinforce key buyer-focused themes without defaulting to monotonous and repetitive content.
4.    Improved Alignment with Your Buyer's Journey – Different parts of a key content asset can align with different stages of a buyer's research process. A white paper, for example, might help a buyer identify a business need, but within it might be a case study or checklist that's most useful for a late-stage vendor evaluation.
5.    Higher SEO Scores – Publishing different content formats on your website, such as blog posts, videos and infographics, can be an attractive signal for search-engine ranking algorithms.
For more help kicking off your own content-repurposing program, you can download the full version of our Content Repurposing: A Best Practices Guide here.