This year's ChannelWeek Series put on by Channel Marketer Report was full of great advice for marketers who want more impact from their programs for partners. I especially liked the session Through-Channel Demand Gen Done Right … Finally, which featured Heather Margolis, founder and CEO of Spark Your Channel.
I've summarized some of her advice here, but for the full presentation, visit the on-demand dashboard.
1. Pay Attention to WIIFM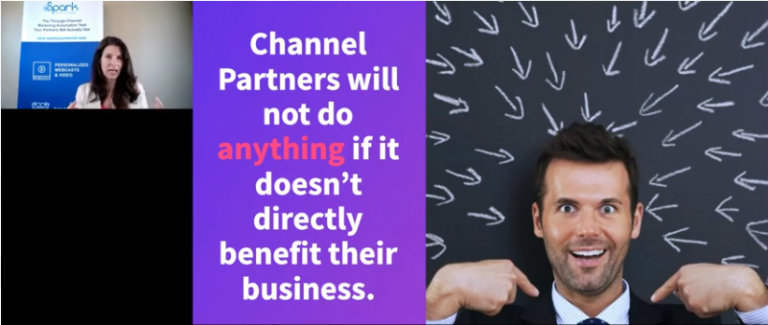 Margolis puts it this way: Channel partners won't do anything if it doesn't directly benefit their business. If there's no clear answer to "What's in it for me?" for the partner, then don't expect engagement or results.
Bu it's hard to communicate the value of something perceived to be complex and time-consuming—like a multi-touch campaign with emails, content assets, social posts and digital adds—so start small.
For example, help them make sure their LinkedIn profile is complete. Show them how to engage prospects on LinkedIn and share short, easy-to-digest content. A benefit of starting with LinkedIn is that partners are likely to start generating demand faster than with a longer nurture program.
2. Educate With Videos and Podcasts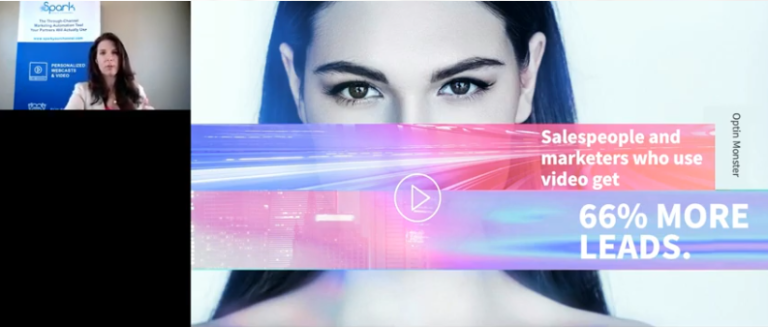 Short content is good to educate, engage and enable partners as they learn about more sophisticated demand generation techniques. Make sure the lessons meet them where they are. Channel demand generation is a few years behind direct marketing, so don't assume all partners are up on the latest account-based marketing (ABM) and SEO techniques.
Margolis recommends educating partners with five- to seven-minute videos on simple topics, such as how to build relationships on LinkedIn and how to effectively and compliantly use email (include links to several pieces of content instead of a separate email for each piece of content).
The videos don't have to be super-polished, and in fact people appreciate more authentic content while meeting in person isn't an option. Any channel manager or channel chief should be able to produce them, Margolis said.
She said podcasts are another format that works well for this, because they are short-installment, authentic conversations.
3. Follow Demand-Gen Best Practices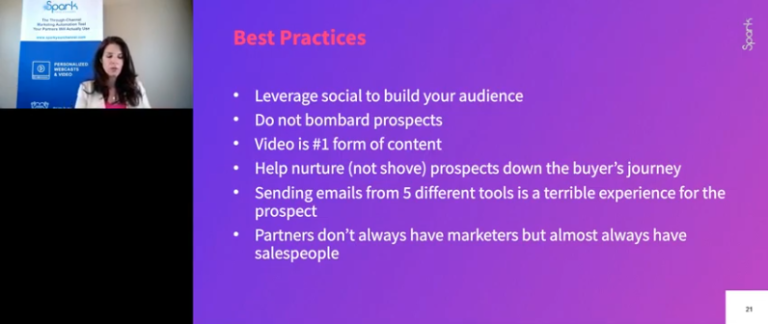 Examples include a functional website with great content and user analysis, complete LinkedIn profiles for salespeople and using a consultative approach (as opposed to a sales pitch) and an end-to-end sequence of content.
But keep in mind the best practices are for channel demand generation, not direct. Channel partners don't usually have the big budgets of their brands partners, so don't outprice channel partners with your recommendations.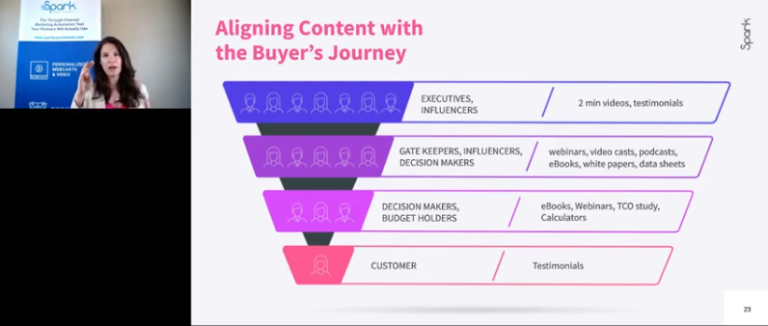 Partners don't always have a marketing team, but they do have salespeople. Margolis suggests providing channel partners with sales-enablement content. This is a cost-effective strategy, because sales contacts are more likely to engage because they have a "person" connection. People still want to do business with people, not logos, Margolis said.
5. The Right Content at the Right Time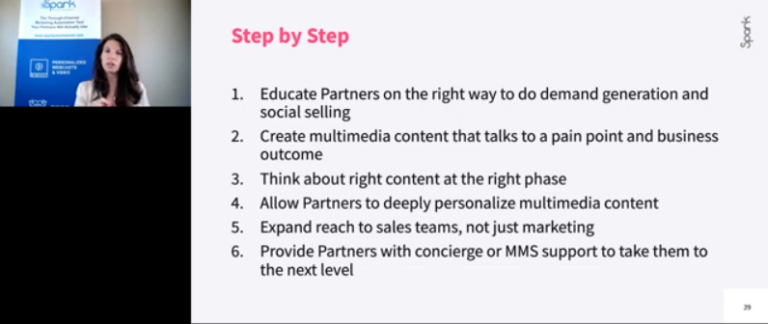 First, really think about the content message from the partner's point of view instead of forcing a theme. This effort is about building up their reputation, which is different from direct marketing.
Second, educate them about funnel progression and why certain formats work best in each stage of the funnel or buyer's journey. For example, short videos work well in the first stage because influencers—not executives—usually do the initial research for a solution to a business pain.
Margolis said these influencers are usually under 39 years old and are digital natives, so they aren't going to read a lengthy E-book or white paper. Those formats are appropriate in later stages of the funnel, but not for early-stage education.
Take Channel Marketing Up a Level
Lorem
As Vice President of Content Strategy & Services for Content4Demand, Tonya Vinas oversees the agency's team of content strategists and works across content-creation and delivery functions to ensure on-point, quality content services. She has more than 20 years of experience in B2B content development and formerly worked as a business and news journalist. When she's not driving marketers to push the content limits, she's cooking, reading about global trends and the economy or taking a leisurely walk in the valley parks along Lake Erie.
ipsum dolor sit amet, consectetur adipiscing elit. Ut elit tellus, luctus nec ullamcorper mattis, pulvinar dapibus leo.