We always look forward to the moment at the B2B Marketing Exchange when they announce the Killer Content Awards winners. We watch some of our favorite B2B marketers—including some of our own agency's favorite clients—earn much-deserved recognition for fresh, innovative content marketing.
While we didn't get to celebrate the winners in person this year, but it didn't stop us from honoring some of the best innovators in B2B marketing. After all, this was the 10th anniversary of the Killer Content Awards (affectionately called the Finnys).
Content4Demand sponsored this year's interactive tribute to the winners across 28 brands, carrying the event's gaming theme through to a lighthearted dive into just how these brands smashed their goals and reached the top of their industry scoreboards.
The report recaps what they did and how they did it. For bonus points, each award includes a cheat code for how you can hack their idea and say "game on" with your own content.
Press Start Game to see the challenge winners.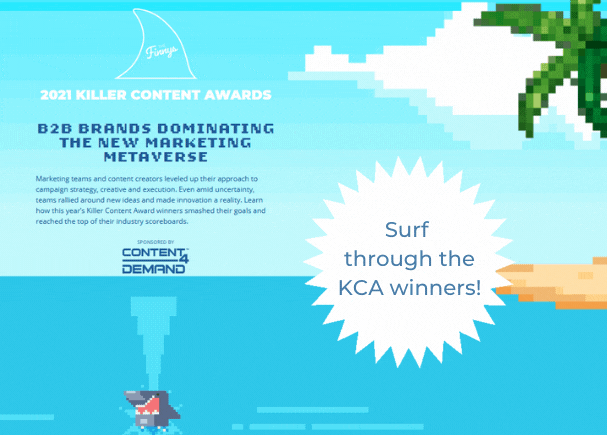 Set your sights on next year's Killer Content Awards. Content4Demand can help you level up your B2B content marketing game to reach the top score. Ask for a complimentary meeting with our agency team to discuss your goals and challenges—and how we can support them.