David Letterman has signed off as host of the Late Show – we've officially said goodbye to one of television's great innovators.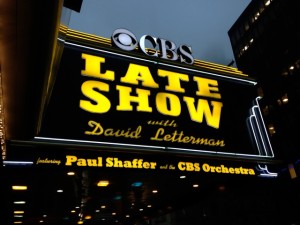 Okay, so bits like Stupid Pet Tricks, Stupid Human Tricks and the Top 10 Lists weren't exactly groundbreaking concepts. But they did differentiate Letterman from the competition. And, they resonated enough with viewers to help him stay in the spotlight for more than three decades.
Letterman's challengers also understand that "same ol' same ol'" won't win a ratings war. As The New York Times noted in a recent article, late night hosts are crafting new bits (celebrity lip-syncing with Jimmy Fallon) with technology (YouTube subscriptions to four-minute segments) to engage audiences when the shows air, or wherever and whenever viewers want to watch them.
So what about you? Are you innovating to win your own "ratings" battles?
While it can be scary to break new ground – or just try something new to you – content marketers should always be experimenting with different types of messaging, formats and technology. B2B customer preferences for content continue to evolve and buyer appetite for new ways to consume information is very healthy.
Data from Demand Gen Report's 2015 Content Preferences Survey that we sponsored, shows that:
B2B buyers look at several pieces of content before engaging a salesperson — nearly half viewing three to five pieces;
And they still want more, with more than half of the respondents saying they consumed more content before speaking to a salesperson than last year;
They want data, too – everybody loves a well-researched Top 10 list; and
They want new kinds of stories, as well – light on the sales message please!
To make sure Millennials are tuning in, be prepared to offer webinars, infographics and E-Books.
And for just about everyone, shorter, more interactive and easier-to-share content is preferred.
For more clues on how to be a Letterman-like content marketer, download the report. And just dare to be different. It could lead to a very long run.