Let's face it: audits suck, especially the first time you do them. They're tedious and time consuming.

But if you don't know what you've got, and how it aligns with your target buyer personas and buying journey, then you're leaving money on the table. You don't know where to target new content to fill gaps, so you're likely to create content you can't use or don't really need.
And this is happening more often than not, according to SiriusDecisions. Their research found that an overwhelming 60-70% of content created by B2B marketing teams is never used. During last year's SiriusDecisions Summit (2014), Marisa Kopec, VP and Group Director at SiriusDecisions, pointed out that this misuse of content ends up translating into "tens of millions of dollars a year."
Sure, she was referring to large organizations, but the problem is — in relative terms — just as serious for B2B marketing groups of all sizes that we've seen struggle with visibility into their own content libraries.
Needless to say that in the B2B marketing space, what you don't know can hurt you. Without a content audit and, ultimately, having process in place for conducting audits on a regular basis, most marketing teams end up squandering the value of their content library.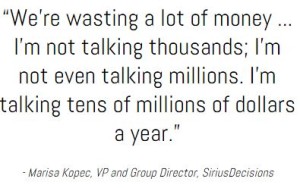 But after you realize you have a cache of content that's being underutilized, where do you begin? Well, as the saying goes: knowing you have a problem is the first step in recovery. Once you recognize that your content library needs some work, we recommend implementing the following best practices:
1. Audit early and often. Of the companies employing content marketing, fewer than half (42%) say their efforts are effective, according to research from MarketingProfs and the Content Marketing Institute. So, it's a good idea to stay on top of your library; remedial audits are really time consuming.
2. Doing what you can is far better than doing nothing at all. Limit your audit/analysis to a shorter list of criteria, personas, messaging points, etc.
3. If you have a blog, use it! Posts can be a rich content repurposing resource. So rich, in fact, that 82% of consumers actually enjoy reading relevant content from company blogs and read 5-10 a day on average. Check out one of our past blog posts to learn four reasons why you can't ignore their importance.
4. Explore tools to automate and simplify the audit process, but be aware of the trade-offs they may impose.
5. Consider appointing a content manager. In our workshops, we urge people to appoint "content czars" who can get a grip on what's in a firm's content library; devise a system to categorize and evaluate it; and identify gaps/opportunities.
Ideally, your B2B firm has the skills and time necessary to audit existing content, uncover gaps and identify hidden opportunities. However, we realize that this is not always the case and have worked with more teams that fall short of this ideal. If this sounds more like your situation, let us know. We can recommend a strategic plan to fill the gaps – both by creating new content and by repurposing existing assets – to maximize the value of your content marketing investments.