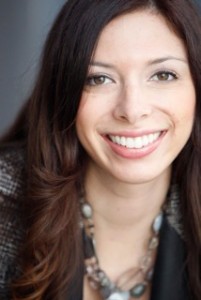 Last month, we unveiled our first Content Marketer Spotlight, a new column designed to broaden conversations around B2B marketing, and offer some tactical tips and words of wisdom from some of the brightest minds in the biz. 
Today, we get an inside look into the life of Amanda Batista, who is Senior Manager of Demand Gen Programs at Oracle Marketing Cloud. When she's not crafting successful content campaigns or making it on TopRank Online Marketing's list of 50 most influential women in digital marketing, she's marveling at her baby girl Estelle, hitting up the best bodegas in New York City and interviewing some of her favorite musicians for The Aquarian Weekly. 
Work
What's your role at Oracle Marketing Cloud? My role supports the global demand generation initiatives to drive awareness, interest and engagement for Oracle Marketing Cloud's products, specific to the adtech persona (media planners, publishers and agencies). I work with different teams including content marketing, PR/AR and field marketing to build cohesive demand gen programs.
What B2B marketing mistake makes you cringe? We all are guilty of this at some point in our careers, but when we put our goals first, we lose, that is, unless our first goal is to delight and inspire the customer and prospective customer. Too often we lead in with our products, what they do and why they're amazing. But the interactions that brightly illuminate the audiences' needs first are the ones that count, and are memorable. Paint the picture of your target buyer's success — not the picture of your product. Harley Davidson does a stellar job at this. A common theme of their TV spots, for instance, is "rider first." Their narrative and imagery focuses on the open road, the journey, and the life that a rider lives — you're not going to see specs and speeds. The product speaks for itself and the brand marketing speaks for the rider. (Can you tell I'm the daughter of a "Harley guy"?)
 What's one of your favorite projects or campaigns you've worked on and why? The Modern Marketing Essentials Guide Series has been a huge hit for the Oracle Marketing Cloud. I'm proud to have had a role in ideating this content by focusing on a customer-first approach of answering questions and helping solve problems that our audiences face daily. We let their pain points and topics lead our strategic approach, and aligned those with our value propositions to answer questions that are essential to the modern marketer. The Series has been a wildly successful driver of MQLs and engagement, and has enabled us to maximize our time, budget, and resources by creating content that can be leveraged across teams and initiatives including demand gen, field, and social. The Series truly is a gift that keeps on giving. We're encouraging our communities to share their topics of interest so we can continue to iterate the Series.
What's the most important or interesting thing you've learned about content marketing? I've learned that writing and editorial skill sets are integral to the success of content marketing. Although it is a core business function and requires substantial measurement and analysis for repeated success, a sound content and editorial strategy is derived from individuals and team that truly understand how to write well, demonstrate valuable messaging, and align that with corporate business goals. I am a writer at heart and therefore possess an inherent desire to tell the greatest, most exciting story that will delight and inspire. Without this core commitment any measurement strategy is rendered useless. If there's nothing great to measure, then what's the point in leveraging time and resources to build out content
Play
What city do you live in, and what's great about it? New York City — this place has my heart. What is so great about it is the excitement, hustle and bustle, and the ability to get a pack of donuts at 2 a.m., should your heart desire it. Bodegas, baby.
What words do you try to live by? "I take it not only a day at a time, but a moment at a time, and keep it at that pace. If you can be happy right now, then you'll always be happy, because it's always in the now." Willie Nelson said that and it's a mantra I repeat multiple times daily. For work, for play, this is the best way to optimize each day.
What's your favorite hobby? I am a new mom to an 8-month-old girl, Estelle. She is and will forever be my favorite hobby. Beyond the obvious love and adoration I feel as a new parent, her thirst for life and desire to explore her surroundings is an extremely humbling and inspiring daily delight. She doesn't view challenges the same way most people do and she certainly isn't daunted by them, and that really moves me.
Fun fact: When I was 15 I wrote a list of five bands I wanted to interview, and I've completed four out of the five interviews. Becoming a music writer seemed like a heavy-hearted aspiration but I'm doing it, and separately found an exciting and intellectually stimulating career in marketing. So I truly can say I am living the dream.
We hope you enjoyed getting to know Amanda as much as we did! Stay tuned for another Content Marketer Spotlight next month!