By Elise Schoening
Assistant Editor, Demand Gen Report
Republished with permission from Demand Gen Report
In a digital age where inboxes are inundated and digital ad channels are oversaturated, old school marketing tactics such as direct mail are becoming a bigger focus for integrated campaigns at all stages of the buyer journey.
To break through the clutter of digital channels, B2B marketers at companies such as Jellyvision, Talkdesk, Idio and PathFactory are reviving direct mail and utilizing it to communicate their brand story in an innovative way, boost marketing impact and drive revenue.
"Every B2B marketer does content marketing. Every B2B marketer does email marketing. Every B2B marketer does webinars. [But] not every B2B marketer does direct mail," said Jenn Kloc, Senior Marketing Manager of Jellyvision, in an interview with Demand Gen Report. "And it's typically easier to ignore an email or not sign up for a webinar than it is to ignore a FedEx envelope that shows up on your desk."
Direct mail may come with a higher price tag than digital channels, but marketers often find it to be a worthy investment. According to InsideSales.com, nearly 39% of B2B companies use direct mailers, and research from the DMA shows that direct mail has a much higher response rate (5.1%) than digital channels such as email (0.6%), social media (0.4%) and online display ads (0.2%).
"I don't think that we're going to see a decline in the usage of direct mail anytime soon," said Jessie Johnson, Demand Marketing Research Analyst at SiriusDecisions, in an interview with Demand Gen Report. "I think we'll be even more creative with our usage of direct mail as time goes on, especially as marketers really start to tap into some of the technologies that are available and really automate that process."
Next Generation Direct Mail
With the emergence of direct mail platforms such as PFL and Sendoso, experts said that "direct mail 2.0" has become a more scalable, streamlined process for B2B marketers. Since the heavy lifting of manually packaging and sending direct mailers has been taken off their shoulders, marketers are now positioned to be more creative with their implementations and are moving beyond using direct mail as merely a door opener for sales. Instead, marketers have started branching out and begun using direct mailers to communicate their brand message and drive deeper engagement.
"Ten years ago, a lot of people didn't want to touch [direct mail] with a 10-foot pole because it was such a manual process," said Elle Woulfe, VP of Marketing at PathFactory, in an interview with Demand Gen Report. "But now you've got all these systems that allow you to automate the delivery of direct mail … [and] suddenly when something becomes a lot easier to implement, people start getting a lot more creative with it."
PathFactory has certainly gotten creative with its direct mail initiatives. When the content insight and activation platform decided to rebrand from LookBookHQ to PathFactory earlier this year, it turned to direct mail as a cornerstone of its rebrand strategy.
According to Woulfe, the marketing team sent 100 direct mailers to key influencers, advocates and analysts to let them in on the news early. The selected group received premium boxes full of branded items, including a PathFactory water bottle, stickers and more — all of which were bundled in PathFactory branded tissue paper.
In addition, the company sent direct mailers to high-value prospects to educate them on the new brand. The mailers included a poster displaying two potential buyer paths. The first represented the traditional buyer journey, which is fragmented and confusing. The second and smoother path is the one PathFactory aims to provide through content activation. Those who received the direct mail package were given a toy car that could follow along each path and visualize the difference PathFactory could make on their buyer experience.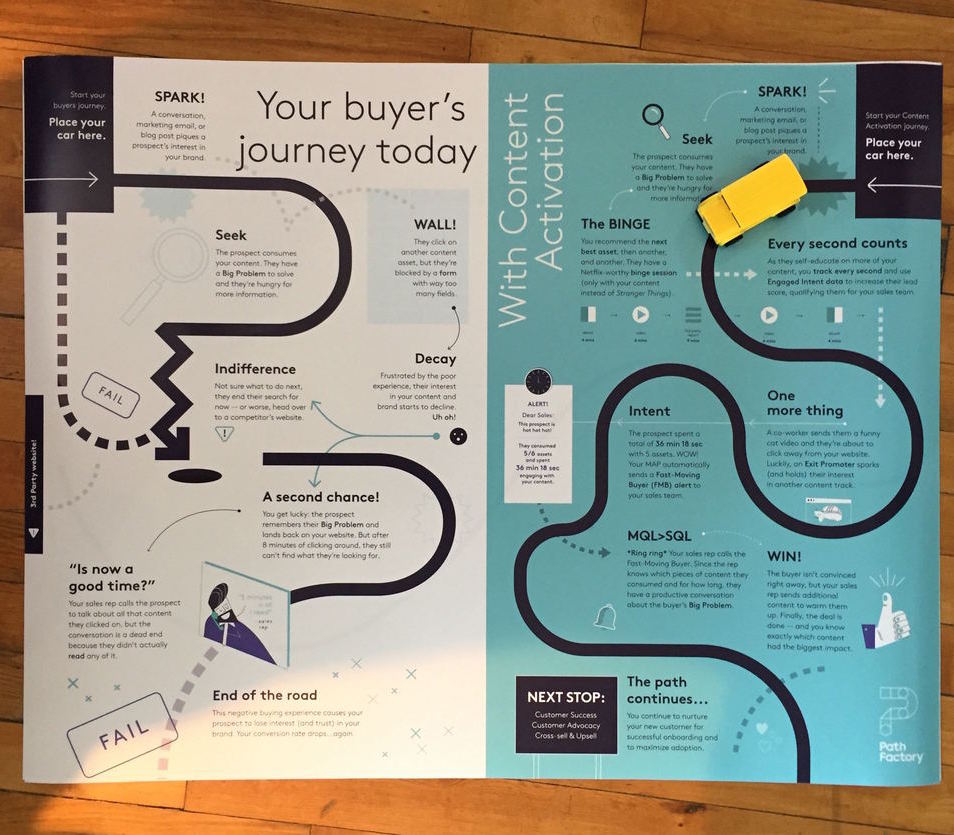 Woulfe said the company chose direct mail to deliver its rebrand message because it would be harder for the news to leak than if it had been shared via an email. But perhaps more importantly, Woulfe said direct mail made it more special for those who were let in on the announcement early and helped to bring the company's new branding to life for high-value prospects.
"It's hard to deliver an email that feels unbelievably special these days … and right away, you limit the total number of people you can touch because you know they're not all going to open it no matter how clever or funny of a subject line you created," said Woulfe. "With direct mail, it felt like we had a much higher likelihood to reach the people that we wanted to reach. It was such an important message and we wanted to make sure that it was received."
Idio, a demand orchestration platform company, also used direct mail to educate prospects on its brand and demonstrate how they could help them solve marketing issues as complex as a Rubik's cube.
"Our clients understand that they have a problem: in order to strive for delivering relevance, they are effectively solving a Rubik's cube for every prospect that lands on their website," said Andrew Davies, Co-founder and CEO of Idio, in an interview with Demand Gen Report. "So, we custom-printed Rubik's cubes with our messaging … It felt like a clear message [and] a clear alignment with our proposition."
Along with the direct mailer, the company sent a personalized note to prospects and followed up with an email and video explaining Idio's value proposition. Prospects who did not respond to the first mailer were sent a second, more complex Rubik cube designed to demonstrate how their marketing complexity challenge was growing each month. Idio's direct mail initiatives receive about a 10% meeting rate, whereas its email campaigns typically deliver a less than 1% email-to-meeting conversion rate, according to Davies.
B2B Brands Elevate Content Marketing, ABM Efforts With Measurable Direct Mail Initiatives 
According to the 2018 Content Preferences Survey Report, nearly 51% of buyers are overwhelmed by the amount of content available and buyers are growing increasingly selective about the content they do consume. To stand out from the crowd and capture buyer attention, progressive B2B companies are turning to direct mail channels.
At Talkdesk, a contact center software provider, direct mail is considered one of the company's top five channels for engaging prospects. According to Russell Banzon, Sr. Manager, Demand Generation, the company recently leveraged direct mail to promote its Total Economic Impact report, which provides a look at the financial impact Talkdesk has had for its customers.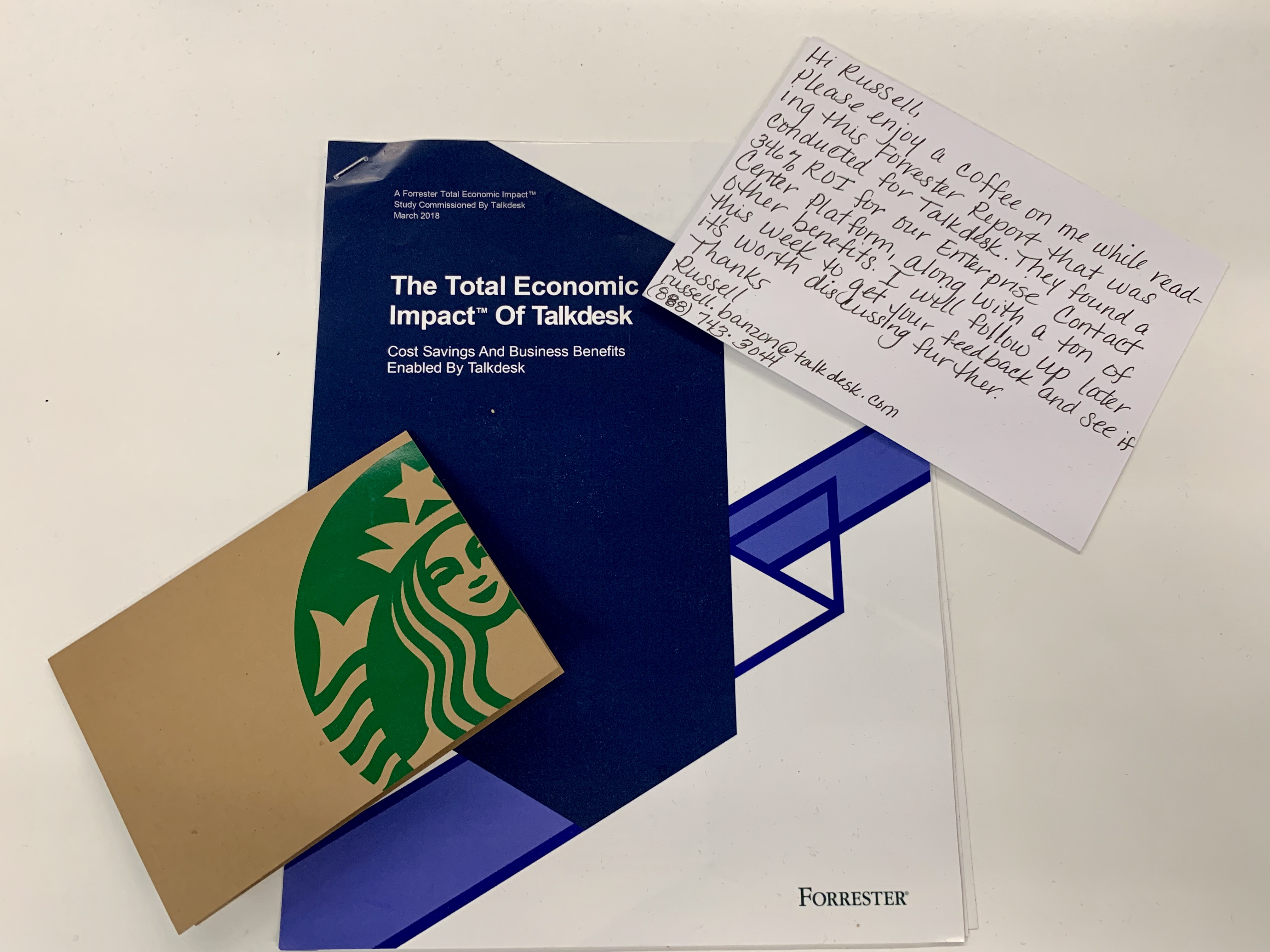 While most reports may be left unread in an inbox or lost in the spam folder, Talkdesk decided to print and send a copy of the report to its top prospects using Sendoso. The report was accompanied by a handwritten note and a Starbucks gift card, sealed in a branded envelope and sent on its way. According to Banzon, the company sent 297 packages, which resulted in $2.3 million in pipeline generated.
"I download all these E-books all the time, but I don't honestly read them until I print them out and I'm reading them on the train, in my Uber ride while I'm commuting or while I'm sitting in a coffee shop," said Banzon in an interview with Demand Gen Report. "I think the impact of having it physically there in front of you does increase the rate that people will consume content."
Jellyvision, an interactive employee communication software provider, also leverages direct mail as a key aspect of its marketing and ABM programs. This year, the company launched a three-touch direct mail campaign with the help of PFL to engage roughly 1,200 contacts at 400 accounts.
The wilderness themed mailers showcased how Jellyvision can help HR personnel address their employee benefit communication challenges for the year. The first mailer included a customized treasure map that showed how each company could reach the peak of employee benefit engagement. This was followed up with a second mailer that included a personalized "field journal" with each person's name and company on the front, as well as benefit communication tips inside. The final package contained a lunchbox with a harmonica, a card game, snacks and a "HR wilderness guide" hat.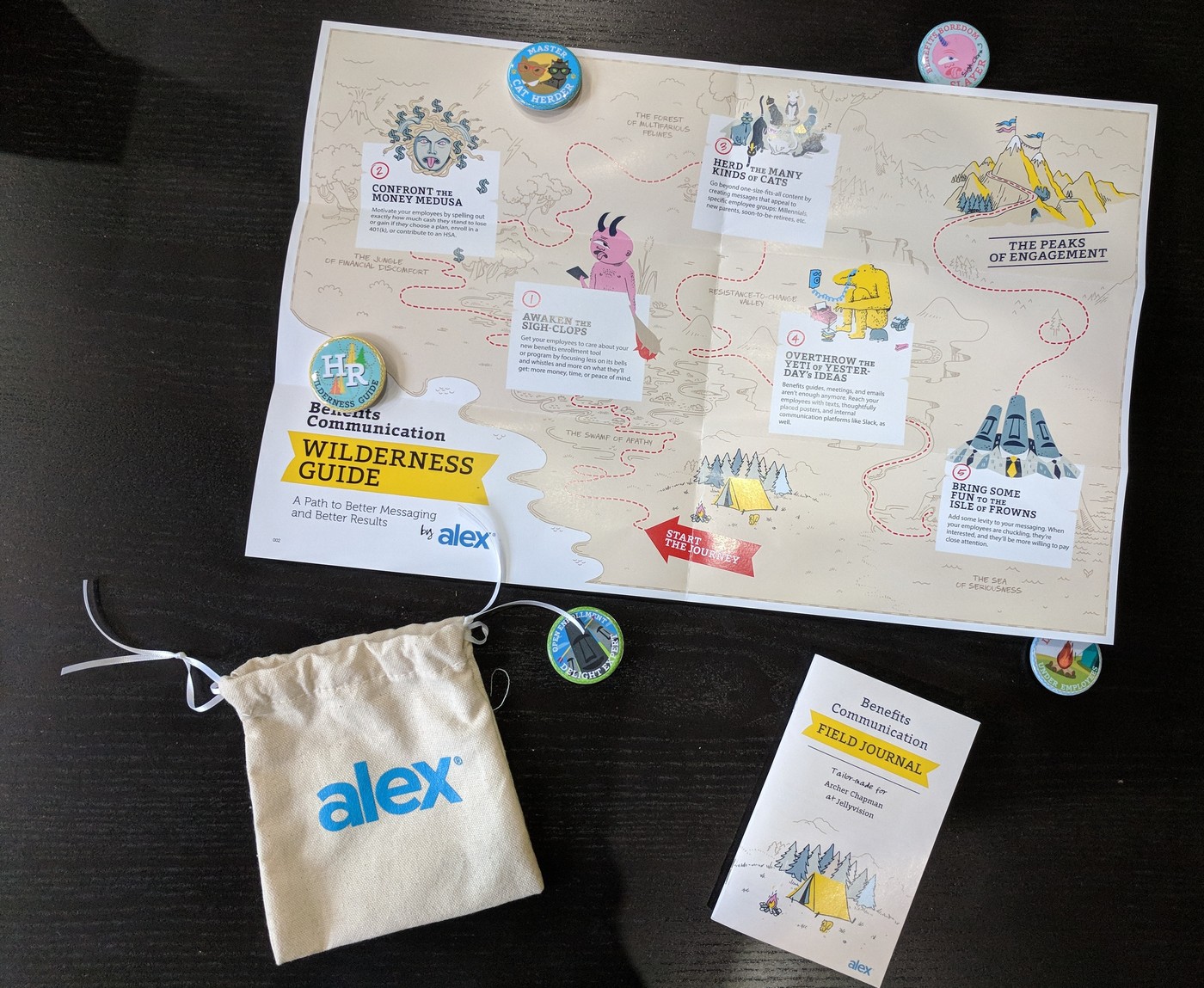 The campaign proved successful, resulting in a 31% account-to-meeting conversion rate and 8.4x ROI. According to Melanie Chapman, Director of Customer Marketing and Strategic Communication at Jellyvision, the company already has three ABM direct mail campaigns planned for 2019 — the first of which is set to launch in January.
"Direct mail is one of the more complicated channels to do right. There are a lot of moving pieces and to get it to come together well, it's something that we spend months of prep work doing," said Chapman in an interview with Demand Gen Report. "It's also quite honestly the most expensive channel for us, but as ROI shows, it's also something that's really effective. [In 2019], we're going to be a little more thoughtful about when we bring in the big guns — which is direct mail — but it will continue to be a huge focus for us next year."
Read Who's Naughty & Nice in B2B Marketing This Year? and view our video clips to learn more about what is and isn't working in content marketing.