Instagram has become the go-to social network for people all around the world. With a whopping one billion monthly users, Instagram sees 63% people checking their feeds at least once a day. So why is it still so under-utilized in the B2B world?  
 
After all, Instagram's most significant growth has been among U.S. users ages 25 to 34, according to eMarketer. As more people in this demographic acquire leadership positions in their organizations and, in turn, play a more prominent role in the decision-making process, it is only fair for marketers to reconsider the role of the app in their amplification strategies.  
 
Some B2B brands are already testing different types of posts and ad campaigns. While there is certainly no silver-bullet way to engage your audience, these examples will illustrate all the ways you can expand your creative horizons and determine what resonates with your target market. 


Salesforce

Connects the Dots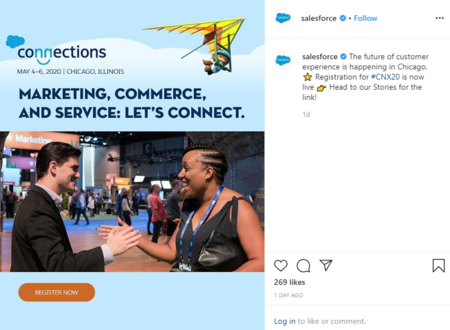 Take a quick scroll through Salesforce's feed and you'll see that the cloud company isn't afraid to try new things. Quite the fans of video and photo carousels, the Salesforce social team uses Instagram to extend its inspirational content and community-focused initiatives to the forefront.
The example above stands out because the post promotes some high-level details about its Connections event. Rather than giving away all the details, it encourages followers to check out its Stories for more information. It's a quick, simple and effective way to get people more bought into the brand and the Connections event itself.  
 

HubSpot

Lets Customers Tell All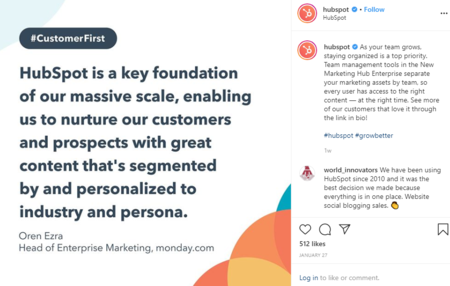 HubSpot's Instagram tends to rotate inspirational quotes, interesting facts and data points that resonate with its target market, which largely includes executives who are part of small and growing businesses.
HubSpot has an underlying theme that ties its hefty library of social content together: #GrowBetter. A clear connection to the company's value proposition, #GrowBetter gives the HubSpot team creative freedom to test different post styles and images while still maintaining some consistency.
However, the most powerful approach is to let happy customers and power users speak for themselves. This is what makes the above post so powerful. A short, snackable quote that likely came out of a much larger conversation, this post whets people's appetites just enough to encourage them to click the link in the bio, which leads to more testimonials.  
 

Outbrain

Focuses

on

Community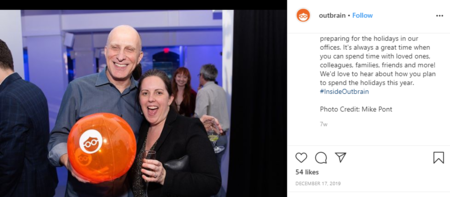 Instagram resonates with so many people because it's built around authenticity. Everyone's goal, whether individuals or businesses, should be to capture events and moments that inspire.
That's why Outbrain's account stands out so much. The majority of the company's images spotlight people at events, meetups and gatherings. The content, largely unstaged and imperfect, shows that community plays a critical role in the business, and who doesn't want to work with a company that treasures people?


Sigstr

Gives Props to Its People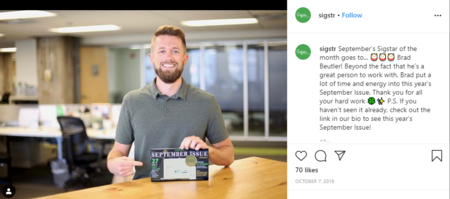 Speaking of people, a great way to cultivate a loyal community on Instagram is to rally around your employees. Take this example from Sigstr, which puts one of their content creators in the spotlight.
Sure, it's great because it makes Brad feel special (way to go, Brad!) but it's also effective because it gives a subtle shout-out to a new piece of content. The "link in bio" call to action allows people to easily check out the September Issue that gave Brad the kudos to begin with. 

IBM Stays in Tune with What's Trending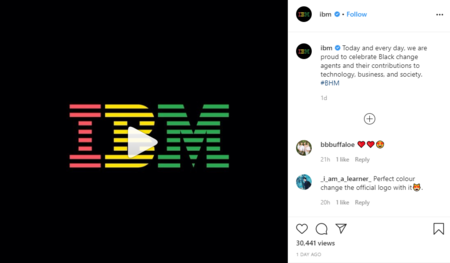 Everyone loves a good hashtag. Whether it's the classic #MCM (Man Crush Monday) or #TBT (Throwback Thursday), hashtags allow users to connect with one another and contribute to a much larger conversation. I refer to this as "the social media ripple effect."
IBM has contributed to #TBT, but I thought it was appropriate to share a post dedicated to Black History Month (#BHM). The video is simple, branded and effective, reaffirming that IBM wants to be part of larger cultural conversations and critical holidays.
B2B brands may be hesitant to get too loud about social or political issues; however, this level of involvement is a nice place to start — if only to show your audience that you align with their values and beliefs.


It's easy to fall down the Instagram rabbit hole and explore which B2B brands are doing fun and interesting things on Instagram. Although I personally believe adoption of organic and paid tactics should be a lot higher, it was enlightening for me to see how companies of all sizes are finding ways to spread the love through the app.
Is your B2B brand using Instagram to engage with its audience? We'd love to hear what has worked well for your business!