Every B2B brand wants to be viewed as a leader on the trending topics affecting its industry. But does it really make a difference? What exactly is thought leadership? And can you be a leader when you're simply following the crowd?
Thought leadership content has more of an influence on your content marketing success — and sales — than you might think. An Edelman and LinkedIn study, "How Thought Leadership Drives Demand Generation," demonstrates the power of thought leadership. Here are some of the most important findings:
55% of decision makers use thought leadership to evaluate potential vendors and partners.
58% said thought leadership directly led them to award business to an organization.
55% increased the amount of business with an existing vendor as a result of thought leadership content.
87% of decision makers said thought leadership increased trust in an organization.
SiriusDecisions Service Director, Brand and Communications Strategies, Julie Ogilvie, and Research Director, Portfolio Marketing, Barry Vasudevan, helped me answer my questions about thought leadership and how to become a thought leader in their recent Summit 2019 session, "Thought Leadership: The Critical Link Between Corporate and Product Messaging."
Here are some of the valuable insights they shared, along with my own take as a content strategist.
What Thought Leadership Is
Ogilvie and Vasudevan defined thought leadership this way:
It conveys the organization's vision.
It's something your audience cares about.
It addresses topics the market is talking about.
From the SiriusDecisions perspective, it also connects your corporate messaging to your product messaging. It does this by tying together your company's story and capabilities to your product messaging.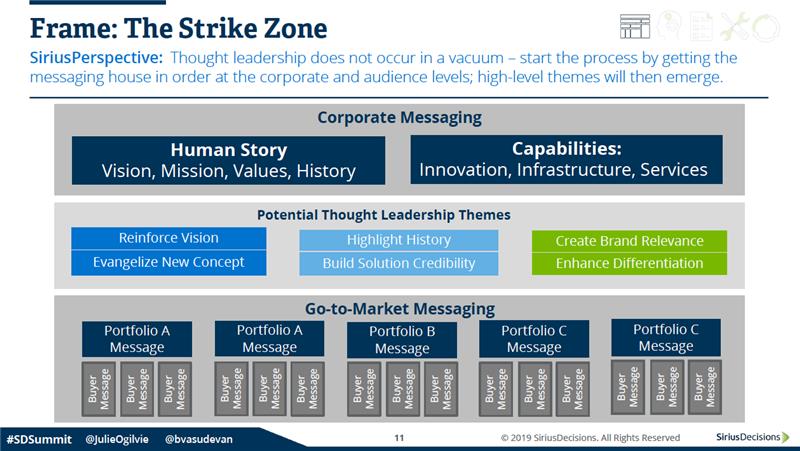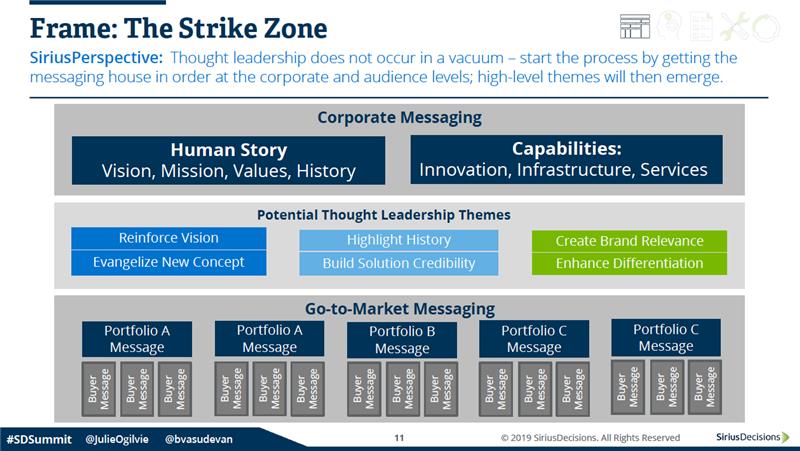 In the end, by positioning your company as a thought leader, you bring a unique point of view to a topic that ties to your corporate identity, establish credibility as an expert and highlight your competitive differentiation.
Ogilvie and Vasudevan emphasized that there is no defined path to becoming a thought leader and that it's difficult to find that "sweet spot" in a crowded market.
Now we have a good idea of what thought leadership is.
What Thought Leadership Isn't
Brand or expert aggrandizement. Thought leadership is not just about making you look smart. If you can't leverage it to communicate your brand leadership, or your audience simply doesn't care about the topic, it's not true thought leadership.
"Product selfies." Thought leadership can't be all about your brand and your products. I have waged many a battle trying to help clients understand that thought leadership content is not the same as product promotion. Too many companies fall into the trap of talking about how great their products are, even in the early stages of the buyer's journey.
A stale theme. I had to laugh (and blush) when Ogilvie and Vasudevan gave an example of a stale theme: journey to the cloud. So many times, I've been obliged to stick to this angle in thought leadership for my own clients. I solemnly vow to try to talk clients out of even considering "journey to the cloud" as a thought leadership topic from here on out.
How to Find Thought Leadership Topics
Now that we know what to avoid, how do we find the topics that meet our criteria? It comes down to understanding your brand and your audience. Finding those niches that you can leverage then becomes more of an art than a science. Ogilvie and Vasudevan recommend getting all the right people in the room to brainstorm: corporate communications staff, product managers, senior executives, sales engineers, content strategists, influencers and more. Here are the possibilities they presented.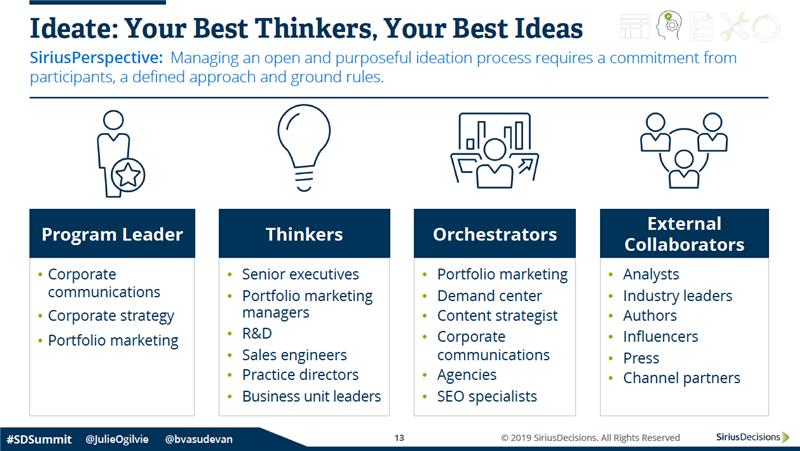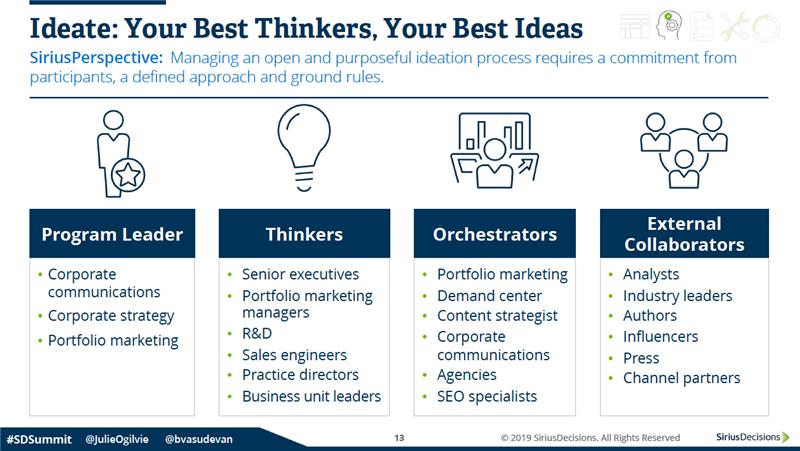 The ideas you come up with should have a purpose. They need to connect your high-level corporate value proposition to your audience-level value proposition. They need to be topics on which you have a unique point of view, and they need to be industry-trending topics, especially where those trends are growing. The assessment template that looks at the three dimensions is perhaps the most valuable piece of information from the entire presentation:
Organization
Buyers and customers
Market context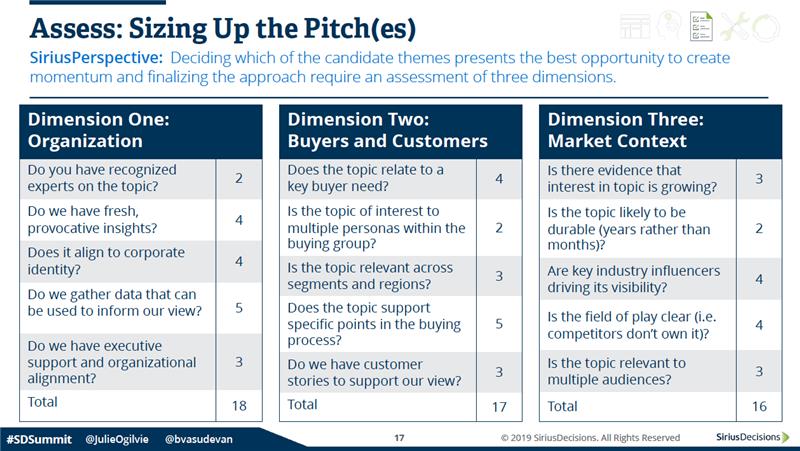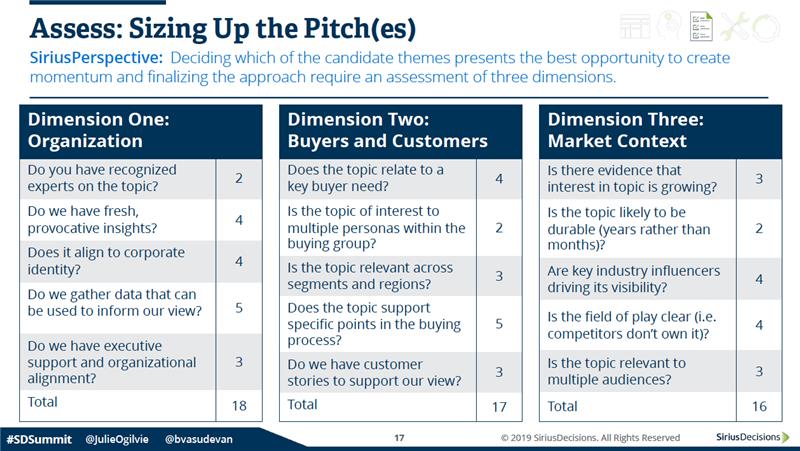 Add up your scores, and then use the SiriusDecisions scorecard:
Score 10-15: Not a good fit
Score 16-20: Adequate fit, but some capabilities lacking
Score 21-25: Full speed ahead
When you think you have some good themes that you can build on, develop about three of them further. As you do that, keep in mind the market context. Ogilvie and Vasudevan tied this to the SiriusDecisions demand type:
New product: Reinforce your vision, evangelize a new concept
Crowded market: Highlight your history, build solution credibility
Commodity: Create brand relevance, enhance your differentiation
Now You're Ready to Lead
You've got some great themes that actually position your brand as a leader with a unique point of view. It's time to start creating content. This is where your development team takes over. The team should include your product leaders, strategy and operations pros, and the delivery experts.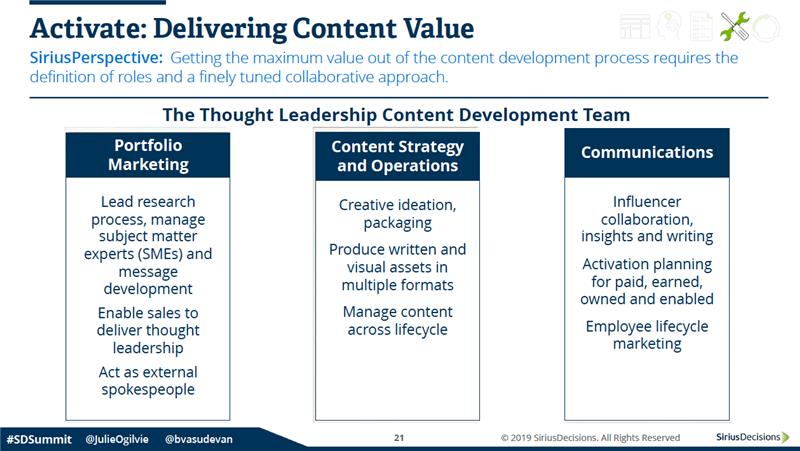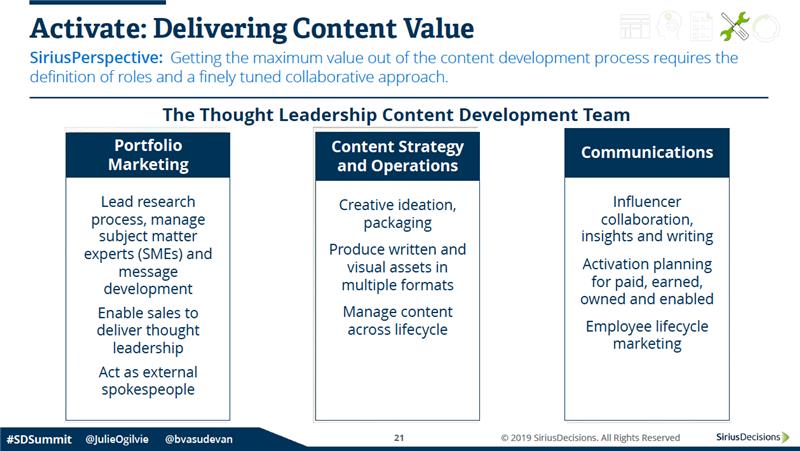 As you think about content development, lean on your content strategists to develop next-level ideation that fleshes out the ideas with formats and brief descriptions, derivative formats, channels and audiences. Start with foundational pieces like e-books, research reports and white papers. From there, you can create more short-form assets that that span the buyer's journey. Then determine how you'll deliver your content to your target audience.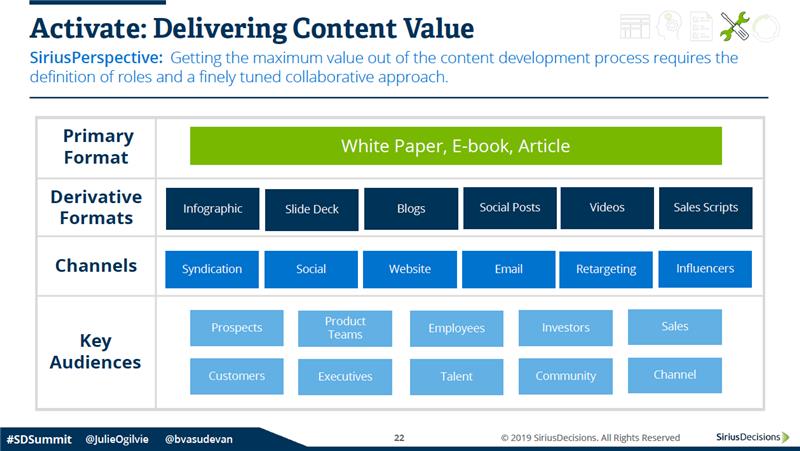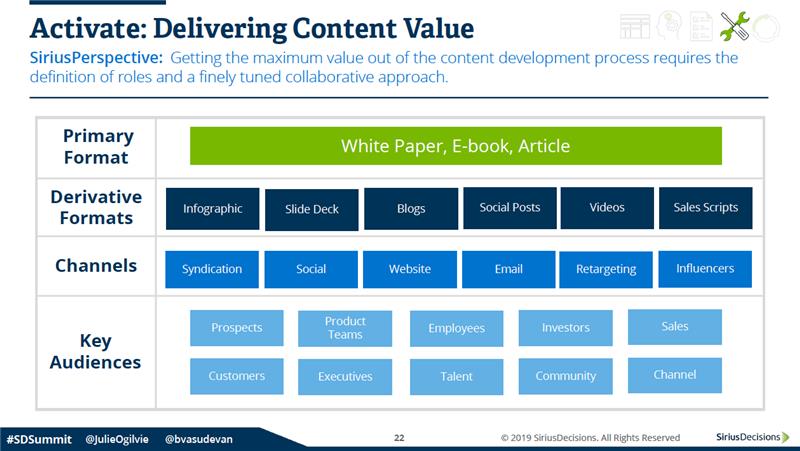 Once you've unleashed your content into the market, measure the activity, look at the results, make course corrections and, finally, determine how the thought leadership content has made an impact on your position in the market. Is it establishing credibility? Answering the questions buyers are likely to have at this stage of their journey?
In the end, good leaders attract loyal followers. Make your thought leadership content original and relevant, and you'll be a true leader in the market, not a follower.
Need help creating a thought leadership blog program? A thought leadership strategy? Developing a foundational research report on which to build a thought leadership content library? Content4Demand can help. Just contact our very own thought leader, Holly Celeste Fisk, at holly@content4demand.com for more information.