While the global disruption caused by the pandemic has significantly shifted the B2B buyer's journey, it turns out that B2B marketers have learned strategies to help make them more successful than ever.
Demand Gen Report confirmed some expectations and uncovered a few surprises in its 2020 B2B Buyer Behavior Study:
47% of buyers were forced to delay purchases due to budget freezes
30% of companies escalated some purchase plans due to changing needs
16% indicated they had no disruption
Overall, how has the buying process changed since the beginning of 2020? B2B buyers are being more cautious and strategic in their purchasing, focusing on changing priorities and return on investment, and doing their research. More than three-quarters (77%) said they spend more time researching, and more of that time is spent online.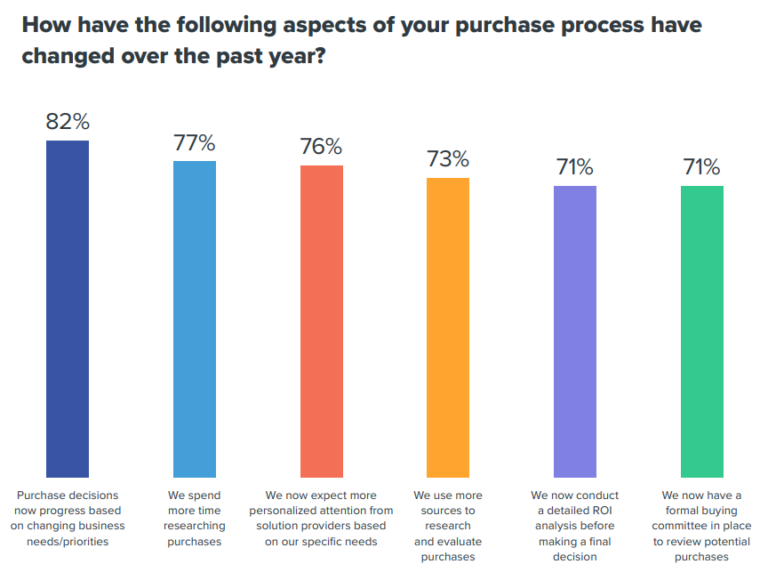 In B2B Decision Maker Pulse, McKinsey & Company surveyed 3,600 decision-makers globally and found that B2B buyers are spending, on average, twice as much time using digital channels versus traditional interactions with suppliers. Here are some more related findings from the report:
Live chat was rated as the top channel for researching suppliers
30% increase in preference for placing orders on mobile apps
250% increase in mobile ordering


Even though buyers are using mobile for research and purchasing, it doesn't mean the purchase decision has become less complex.
Seven out of 10 respondents to Demand Gen Report's Buyer Behavior Study that they now have a formal buying committee in place. This supports the trends already taking shape before the pandemic. SiriusDecisions noted an increase in consensus and committee buying scenarios in 2019, when two-thirds (66%) of buying was done by consensus or committee.
If tech spending is a good indicator of general B2B spending, it appears that the buying process has not changed significantly for nearly two-thirds of buyers, according to a TrustRadius report. However, of those businesses that have experienced a change, more than a quarter (28%) said the process has become more collaborative/inclusive.
With so many in-person interaction opportunities disappearing, or at least slowing, digital content has become increasingly important. It's not just individual assets; it's also your website experience.
In the Buyer Behavior Study, 70% of respondents said relevant website content that speaks directly to the business was important. Respondents also wanted website content that spoke to their industry needs, was easy to find, provided detailed vendor information and included thought leadership content.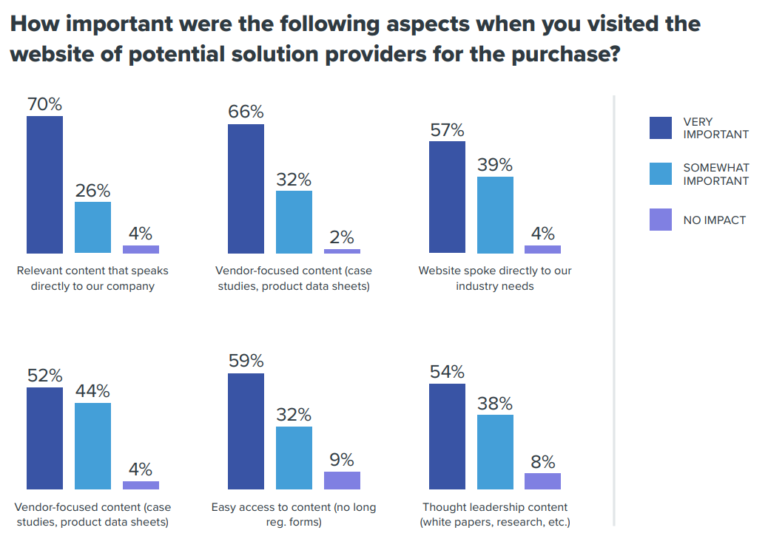 It looks like the online component of the buyer's journey will continue to play a large role in the purchasing process as B2B buyers find it convenient and efficient. Websites need to make it easy for buyers to find the information they need as they self-navigate through the buyer's journey.
Some of our clients are responding to this growing priority by taking a magnifying glass to their own websites. A website experience audit can help you examine how well you're executing on customer experience, providing logical pathways that help site visitors navigate to the information they're after. It assesses everything from your page organization and brand messaging to the buyer-centricity of your content.
B2B marketers are finding that digital content must take center stage and that a more digital buyer's journey can work to their advantage. Events are likely to go hybrid as solution providers discover they can increase their reach to new buyers online even while offering an in-person experience to others.
As the in-person interaction moves farther out in the buyer's journey, B2B marketers will need to make sure they develop high-quality content that addresses every stage of the journey.
The Buyer Behavior Study found that 55% of respondents said higher-quality content was one of the top five reasons for choosing a vendor, and 52% said the winning vendor provided a better mix of content to help buyers through each stage of the decision-making process.
If you haven't done so already, now's the time to take stock of your content marketing strategy and make sure it's adapted to the new buyer's journey. Here are some final tips:
Make sure you're targeting everyone on the buying committee.
Identify and fill the gaps in your content library.
Evaluate your website from your buyers' perspective.
Create content that provides the value buyers demand.
Use interactive content to raise the level of engagement with your buyers.
Personalize your content to provide that human interaction that can be missing from a digital experience.


To take a deeper dive into the new buyer's journey, check out Tonya Vinas' recent post, 4 Ways The Pandemic Changed B2B Marketing.

Brenda Caine is a senior content strategist at Content4Demand. She works with B2B clients on content marketing strategy, personas, messaging and ideation; content audits, gap analysis and content mapping; blogs; content development and more. Brenda has a black belt in karate, and when she's not immersed in technology, you can find her dancing in the ballet studio, lifting weights at the gym or strolling down the avenue in a 1930s dress with a smart hat to match.