No doubt, 2020 has been one of the most unpredictable, crazy, and anxious years most of us have experienced as B2B marketers. And the uncertainty will surely continue into 2021. With the pandemic disrupting business as usual, companies have had to take a step back, reassess priorities and make adjustments to survive in the short term and endure in the longer term.
You'll find some valuable insights into changing B2B buying behavior in the recent Demand Gen Report 2020 B2B Buyer Behavior Study. One interesting finding is that 30% of the B2B professionals surveyed have actually accelerated purchases to meet changing business needs.
As businesses shift priorities, marketers must also reassess their strategy and adjust to changing buyer challenges and goals. We simply cannot move ahead with the same assumptions we had when the year started. We have to make sure our new insights and assumptions align with what our buyers are doing. And we need to create lots of content fast!
How do we know where are buyers are headed? How can we adjust our messaging and our offerings to help them move in new directions? Ask them.
Marketing surveys offer a way for B2B content marketers to understand their buyers' changing priorities and their new pain points. You can launch a survey quickly if you meet with your SMEs and determine which questions you need answered. Here are some possible high-level questions that you can adjust for your specific industry and audience:
How have business priorities changed due to the COVID-19 crisis?
What are your top three pain points today?
What are your top three business goals today?
What tools would help you as you adjust your strategies and tactics?
How has spending changed?
Which sources do you go to for information you can trust?
You've gotten your survey into the field and have collected responses. Now, how can you make best use of these buyer insights? Following are some of the ways you can use this information in your content marketing:
Revise your target personas using the new insights.
Adjust your messaging to align with your personas' relevant concerns and demonstrate that you understand how priorities have changed and what they need to make purchase decisions today. Make sure your messaging also aligns with your brand's offerings.
Create a foundational asset that serves as a thought leadership piece on the state of the industry and how business priorities are changing. Choose a format like an E-book or white paper to present your findings.
Create derivative assets to flesh out your new content library. We'll look at this in more detail next.
Extend Your Content Library
Marketing surveys make terrific sources for a slew of additional assets that can be used anywhere along the buyer's journey. And once you have your research findings, you can create all this new content quickly. Use these examples to get your own creative juices flowing:
Use infographics to highlight your research statistics. For example, pull out key data such as "72% of respondents said data security has become a top priority with the increase in remote work."
Listicles are another great, interactive way to hit on buyers' top priorities and pain points.
Create g-books to spotlight trends or buyer concerns with engaging visuals. You might add more context around some of the findings highlighted in the infographic using quotations from industry experts, either internal or external; for example: "With so much uncertainty ahead, businesses are putting some projects on hold while moving ahead with those that will increase their adaptability to changing market conditions."
Blog posts can address individual components of your findings as a series.
Podcasts can be used in a way similar to blogs when you want to dive deeper into each topic.
Webinars make excellent platforms to present research findings in an interactive, conversational environment.
Try using animated videos during the late stage of the buying cycle to demonstrate how your solutions solve the problems your buyers now face and will face in the coming months.
Develop sales enablement tools like sales decks, battle cards, ROI calculators and solution one-pagers that help buyers move to that final decision-making stage. This is especially important for your account-based marketing (ABM) strategy.
Content Is More Important Than Ever
The B2B Buyer Behavior Study, published by Demand Gen Report and sponsored by Demandbase, demonstrated the essential role content plays in a complex B2B purchase decision.
Winning vendors provided content that made it easier to build a business case for the purchase (62%) and provided a better mix of content throughout the purchase decision-making process (52%). This becomes even more important in an unpredictable business environment; B2B buyers need to feel more confident than ever in their purchase decisions.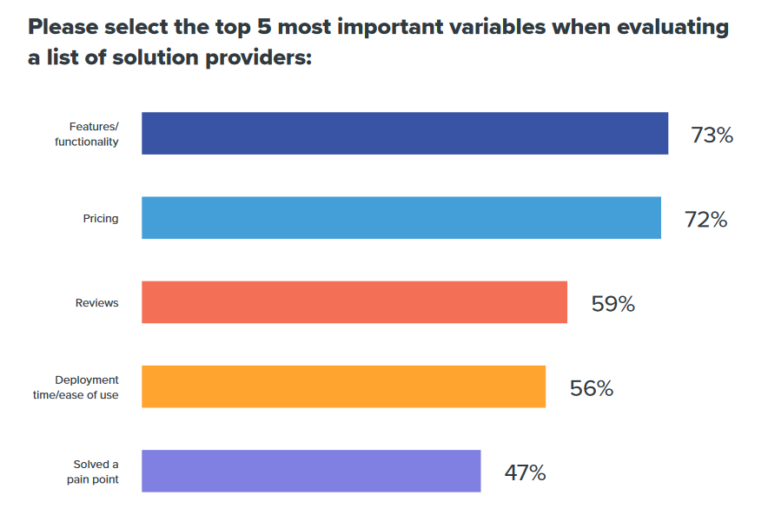 B2B buyer behavior has changed this year. As B2B marketers, you need to adjust your content marketing strategy to meet your buyers' new reality. There's no better way to do this than to talk to buyers and ask them how you can help them navigate through the uncertain environment with confidence.
Take a deeper dive into the topic of how to use surveys to strengthen your content marketing strategy. Join me and Tonya Vinas, VP of Content Strategy and Services, for our value-packed webinar, Data-Driven Content Strategy: How to Turn Survey Data Into a Treasure Trove of Insights on Friday, November 20, at 2 p.m. ET.

Brenda Caine is a senior content strategist at Content4Demand. She works with B2B clients on content marketing strategy, personas, messaging and ideation; content audits, gap analysis and content mapping; blogs; content development and more. Brenda has a black belt in karate, and when she's not immersed in technology, you can find her dancing in the ballet studio, lifting weights at the gym or strolling down the avenue in a 1930s dress with a smart hat to match.