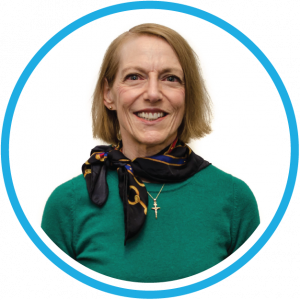 Brenda Caine, Sr. Content Strategist
 To build an airtight case, you have to collect compelling evidence. Ciox Health took a lesson from its legal audience to build an airtight case for knowing your buyer.
Ciox VP of Marketing Eileen Rivera, Ciox Market Segment Manager Cindy Bagley, and C4D VP of Strategy Dana Harder presented their case in the B2B Marketing Exchange 2018 opening day case study presentation, "Stop Playing 'Guess Who?' With Your Buyers: The Link Between Audience Analysis and Campaign Success."
Launching a new product to a tightly defined law firm audience of 1,884, Ciox was able to generate 43% awareness and 15% engagement and 178 marketing-sourced pipeline opportunities. But there's more evidence to present.
You be the jury and come to your own verdict.
Sizing Up the Motives
Serving two ends of the medical records business, Ciox facilitates the exchange of medical records: the release of records for healthcare providers and the retrieval of records for health plans, life insurance companies, law firms, and patients. Serving both ends of the process, Ciox is always working to facilitate and improve the management and exchange of this confidential information. As Eileen described the driving concept behind Ciox's mission, "Every medical record represents a real person."
Late in 2016, the company began to evaluate opportunities for business expansion by seeking out new markets. The company already handled medical record retrieval for the majority of health plans; there wasn't much opportunity to expand from there. These large health plans would request records in large batches.
The Ciox marketing team determined that there was a tremendous opportunity in targeting requestors who couldn't wait weeks for records and didn't request them in batches. The company developed an online, on-demand solution and decided to launch the new offering to mass tort and personal injury law firms  who need large numbers of medical records to prepare cases. Because this was a new audience, the Ciox team knew it had to understand the identified personas: attorneys and paralegals.
Creating the Target Profiles
Partnering with Content4Demand (C4D), Ciox developed a quantitative survey to develop personas that identified key characteristics including work processes, pain points, buying triggers, and product evaluation criteria around the medical records request process.
One of the biggest surprises from the research was the number one pain point. The marketing team thought it would be slow turnaround, which would hinder preparing cases. They had made the assumption that costs weren't going to be a major factor with these large firms. But, it turned out that costs came out as the number one pain point, slightly ahead of slow turnaround.
Once the personas were completed, Eileen explained that her team vetted the results with the business leaders and sales and marketing teams to make sure the pain points and triggers were on target.
Then it was time to create content that would position Ciox as a legitimate and reputable provider of medical records to the legal market.
Carrying Out the Plan
C4D recommended a six-part campaign to combine key messaging and unique content formats to follow the buyer's journey. The campaign included an infographic, interactive quiz, interactive listicle, checklist, Q&A, and a mixed-media motion graphics video.
The new on-demand medical records request service was officially launched in February of 2017 at the Trial Lawyers Summit in Miami. In June, Ciox launched the content marketing campaign delivering a new asset every two weeks.
Many of the firms contacted in the campaign were already Ciox customers; however, they were receiving their medical records through traditional print and mail processes or Ciox's eDelivery. With the new on-demand solution, Ciox was able to capture 100% of the firms' medical records request business, rather than a typical 25%.
The first email with the infographic had a 29.64% open rate and a click-through rate (CTR) of 6.85%. Compared to a previous infographic used for a different audience where persona and messaging work wasn't done, Ciox saw triple the performance with this targeted asset.
Momentum grew steadily throughout the campaign. By the end of the campaign, team Ciox was reporting 18 closed-won opportunities.
Overall, Eileen, Cindy and team reached 1,884 prospects. Of those, 807 (42.8%) opened an email and 273 (14.5%) clicked on at least one piece of content.
During the Q&A, when asked what they would do differently if they ran this campaign again, both Eileen and Cindy agreed that they would create more interactive content because it clearly got the best results, especially the quiz and the video.
The Overwhelming Evidence
What really made this an open-and-shut case was the increase in number of medical record requests each month. One month after the product launch, in March last year, Ciox had 500 chart requests through the new on-demand solution. By May, that number had grown to 1,300. But in June, when the content marketing campaign was launched, the number of requests skyrocketed to 5,000 requests—a 1,000% increase. Requests increased another 1,500% in July and 1,484% in August, to 11,130. In revenue terms, this campaign helped Ciox build a $5 million portfolio from zero.
"This was by far one of the most successful campaigns we ever implemented," said Cindy. And the reason? Because the they took the time to really understand the buyers and what they would be thinking going through each stage of the buyer's journey, and to create content that spoke their language.
Did Ciox's buyer-centric content marketing kill it? You bet. Case closed.
If you're looking for partners to help you master the secrets of buyer-centric content marketing, reach out to our very own C4D content marketing guru Steve Voith.