Here is our countdown of the top-trending pieces and posts generating buzz and airplay this month in content marketing. These intriguing conversations and case studies not only drove eyeballs and downloads but stirred some interesting comments and dialogue along the way.
1. Lose the Buzzwords,
Win Credibility
Survey: "Best in Class" Marketing Jargon "Disrupts" Real Message
In an era when we know buyers are looking for more credible content, it's important to understand how they gauge what to believe. In a recent survey of 1,000 B2B decision-makers, for example, a whopping 88 percent said that marketing clichés diminish a company's credibility. Terms like "disruptive," "best in class" and "cutting edge" all earned a high percentage of eye rolls from respondents.
Experts in this ClickZ post agree that clear, simple language is the way to go. The concept of "fake news" extends beyond journalism, making plenty of buyers wary of anything that public relations pros have to say—but they still believe it's an important tool in shaping people's opinions. Battling these negative perceptions takes work, and part of that work appears to involve avoiding fluffy words and saying what we mean.  Focus on addressing customer pain points without the hype, and pay attention to the words customers respond positively to so that you can double down on the content that resonates with buyers. You just might create more buzz without the buzzwords.
2. An AI Primer
for Content Marketers
How to Get Started with Artificial Intelligence in Content Marketing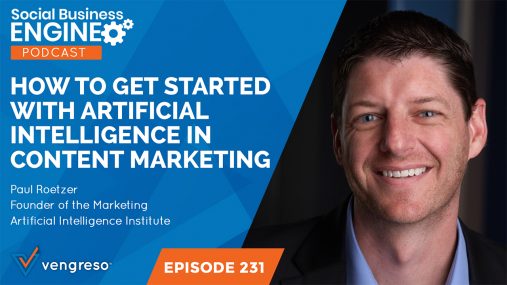 If you're behind the artificial intelligence (AI) eight ball, you're in good company. But those who embrace the coming technology will find themselves with a clear competitive advantage—and probably sooner than you think. According to Paul Roetzer, author of The Marketing Performance Blueprint and creator of the Marketing Artificial Intelligence Institute, there are  two models ready-made for marketers to consider adopting. The first is one that addresses time- or data-intensive problems, and the second is what he calls a "use case" model that allows you to examine daily activities such as editing and analytics to determine what benefit you would derive if you could automate them.
In either case, your goal should be to drive efficiency or increase revenue by doing things better. Start with those tasks you think could be intelligently automated, and find matching solutions. Next, ask how you could be getting more from the data you already have from sources such as CRMs, servers and Google Analytics. Identify the best solutions available to help you gain better insights, predict outcomes and improve your strategies. And last but not least, dissect the core technologies in your current marketing tech stack. How are they using AI? Do they have features that you're not taking full advantage of? Be sure to listen to the Social Business Engine podcast embedded in the article for even more guidance on getting started with AI.
3. It's Award Season for B2B
B2B's Choice Award: Cast Your Vote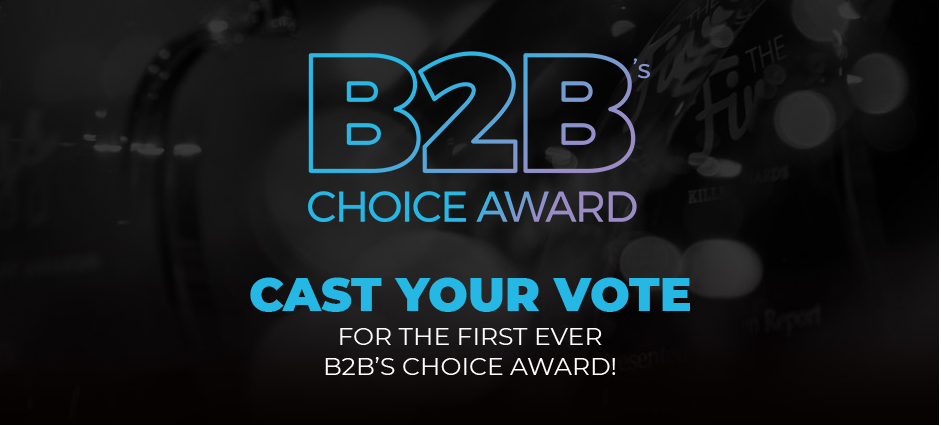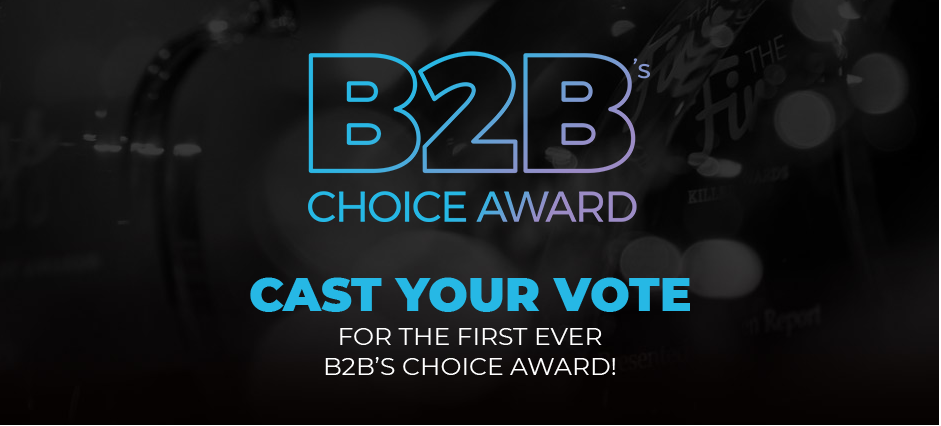 The Killer Content Awards has a new category, and they want your input to crown a winner in the B2B's Choice Awards. The experts narrowed more than 100 submissions down to six worthy finalists who represent the most innovative and cutting-edge in B2B in 2018. The candidates shot videos to tell you why they think they're worthy of the coveted award, which will be handed out at B2BMX in Scottsdale in February. Be sure to cast your vote before the January 21 deadline!
4. GDPR as a Contact Sport
GDPR Aftershocks Show Big Impact on Contact Databases, Leading Marketers to Focus on Content Syndication, Inbound Strategies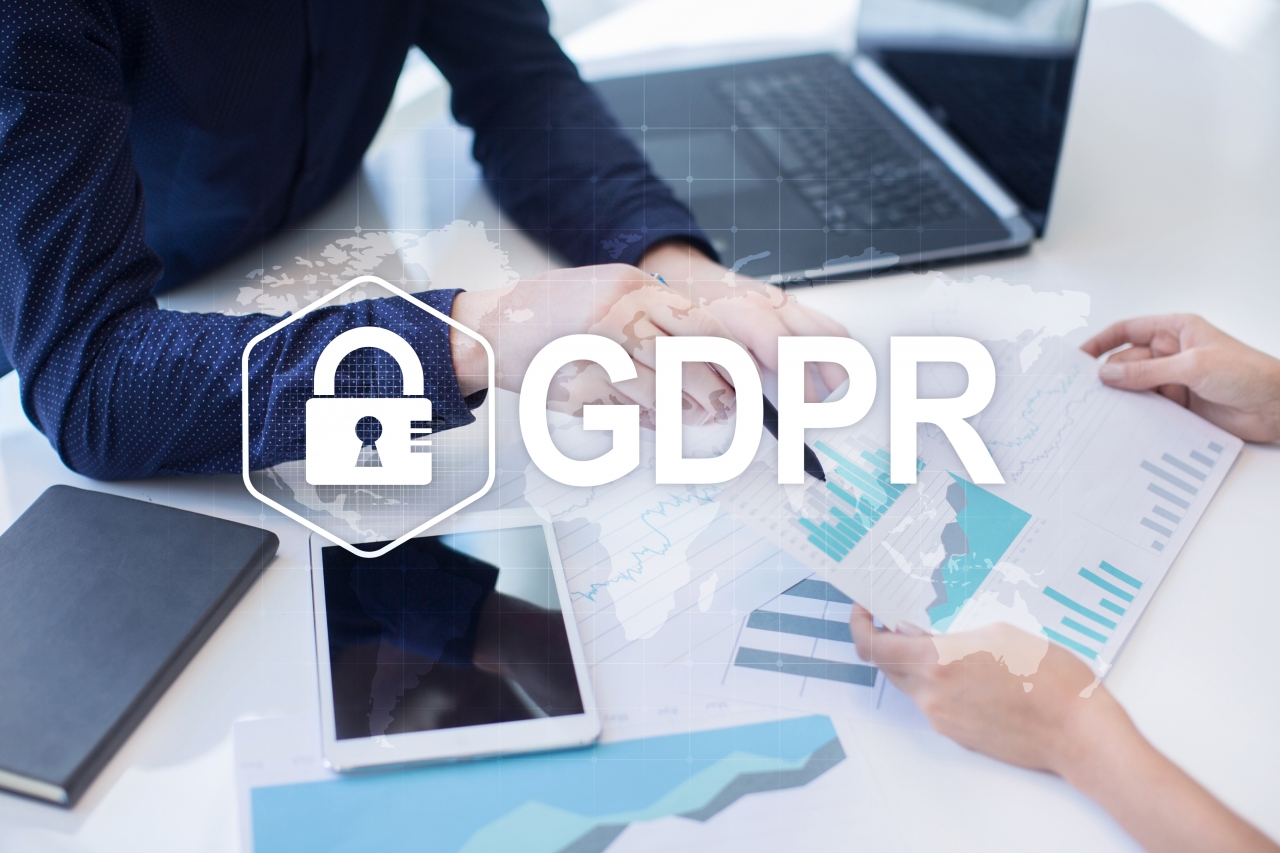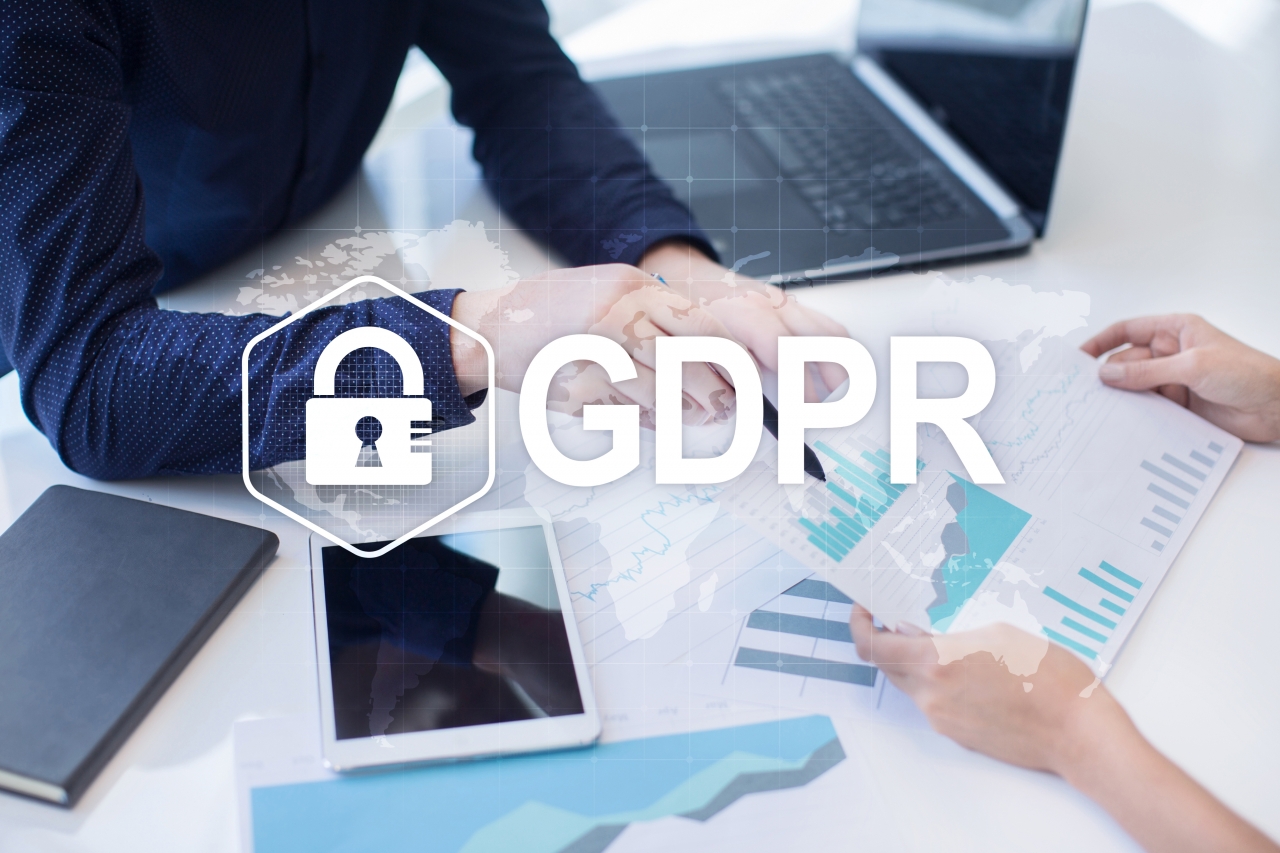 It's tough to believe that it's already been six months since the scramble to meet GDPR compliance guidelines. Since then, many brands have seen their usable contact lists cut in half with the advent of double opt-ins and other EU compliance steps. The shock to outbound lists has led many a marketer to ramp up their content syndication and other inbound efforts, Brian Anderson reports. He spoke with a number of industry pros who have refreshingly upbeat takes on how they're adjusting to the curveball.
"The loss of this 92% were contacts we didn't have an active engagement with anyway," says Leslie Alore, Director of Regional Marketing at Iron Mountain. The company adopted a new approach, focusing on reaching its target audience via their favorite "watering holes." Since that initial database reduction, Alore says the company has grown its database by 67 percent. And Julian Archer, Senior Research Director at SiriusDecisions, talked to Anderson about an enterprise-level manufacturing company that drove inbound traffic to its webinar landing page and achieved a 145-percent increase in compliant contact acquisition from the channels it already leveraged. The article is a testament to the power of taking change in stride and adapting with an always-changing marketing environment.
5. Fat-Finger Friendly Email
Make Sure Your Marketing Emails Are Mobile-Friendly, Experts Say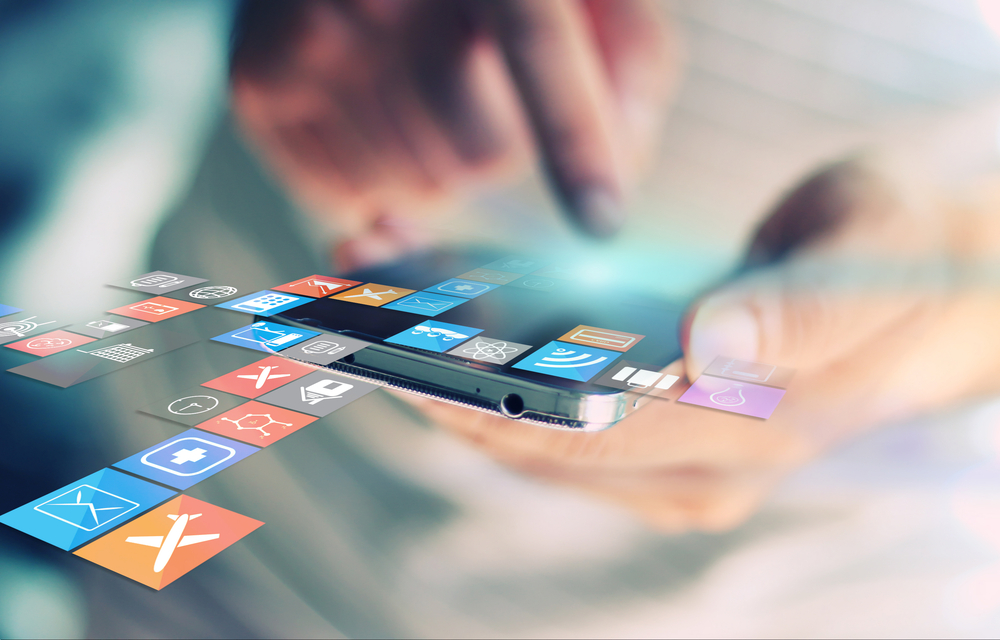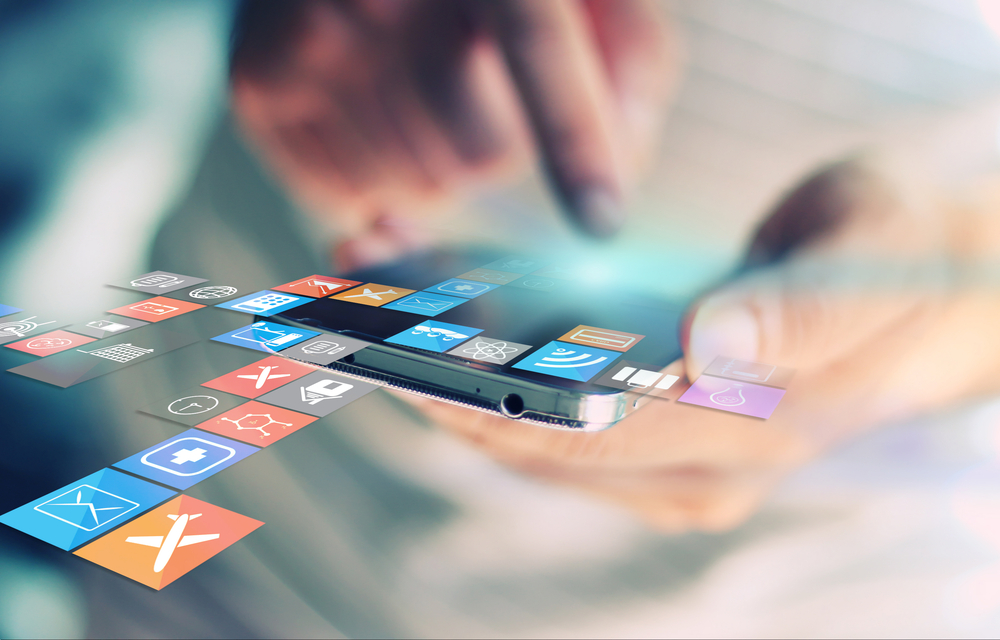 The headline may be kind of a "duh" to many of us in the trenches, but the specificity of the tips in this article make it worthy of attention—particularly given that half of emails are opened on mobile devices and a source's survey found that nearly 40 percent of consumers say promotional emails aren't up to the task of tablet or smartphone viewing. What are you doing really to make sure that yours don't disappoint?
For starters, are you using a web-safe sans serif font that's pre-installed on lots of devices? Loopy, swirly, creative fonts don't view well on most smartphones. Ditto, of course, for tiny fonts. The best practice: Use 22-point type for headlines and 14-point for body copy. Limit that body copy to 20 lines whenever possible. If not, include a few short lines of teaser text to entice them to read more. Don't go crazy with images; excessive numbers can trigger spam filters that get you blocked. And for goodness sake, remember your goal. If it's to get readers to call, make the phone number big and bold. And always use chunky call-to-action buttons that are fat-finger friendly.
Bonus Item: Happy Holidays!
Party Like a Marketing Rockstar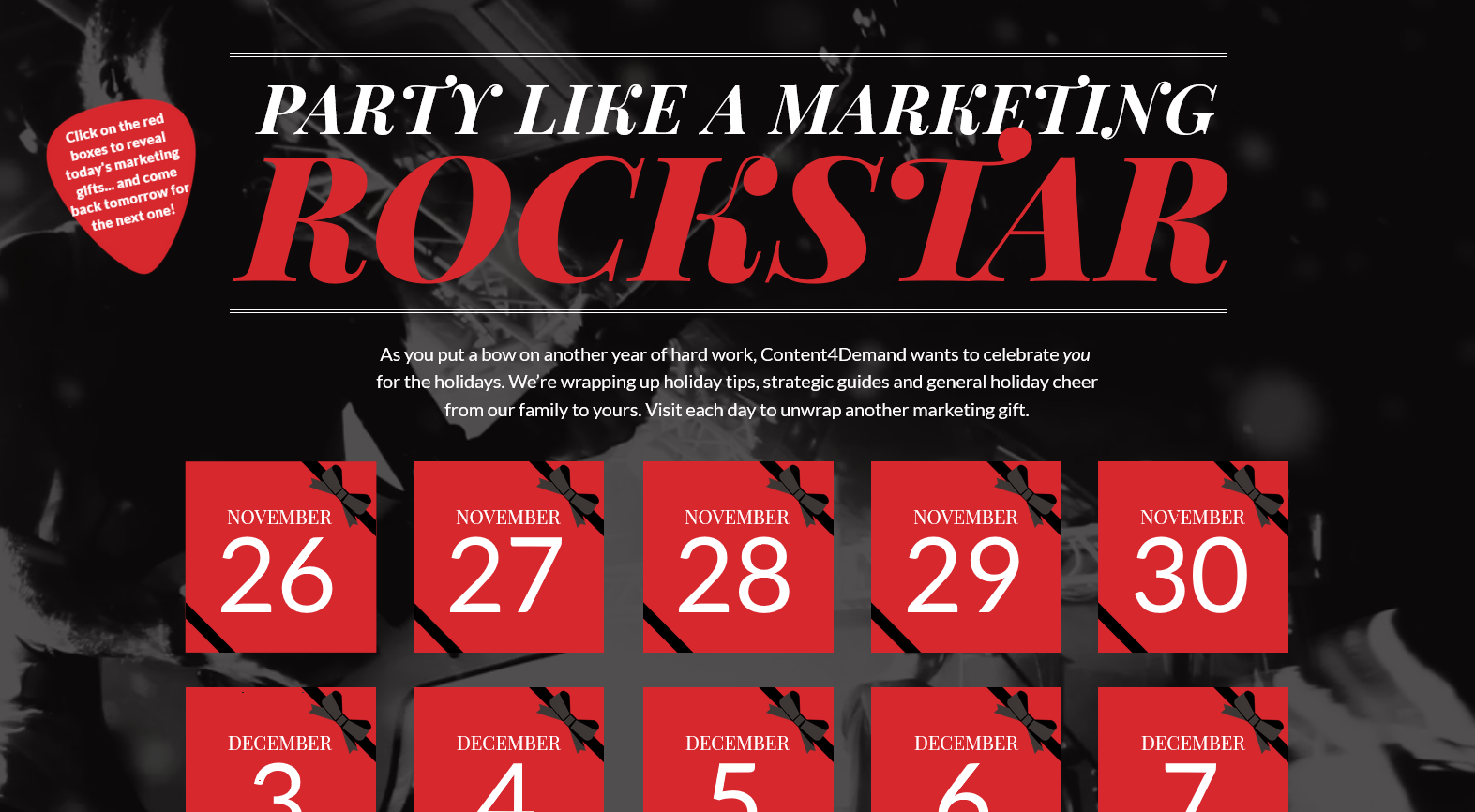 Content4Demand wants to celebrate marketers this holiday season, so we created a holiday calendar you can visit every day to click open another marketing gift. You'll find strategic guides, in-depth webinars, quick strategic video tips and holiday playlists to help you celebrate the season while you learn more about marketing best practices. The calendar runs through December 21st, so please be sure to visit each day to collect every last one of our marketing surprises before we turn in for a long winter's nap.
We hope we've helped inspire you on your path to improving B2B marketing content. If you're eager to read more, check out our Resources Page.