Some of the smartest marketers we know have put their energy into creating microsites or content hubs where prospects can find what they're looking for quickly. And those prospects often find a few additional assets they decide are also worth their time.
You work hard to get great content in the right buyers' hands at the right moment. But once you push out a nurture, how do key audiences find your content when they need it? Develop a content hub where users and search engines can access that content.
A content hub is a central location where you organize content the way your buyers search for it: by topic, theme, industry, challenge, job role or even date (although in most cases, your readers care less about chronology). When you categorize your content this way, your key audiences won't have to dig to find the best, most relevant content for them. Instead, they'll race to your self-serve hub the next time they have a question.
Content hubs can even serve as assets themselves, gathering carefully curated content around one topic or solution. They don't need to be comprehensive libraries.
Whatever your strategy, welcome them to your hub with an experience that's visually attractive, expertly organized and carefully executed with the content they most want to read or experience.
The best content hubs deliver content so effortlessly that many visitors will choose to consume multiple assets, Netflix-style, in a content binge that helps move them further along the buyer's journey.
Content Hubs Support SEO Strategies
In addition to winning audiences with a crowd-pleasing user experience, you can reap the benefits of a website that search engines will also love.
When you explore every aspect of a narrow content topic, your users will come away with fresh insights and a good perspective on the latest trends and research. The authority you command with prospects also translates to search engines. When you maintain consistent quality with your content, your pages will rank higher in organic search. Those higher rankings will boost your site traffic and enhance your cross-channel visibility.
Buyer Stage-Specific Content
Some content is aimed at new users, and others is focused on mid- and late-stage buyers who've made it deeper into the funnel. These are all important users, and they each have different goals when they click into your website.
A content hub helps these users filter the content to find what's relevant to them at their current buying stage. Prospects who've been successful at finding the content they need are naturally going to become the best sales leads, because you've answered their most pressing questions.
Before you get started, decide how to best structure your content hub. That decision should rely heavily on what you have and how your prospects search for content. Do they care about industry-specific content or specific topic areas? Do you have a good variety of content formats they can choose from?
Choose the structure of your hub based on your goals and the amount of content you intend to include, whether that's a select few assets or an entire library of content. These are the five most popular content hub structures.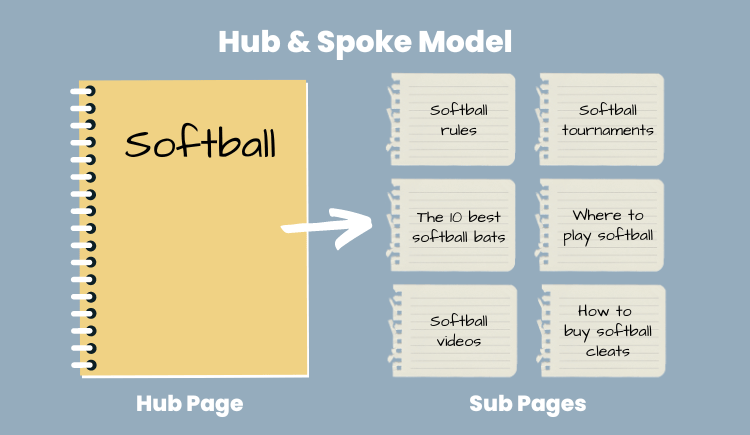 The first option is the basic hub model with spokes that lead outward from the hub to follow your topic areas. Each pillar topic serves up all the content in that area. Each time you add content, you'll decide which spoke (or spokes) it best relates to, and add it there. You may have enough content to support a dozen or more topic areas.
The hub and spoke model is ideal for evergreen content that you'll update only occasionally. Many of our clients use these types of content hubs to promote a specific product or service area with a small library of content that's hyper-focused on one topic area.
The Content Library Model
The content library microsite allows you to feature a much longer list of content, featuring both high-performing evergreen assets and fresher content. It's best sorted by category rather than chronological order, making it only slightly different from most company blog structures. Sorting by category lets your users choose a journey through the content that's relevant to them in the moment, and a good UX can encourage the to return for future needs.
Think of the topic gateway model as a robust Wikipedia page that focuses on a single topic. You'll start with a topic overview, point to your top evergreen resources and then include dynamic links to recent content that tells the full story. The goal is to guide users toward additional resources that take them from a high-level overview to a deeper understanding of the subject and what to do next, depending on which path sparks their interest.
The Content Database Model
If you have a large enough content library, you might take a different route with a content database. The complete published archive can be filtered by keyword, location, date or other terms. When you have an endless amount of content and you plan to add even more, this model puts users in the driver's seat to determine the very specific content topics they'd like to see, because you'll include a variety of filters and sorting terms.
Some organizations with expansive volumes of content and resources—such as real estate sites or channel marketers—choose to set up microsites with a topic matrix structure. The matrix divides the content into topics that are then broken down even further into subcategories.
This model is a go-to for organizations who use complex landing page systems or want to offer key conversion content, but it works just as well for informational content. You'll use a consistent set of subpages that may branch out from dozens or even thousands of parent pages.
Content Hubs Improve User Experience
However you choose to structure your hub or microsite, put your customer at the center by organizing the content in the ways your readers like to search and consume it.
Use their preferences to design the user experience they're most likely to respond to. Remember to offer options beyond what they came for. Think of Amazon's "you might also like" section and consider whether you can offer further recommendations beyond the content they've just consumed.
Also consider the fact that some buyers want to read while others want to watch or listen. Offer them a variety of content formats so they can find both E-books and videos, for example, to satisfy their personal preferences.
And remember to make it mobile-friendly. The Content Preferences Survey Report 2022, published by Demand Gen Report, found that 40% of buyers prefer content that can be easily accessed on a mobile or tablet device.
Hubs are great places to earn more airtime for high-performing evergreen pieces, gain traction with newer content and to make sure you provide value in every stage of the buyer's journey.
Choose your content carefully. If it's not immediately relevant to readers, it doesn't belong in the hub.
As a content marketing agency, Content4Demand has worked with our clients to develop content hubs to support a variety of strategies. Here are just a couple examples of hubs we've developed.
This Jobs-as-Code content hub we created for BMC is an example of a topic gateway hub. We gathered content hyper-focused on one topic area. As a whole, the story is fairly comprehensive. Users may choose to access every resource within the hub to master the entire topic, or they can jump to the pieces that answer their specific questions.
This hub-and-spoke style content hub we created for SAP Concur includes a form at the end, acting as an effective lead-gen piece.
Promoting Your Content Hub
Once you've launched your content hub, be sure to link to it from the main navigation of your website. Share it in email newsletters and in your audience's favorite social media channels to ensure that your followers know exactly where to go for what they need.
Just like a stand-alone content asset, your audience needs to know your hub exists before they can use it. Build it, and they will come—if you relentlessly promote it.
Holly Celeste Fisk is an accomplished marketing pro with 20+ years of experience in B2B and B2C. She's responsible for Content4Demand's internal marketing efforts, managing everything from content creation and email marketing to events and sponsorships, blog publishing, website management and social media presence. When she's not working, you'll find her sliding into third at softball, buried in a book or practicing her Italian.