Content Marketing World 2018 in Cleveland, home of the Rock & Roll Hall of Fame. We went to there for the first time, and it was everything we'd hoped for.
The theme this year – Game On! – set the stage for a fun time, and they brought it. There was karaoke, there was Rolling Stones pinball, and there were too many great sessions to even mention them all. We'll just highlight our gems:
Liz Lemon Rocked the House



We listened to Tina Fey talk about how the best part of writing is listening to the pages spit out of the printer, signaling that we're done writing. (You guys, she gets us!) Even better, she reassured our own toughest inner critics that perfection is a false ideal. (So how does she explain Beyoncé?)
The Hall of Fame Suits Her
We joined our colleagues in saluting author and content expert Ann Handley, winner of the inaugural CMI Hall of Fame Hero Award. Her keynote speech recounted a valuable lesson in meeting challenges and embracing the power of email – "the only place where people (not algorithms) are in control." Also, did you see her suit? That, my friends, is a content rockstar. Joseph Kalinowski's was also tremendous.
In Rockin' Content We Trust



Content Marketing Institute's own Robert Rose kicked things off with a talk about the power of content and how trust is what drives that power – a theme we heard repeated in other talks. He dropped such ponderable facts as "only 38% of companies have a documented content marketing strategy" and "Nickelback is the second most popular band of the 21st century." Ouch, Mr. Rose.
Mind the Curiosity Gap
Author and speaker Andrew Davis spelled out why you're probably making your content twice as long as it should be. "Curiosity gaps create tension," he said, "the emotional anxiety we feel when there is a gap between what we know and what we WANT to know." That curiosity gap inspires content consumers to develop a need for closure. It's more than okay to leave them wanting more – it's what you're after. Give them a reason to reach for more of your content, and room to reach out to you for answers.
He also refuted the wildly accepted but now debunked "fact" that our attention spans are less than those of goldfish. (It isn't true, guys. Check out this awesome piece from our friends at Ceros.) It's you, not them. Create content that's worthy of their attention. As Davis said, "We cannot buy attention. Attention is earned over time."

Keep on Rockin' in the Content World
The acknowledged "Godfather of Content Marketing" Joe Pulizzi closed with the inspiration to keep going when things are tough, focusing on building plans and setting goals. "It's a marathon, not a sprint," he urged. Too many companies drop out at the first water station, ignoring the fact that it takes an average of 18 months or longer to realize revenue success from your content marketing efforts. And by the way, don't think we won't give him equal time for this fab event-themed orange number.
Audition for the C4D Band
As you go through your notes and your follow-ups, be sure to pop on to Twitter for our Rock & Roll Hall of Fame-inspired #C4DMusicContest. Tweet your best content marketing band name or song name to @Content4Demand to win a Vivid Seats gift card.
Encore, Liz McBrayer!
And speaking of Vivid Seats gift cards, congratulations to Liz McBrayer at ClickDimensions, who won a $100 Vivid Seats gift card by scratching off a ticket at our booth.
Our Next Content Headliner Is Warming Up
Coming soon to the Content4Demand blog stage: A rockin' interactive content experience you won't want to miss. Content Marketing Hit-Makers: The Ultimate Guide to Creating Content That Rocks will feature an all-star lineup of Hall of Fame-worthy tips and techniques that address a full range of marketing's top challenges, as well as all-access passes to content samples that will inspire you to create your own content hits. Drop me a line at holly@content4demand.com if you'd like me to send it to you directly.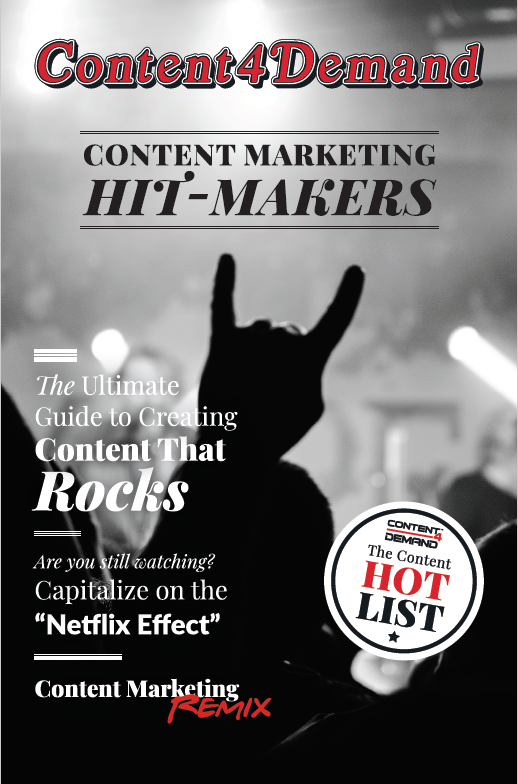 In the meantime, we're here to help. Visit our Resource Center to find information on everything from repurposing your greatest content marketing hits to making the right choices with interactive content.
Holly Celeste Fisk is an accomplished marketing pro with 20+ years of experience in B2B and B2C. She's responsible for Content4Demand's internal marketing efforts, managing everything from content creation and email marketing to events and sponsorships, blog publishing, website management and social media presence. When she's not working, you'll find her sliding into third at softball, buried in a book or practicing her Italian.