Nearly half (47%) of the 200 senior-level B2B marketing professionals surveyed in the 2019 Content Preferences Survey Report cited case studies as the most valuable influencer content format—the top choice. With the increasing role of influencers/third-party sources as the most trusted sources of information about a product or service, the power of case studies should continue to rise.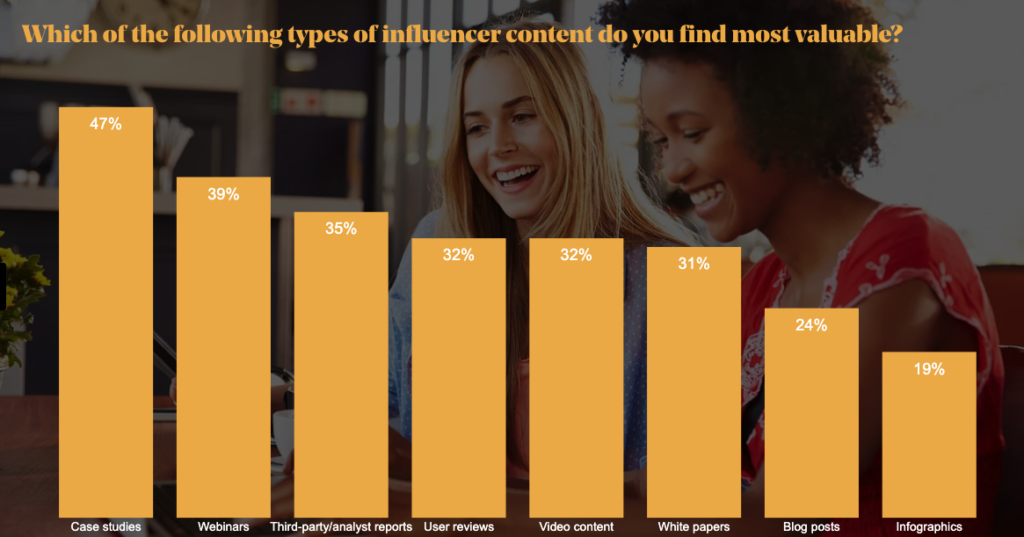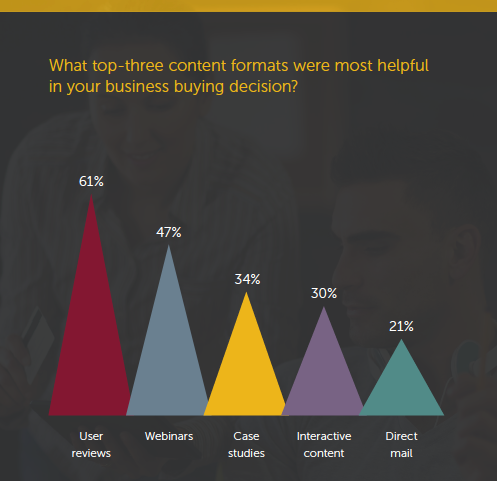 Why Case Studies?
According to the Content Preferences Report, buyers want to read about companies whose pain points they share. Millennial buyers express a similar sentiment, sharing in the Millennial buyers' report that they placed a high value on learning from "people like them." And, of course, case studies also present quantifiable facts about the results your customers have achieved implementing your solutions.
Whether you're already leveraging them in your content or plan to in the new year, here are 10 tips to help you make the most of case studies.
1. Use Case Studies to Seal the Deal.
When buyers are ready to make a purchase, they need hard data to support their reasoning and make the case to those with approval power. For this reason, case studies work especially well in the late stages of the buyer's journey. At this stage, your solutions are already in the running; it's just a matter of closing the deal. A strong case study can be the tipping point.
2. Let the Results Speak for Themselves.
Research shows that B2B buyers don't appreciate a hard sell. The Content Preferences Report found that 96% of B2B buyers said vendors need to "curb the sales speak" in their content. With a case study, your customer and the results speak for themselves.
3. Create Case Study Portfolios.
Develop case study portfolios around shared characteristics, whether it's pain points, industries, geographic regions or solutions. For example, you might highlight three different industries with similar pain points to stretch your campaign across your target markets. Or you can highlight companies located in North America, EMEA and APAC to demonstrate your global reach.
A portfolio highlights three to five case studies. Include only the basic facts: problem, solution, results and a quotation if you can get one. The story should be told with minimal text and an emphasis on graphics. Then you can point buyers to the full case studies for more detailed information. See how BluJay Solutions built a successful case study portfolio.
4. Feature Customer Testimonials.
Make sure you include customer testimonials/quotations in case studies. Happy customers talking about the results they achieved in their own words makes them strong champions for your solutions. And the voice of the customer is much more credible than your own. Even though your buyers know you created the content and will show your solutions in the best possible light, when the words come from a customer, it's like a personal reference.
5. Make Them Interactive.
Whenever possible, make your case studies interactive. Adding embedded video or audio, polls, animated charts, hovers and other interactive elements will help engage your buyers. Nearly nine out of 10 (86%) respondents to the Content Preferences Report said they prefer more interactive content that they can access on demand. Even more impressive, 97% said they place a higher emphasis on the trustworthiness of the source; e.g., your customers.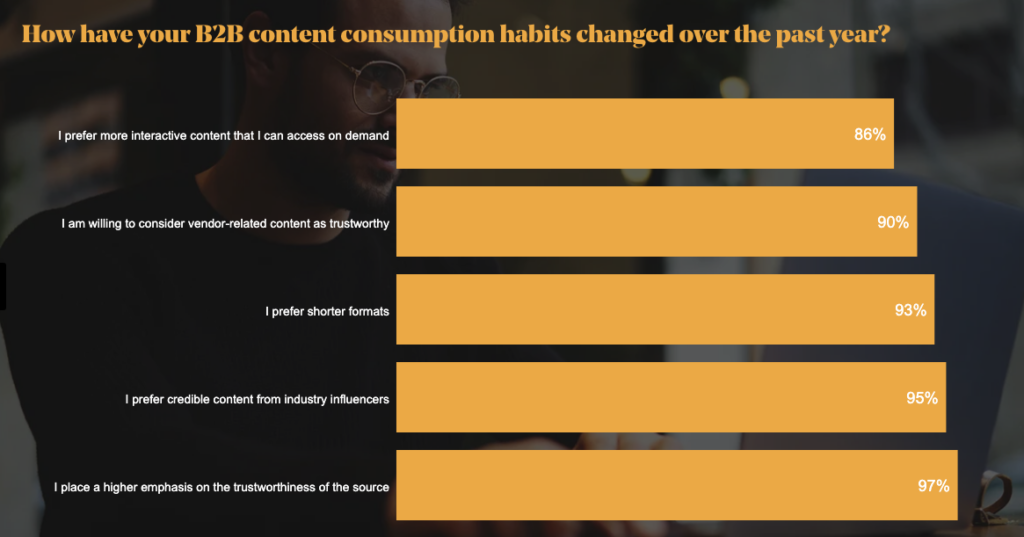 6. Refer to Case Studies in Your Blog.
Blogs continue to perform well for content marketers. They can be produced, distributed and amplified via social channels quickly, so you can get a timely case study in front of buyers fast by referencing it in your blog post. And because case studies have such a high favorability rating among B2B buyers, they can make your blog posts even more effective. Highlight key takeaways from a good case study, and add a link to the complete case study to help pique the reader's interest to dive deeper and learn more.
7. Use Video and Podcasts.
A video or podcast case study adds another dimension to the story. Listening to and watching customers share their experience turns even quantifiable results into a human story. We know from the research that B2B buyers trust peers, credible third-party sources, influencers and other "people like them."
Keep your videos short, two minutes or less, and then provide a link to the full story. With a podcast, you can do an in-depth discussion that lasts as long as 20 minutes. Use an experienced interviewer to make the podcast an engaging conversation that your buyers can listen to during a commute, at the gym or anywhere they choose.
8. Partner with Customers for Webinars.
Use your webinars to showcase your customer successes. As with videos and podcasts, having a real customer talk about how your solution has solved a major problem and helped the business become more successful turns inanimate facts into a relatable story. On the live webcast, it also gives attendees an opportunity to ask your customer questions. It's like giving your attendees a personal reference, on the spot.
9. Support Your Sales Team with Success Stories.
Content marketers work hard to develop sales enablement tools that streamline sales' ability to take the prospect to the final decision point. Design printable versions of case studies that your sales team can leave behind on sales calls or hand out at trade shows.
10. Get Creative.
There's no hard and fast rule that says you can't use case studies anywhere along the buyer's journey. How about a 30-second video testimonial from one of your customers that introduces buyers to your solution? A thought leadership blog post with a case study can serve the middle of the funnel.
Check out some of Content4Demand's most successful client stories to jumpstart your own process. Let us know if you'd like to chat with a seasoned content strategist to help build your plan of attack with killer case studies.