Digital interactions are now 2X to 3X more important to buyers than traditional sales interactions, according to McKinsey's recent research report Global Decision Maker Response to Covid-19. This is valuable insight for marketing and sales teams who are looking for creative ways to replace in-person meetings and events.
Because of this need to pivot, interactive content platforms such as Ceros are becoming more popular. They help sellers create memorable digital experiences and digital events, and they're a practical investment during times of realignment.
Flexential was already reaping many of the rewards of this kind of interactive content in 2019. So when the pandemic threw a monkey wrench into their plans for live events in 2020, we collaborated on some quick pivots to repurpose some cool interactive content—spinning it into a series of live digital events in several regions and sales enablement content with a longer shelf life.
This story shows you how easily you can repurpose these interactive infographics, E-books or other cool pieces into full-fledged digital experiences to capitalize on new opportunities in a changing environment. Let's back up to 2019 to explain how it all unfolded.
Interactivity Resonates with Tech Roles
Flexential is an IT infrastructure provider with solutions for data center services, colocation, cloud and data protection. Its buying personas are technically minded and quite familiar with digital content. Flexential's marketing team knew they needed something creative and different to attract attention, so they started working with Content4Demand on some Ceros assets for demand generation campaigns about hybrid IT models and data protection in 2019. The campaigns included static content as well as four interactive assets.
Courtney Gaudet, Senior Director of Content Strategy at Flexential, says the Ceros platform enabled her team to be creative with the highly technical content they were discussing, making the content easy to digest with a tinge of fun.
At the end of those demand generation campaigns, Gaudet and her team discovered that the Ceros assets had 4X more engagement than the static assets, and the Ceros asset visitors also spent more time on the Flexential website overall.
This experience prompted Flexential to expand its use of Ceros into other types of content, such as corporate thought leadership, social posts and public relations in 2020. In a brainstorming session, Gaudet and an internal colocation expert began riffing on a telecommunications industry adage that cities with dense telecom infrastructure also tend to be "NFL cities," and decided a theme that tied American football with the importance of location in choosing a data center location could be their next winning campaign.
Gaudet reached out to Content4Demand to help develop the content ideas and create the content.
Introducing Legends in Football Cities
Content4Demand proposed a mix of static and interactive content assets to cover all levels of the sales funnel and speak to all personas: an interactive infographic, an interactive E-book and a static E-book, which was more technical and didn't include the football theme.
As work began on these assets in the spring of 2020, the Covid-19 health crisis ramped up quickly, and—along with everyone else—Flexential had to start canceling in-person events and meetings.
Early internal reviews of the American football cities campaign were positive, and Gaudet and her team realized they had an opportunity to extend the campaign into a new type of digital event that would be fun and different. They developed regionally themed webinars, carrying over the football theme by involving legendary former pro football players with ties to Atlanta, Nashville and Denver. For each event, they could reuse content originally designed for the interactive infographic and E-book.
The format would be 30 minutes, with a Flexential expert talking about colocation and location followed by a moderated "ask me anything" exchange with the football legend in that city—Tiki Barber, Marshall Faulk or DeMarcus Ware.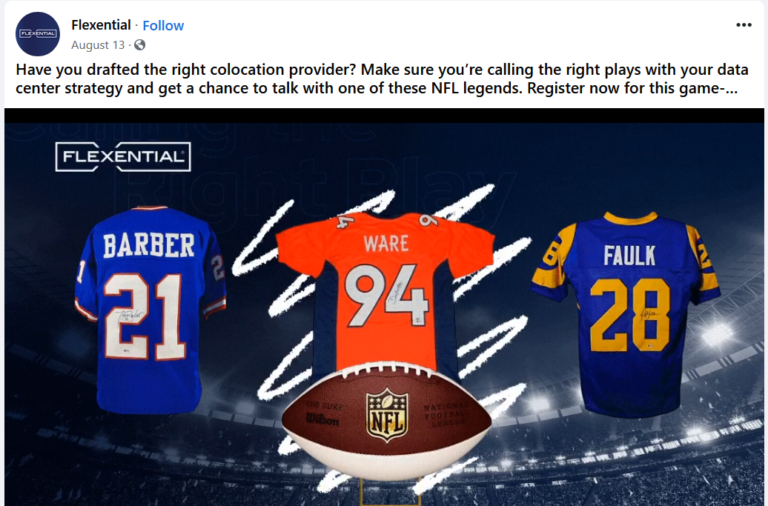 The events were a smash, and the ability to quickly extend the Ceros content into digital presentations was key. The timing was ideal, coinciding with the impending kickoff of the rescheduled NFL season, and event attendance was high.
Flexential drew inquiries from several key accounts it had been targeting and was able to substantially grow its demand generation list.
To keep building on the success, the marketing team followed up be recording the expert again without the football stars so they could share the presentations in a follow-up email to people who had registered but didn't attend and on an internal site for sales-enablement training on how to talk about colocation.
In a year that upended in-person marketing plans before they could even get started, Flexential found a creative and fast solution to stay in front of its audience and keep their attention.
"The investments were definitely worthwhile because of revenue generation," Gaudet says, "but also from differentiation perspective. Right now, it's hard to stand out in an inbox full of digital event invitations."
Watch the full case study here to learn more about Flexential's big win. If you'd like help creating your own playbook for success with interactive assets and digital events, just ask one of our experts for a complimentary brainstorming session.

As Vice President of Content Strategy & Services for Content4Demand, Tonya Vinas oversees the agency's team of content strategists and works across content-creation and delivery functions to ensure on-point, quality content services. She has more than 20 years of experience in B2B content development and formerly worked as a business and news journalist. When she's not driving marketers to push the content limits, she's cooking, reading about global trends and the economy or taking a leisurely walk in the valley parks along Lake Erie.