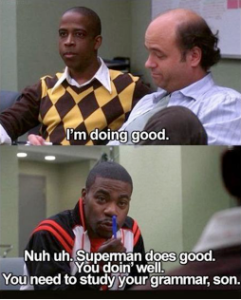 I'm never the most popular girl at the party when I admit that I'm a spelling and grammar nerd. You might want to toss a drink at me yourself, but believe me when I tell you that spelling and grammar still matter. If they haven't taken priority in your content marketing efforts, I urge you to add this to the list of New Year's Resolutions that you actually accomplish:
Take spelling and grammar seriously.
First and foremost, not doing so makes you look bad. Readers have a difficult time trusting that you know what you're talking about when you're sloppy. Sure, some of them will let it slide. But don't you work too hard on your content to write off potential customers because you're not dotting all your i's and crossing all your t's? Of course you do.
Remember, it's not just the "grammar snobs" you're scaring away. Poor grammar and spelling means poor communication. A well-crafted sentence inspires confidence and invites the reader to learn more. A poorly written sentence may simply confuse people, encouraging them only to give up and move on.
And what if I told you that you're negatively impacting customers' ability to find your content to begin with? Grammar factors into Bing's content-quality assessment, and it's probably embedded in the more than 200 ranking factors baked into Google's algorithms as well.

Take the extra 10 minutes, pay a little more attention to detail and really nail it.
Spelling and grammar aren't your strong suit? You're just one member of a very large club, but that doesn't give you an out — particularly in an age where so many resources can have your back at a moment's notice. For free. Ask a colleague to proof your work, make liberal use of the free Grammarly Chrome extension and check out Hemingway Editor — a nifty tool that scans your content for readability and highlights the tough-to-read sections you'll want to remove or revisit.
The good news is that a mistake here and there isn't the end of the world; we all make them.
In fact, I worked at a national magazine after college where a team of editors didn't realize that someone had misspelled the name of the magazine in a cover line until after it printed. Everybody lived.
But you want better for your content. Make that resolution, and I'll see you at the party.
---
Holly Celeste Fisk is a Client Services Manager at Content4Demand. Known as our clients' "best friend," Fisk facilitates meetings and research, and contributes to content and strategy recommendations. She also leads content-creation teams from concept to final design, and helps clients plan and implement content assets. During her day-to-day at C4D, Fisk loves diving into consulting projects, such as personas, content audits and gap analyses, and sharing deep, actionable data with clients. In her spare time, she enjoys softball, contemporary literary fiction, comedy, "Top Chef" and of course, her adorable niece and nephew. Follow her on Twitter at @HollyCFisk.
Holly Celeste Fisk is an accomplished marketing pro with 20+ years of experience in B2B and B2C. She's responsible for Content4Demand's internal marketing efforts, managing everything from content creation and email marketing to events and sponsorships, blog publishing, website management and social media presence. When she's not working, you'll find her sliding into third at softball, buried in a book or practicing her Italian.