Whenever I'm asked to create content and campaign recommendations for a client, the SiriusDecisions Audience Requirements Framework tends to be my go-to for inspiration. In the Education Stage of the decision journey, the messaging objective sets a powerful foundation for the "conversation" we have with our buyers: Loosen the status quo.
At this stage, we must spotlight a known or unknown business issue and explain to our audience why it's so important. We must explain why it's time for them to stray from the status quo and embrace a new trend, tactic or strategy. It's an exciting concept that always helps get my creative wheels spinning.
But what if you are the status quo?
It's a simple, yet powerful question Tim Riesterer of Corporate Visions posed to a room full of marketers at the B2B Sales & Marketing Exchange last week in Boston. During his keynote presentation, Riesterer shared extremely valuable insights on why B2B marketers must shift their messaging approach based on whether they want to acquire customers or retain them. After all, you don't want to encourage your current clients to look for other options, do you? Instead, marketers must create messaging and content that reinforces the status quo.
To illustrate the importance of customer context, Riesterer walked through two frameworks, one that guides acquisition messaging and one that guides retention messaging. With each model, he showcased the different psychologies and how they impact the stories we tell in our content and campaigns. Although this adds to the complexity of speaking to different executives within a buying committee, it allows us as marketers to get even more granular in our approach.
"

Why Change?

"

For acquisition purposes, marketers should use the "Why Change" model. This is when you want to defeat status-quo bias, so you need to understand and respond to the innate reasons why buyers ultimately won't change their minds. Some of these reasons include:
Preference stability

, which means people would rather avoid the uncertainty of change.




Cost of change

, which includes hard costs (money) and soft costs (time and effort).




Selection difficulty

, which m

eans it's difficult for them to navigate the number of options on the market.




Anticipated regret and blame

, which is the predicted aftermath if they make a poor decision.



To combat these forces, your content must:
Highlight the cost of staying with the same vendor.




Showcase a clear contrast between yourself and the competition.
However, Riesterer noted that marketers shouldn't overwhelm buyers with mentions of too many value-added services and capabilities, as it can translate to cost and complexity in buyers' minds.
"

Why Stay?

"

Marketers who want to boost customer retention must take a completely different approach to their messaging. You must reinforce status-quo bias by spotlighting the value customers will see if they maintain or accelerate their partnership with you. This is when you should use "cost of change" as a primary messaging point, focusing specifically on the established relationship and support you've provided.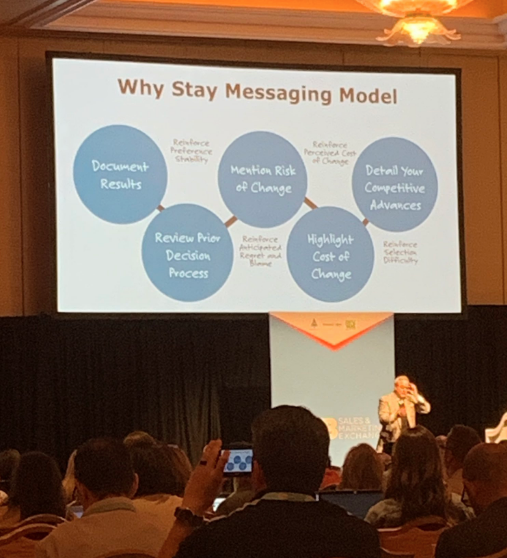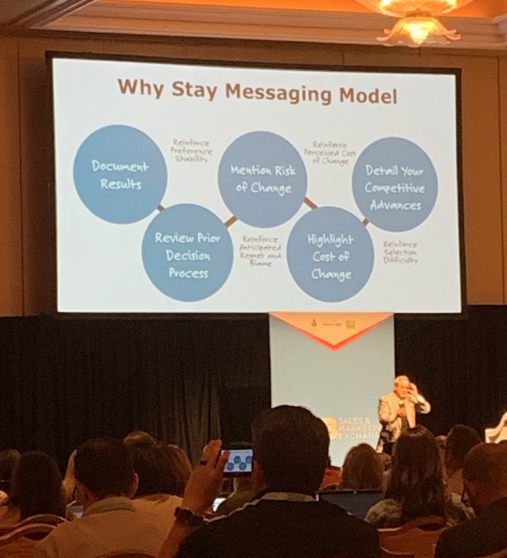 Finally, Riesterer spotlighted the "Why Evolve" model, which marketers should use when they want to win cross-sells and upsells. This model is essentially a hybrid of the "Why Change" and "Why Stay" models. It allows you to leverage your existing relationship with a customer, as well as past successes, to enrich your story and better make the case for a new product or service you're trying to sell them.
This model is valuable for other scenarios, according to Riesterer, like when you need to alert customers about a price increase or when you want to apologize for some form of wrongdoing, like a service outage or support issue.
As content marketers, it's easy for us to use the same models and frameworks that have worked well for us. However, Riesterer opened my eyes to the nuances we must consider when speaking to different audiences. He inspired me to look closer at the context of the buyer relationship to add more depth and meaning to the content I create.
Do you have different messaging frameworks to address customer acquisition and retention? If you don't, did Riesterer's insight encourage you to rethink your approach? Share your thoughts in the comments section below!