by Klaudia Tirico
Features Editor, G3 Communications
Republished with permission from Demand Gen Report
Every year, the marketing technology landscape continues to grow and expand with new solutions and technologies designed to help B2B marketers do their jobs better. In 2018, Scott Brinker's Martech Landscape "Supergraphic" showed 6,829 marketing technologies on the market — 27% growth compared to 2017.
While having these options may seem like a good thing, navigating all these solutions can be quite daunting for marketers and can lead to tech stacks that are:
Bloated (excess technology that is more than you know what to do with);
Incomplete (missing technology that is key to reaching objectives);
Siloed (disconnected data that leads to clouded views of customer experiences); and
Possibly outdated (tech can be obsolete by the time they are incorporated into a tech stack).
All of these challenges are symptoms of "categoritis" — a term Gil Canare and Jonathan Tam of SiriusDecisions presented during their opening keynote at the company's 2018 Technology Exchange, which took place in New Orleans, La., Nov. 7-9.
Canare, who is SiriusDecisions' Senior Research Director, Marketing Executive Services, and Tam, Senior Research Director, Account-Based Marketing Strategies, define "categoritis" as when a tech stack is put together by assembling various technology across different categories, which marketers have often been coerced into buying by colleagues and peers. According to Tam, side effects can include lack of innovation, wasted budget and resources, lengthy and unwieldy processes and more.
Besides the explosive growth of companies and categories in technology, there are other challenges leading to categoritis.
"The second cause is the changing of buyer preferences … and we are part of that change," said Canare. "A lot of studies show that Millennials are 50% of the marketplace or workforce now. There are different ways you have to reach them and cater to how they want to talk to you, on their time and on their cadence. The other problem is that, for the rest of us non-Millennials, we're also starting to behave this way. Our buying behavior needs to be approached similarly."
So, what's the cure for categoritis? The key is to forget about all the shiny new toys and think about your business challenges first and foremost.
"If you're dealing with tech challenges and need to make decisions, step away from the technology and focus on the business challenges," said Canare. "If you look at the problems you're trying to solve and the goals you want to achieve, and you view technology from that point of view you will be much more successful than doing a categoritis fix and going down the list of stuff."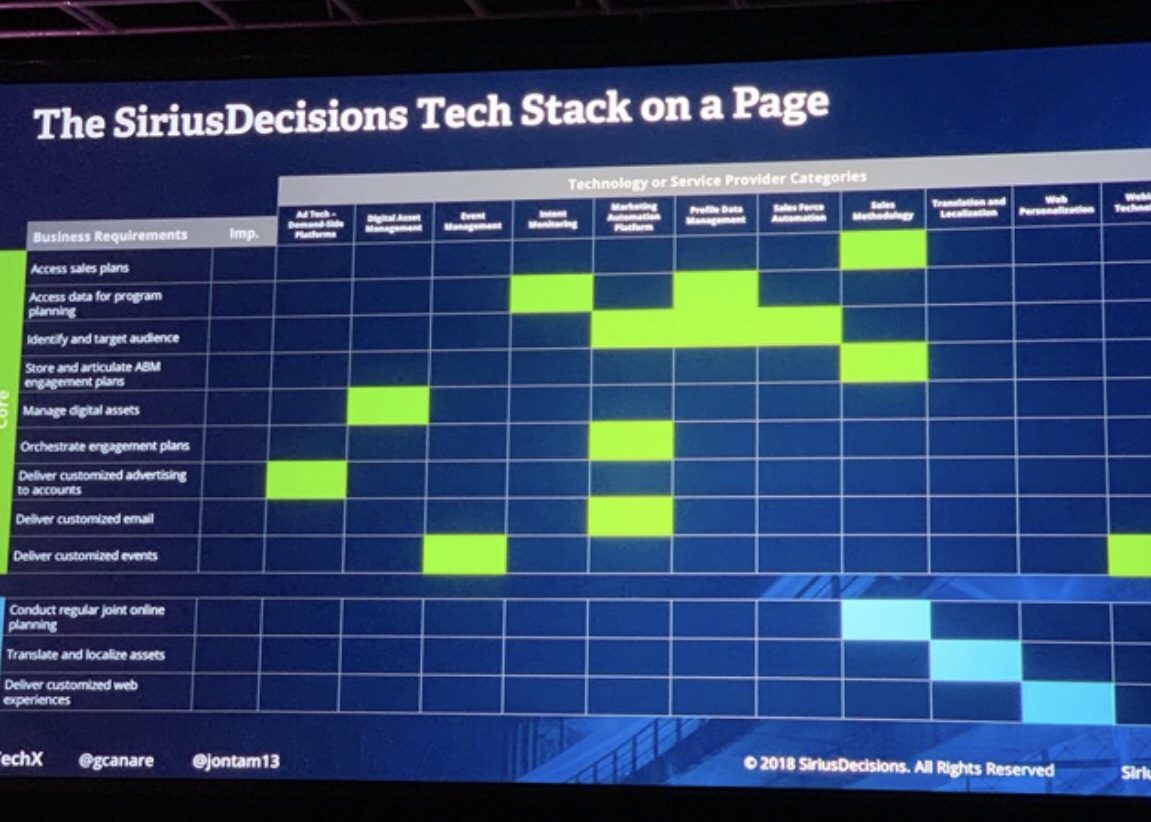 At the conference, Canare and Tam introduced the audience to the SiriusDecisions "Tech Stack On A Page," which is designed to help marketers match business requirements to the potential technology or service provider categories. This positions marketers to narrow down the solutions within the category where they will best fit their needs.
Leveraging The Tech Stack To Deliver Seamless Customer Experiences
According to Tam, SiriusDecisions data shows that 80% of customers make their buying decision based on the customer experience — whether it's their own direct experience or an indirect experience from other customers or even former customers. He said this is something marketers must get right; and to do this, they need to look at their tech stacks.
"You can't just look at the tech stack to make sure you're driving demand and nurturing [leads] that you can throw over the wall to your sales technology, where they manage the opportunity funnel, and ultimately into another customer experience tech stack," said Tam. "You need to make sure all of these things come together now."
In another session, SiriusDecisions' Amy Bills, Research Director, Customer Engagement, and Steve Silver, Senior Research Director, Sales Operations Strategies, discussed the importance of applying the same rigor to creating a customer-centric post-sale experience as you do for the pre-sale phase.
According to Bills and Silver, identifying technology begins with clarifying the business requirements for the transition from the buyer's journey to the customer lifecycle.
"Focus on taking insight that you captured for the buyer's journey and transfer it to the people responsible for the customer lifecycle," said Bills.
Calero Rebuilds Tech Stack From Ground Up With Four-Phase Approach
In a presentation from Scott Davis, Head of Marketing at the enterprise communication lifecycle management solutions company Calero Software, he shared how he revamped the company's tech stack from scratch after joining the team from a nine-year tenure at SAP.
Davis' situation was unique in which he joined a small business (Calero) following his work at an enterprise company (SAP). "The challenge of going up against big companies is that they have armies of people and big budgets," he said. "But at the end of the day, we can beat them. I came across this challenge when I first started at Calero."
He said being a smaller company has its advantages:
Quick development cycle times;
You can pivot quickly at a small company because there is less leadership consensus; and
It's easier to adopt and test new technology.
"Being small means you're more open to take advantage of innovation to help you compete," said Davis.
When Davis started at Calero, he said he had a "nice piece of land" but with a not-so-nice house on it. So, he "bulldozed" the house down and rebuilt it by:
Rebranding;
Creating a "great" demand gen engine;
Doubling down on content as a strategy; and
Creating alignment across the organization.
Davis then strategized what he needed: an inbound strategy, an account-based strategy, intent targeting and tight alignment to the buyer's journey. He then leveraged the SiriusDecisions Demand Unit Waterfall model to match the technology to the strategies in a four-phased approach:
Phase One: Foundation/Infrastructure — "The foundation tech started with Salesforce (which the company already had). I knew, for me, foundational meant I needed a marketing automation solution (HubSpot) and I needed analytics (Insight Squared). This is our source system."
Phase Two: Basic Account/Contact Targeting And On-Site Engagement — "I was rebranding a company, building new website, changing how we do everything. So, I needed to make the site engaging." He then added RainKing (now DiscoverOrg), LinkedIn, Wistia, SnapEngage and Chili Piper.
Phase Three: Account-Based Marketing & Account-Based Advertising, Pull Marketing Strategies — This included Terminus, ON24, Demandbase and Cision. He said they leveraged two competing ABM solutions (Terminus and Demandbase) because "since we were global, one was better in the U.S. and the other was better overseas."
Phase Four: Intent-Based Targeting, Sophisticated Contracting And Sales Execution Tools — This consisted of Bombora, Upland, Altify and Loopio.
The key with all of these solutions was that everything has a direct API to the others, according to Davis. But he emphasized that while these solutions worked for him and Calero's business needs, they may not be suitable for other companies and their needs, tying it all back to avoiding "categoritis."
"You can't start with technology — it's people and process and then technology on top," he said. "Creative and content is the third most important piece — none of these tools work without content."
Davis concluded his presentation by sharing the questions marketers should ask themselves before building a tech stack:
What are you trying to achieve or improve? Can it be done without automation? "If you can, and it's good, do it. There is no reason to buy something."
Does automation fit within and support your existing infrastructure? "It all has to talk together. You can't buy something your sales team already has and they overlap. It will just create work for you and your team."
How does the automation support or conflict with other organizational goals and processes? "If you're doing something your sales and support teams are doing manually or with technology, you better get on the same page. It can't overlap because it will cause friction and conflict."
What's the ROI for each solution and how is it going to impact your group or others? "Sometimes you just can't justify marketing spend."
Whose buy-in is needed to ensure upfront alignment (sales, service, IT, finance)? "You have to go across the entire business."