Here's our countdown of the top-trending pieces and posts generating buzz and airplay in content marketing. These intriguing conversations and case studies not only drove eyeballs and downloads but stirred some interesting comments and dialogue along the way.
Succeed with B2B Influencer Content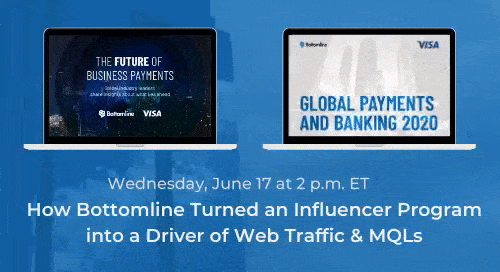 When they set out to create the most authoritative piece on the future of business payments by tapping into industry influencers in 2019, the campaign they developed in partnership with C4D drove highly visible successes and attracted top players in the fintech market. It quickly became the company's largest driver of website traffic and top source of MQLs.
Its resounding success helped draw additional influencers from the Fintech 50 to participate in 2020. Andrea Eaton, VP Solutions Marketing & Channel Enablement at Bottomline, will walk you through how the firm is leveraging the results to expand its influencer program this year. Join us today at 11 a.m. PT/2 p.m. ET to learn how it worked.
Inspire Your B2B Marketing Team
We've developed a brand-new series of workshops to help B2B marketers adapt to new circumstances and align with new goals. Every workshop delivers best practices, real-world examples and recommendations based on our leaders' deep understanding of the marketing challenges you face every day, and each is customizable to meet your organization's unique needs and challenges.
Choose from our Content Formats Refresher, New Formulas for Field Marketing or Buyer Enablement Best Practices—or request a custom workshop on influencer marketing or another top B2B marketing challenge your team is facing right now.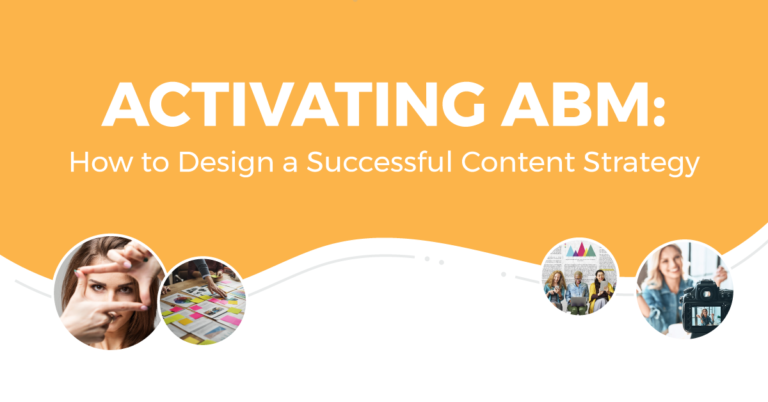 You may already have perused our recently published e-book, Maximizing ABM Success, packed with quick tips and useful videos from influencers. Sangram Vajre (Terminus), Mark Bornstein (ON24), Andrew Mahr (Triblio), Brandon Redlinger (Engagio), Tyler Lessard (Vidyard), Peter Isaacson (Demandbase) and our own Alicia Esposito (Senior Content Strategist, Content4Demand) shared valuable ABM tips from their specialized perspectives.
Now we've added a handy checklist: Activating ABM: How to Design a Successful Content Strategy puts our 5 best practices for ABM at your fingertips.
Reimagine Field Marketing
Event cancellations have left many sales and field marketing teams working without a net. Build them a net! This on-demand workshop spotlights creative examples of B2B brands that have pivoted in light of in-person event cancellations. We include ways to dial up new approaches to webinars; ways to digitize face-to-face events, happy hours, and lunch and learns; and best practices for repurposing digital event and webinar content to create derivative content for email, social and targeted ads.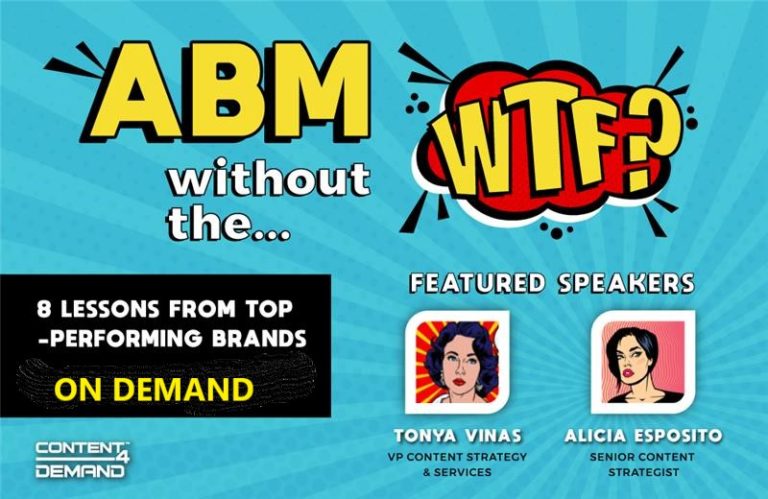 Hungry for more help with ABM? It doesn't have to be so complicated. Our recent Demand Gen Report #COSeries webinar session is now available on demand. Watch ABM Without the WTF for tips on where to start and to nail the execution with stellar content that anchors every engagement touch point and tactic.
Tonya Vinas, our VP of Content Strategy and Services, talks with Alicia Esposito, a Senior Content Strategist here at C4D, to dig into the most common challenges with ABM stand-ups and share tactical tips and best practices from top-performing brands.
We hope we've helped inspire you on your path to improving B2B marketing content. If you're interested in learning more about how Content4Demand can help you reach your 2020 marketing goals, please drop us a note.