By Tonya Vinas
More than 70% of B2B marketers who use lead nurturing said a better response rate is the biggest benefit, but two-thirds are challenged by developing content for buyer stage/interest—another contributing factor to response rate.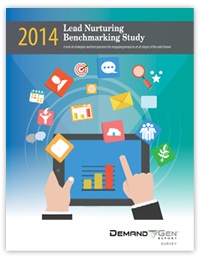 These findings come from a survey of 239 marketers across multiple industries that probed for benchmark data on program type, favored formats, benefits, challenges, metrics and other attributes of lead-gen campaigns.
The full report, 2014 Lead Nurturing Benchmarking Study, is available here from Demand Gen Report (DGR). About a third of the participants have used lead nurture campaigns for more than two years, and about the same amount started a year or less ago. Most (76%) describe their programs as different series of emails based on the actions/interests of the respondent. The least-popular type of program is a drip campaign, i.e., sending pre-set messages to an entire database over pre-determined periods of time. The findings clearly define the benefits of lead nurture campaigns:
73% Better response to campaigns/offers due to targeting/relevancy
61% Ability to segment prospects based on interests/behaviors
61% Generating more warm, sales-ready leads
46% Higher acceptance of leads from sales
31% Lower-cost for qualified leads
These gains don't come without specific knowledge and capabilities, though. Developing targeted content is the No. 1 challenge (66%), followed by building the right timings/workflows for campaigns (45%); lack of insight into best practices on lean nurture frameworks (39%); a shortage of data on which leads to nurture (37%); and lack of support from sales teams in following up on nurtured leads (32%).
The top three tactics used are thought leadership (61%), webinars (54%) and research-based content. Whitepapers came in fourth at 50%. Interestingly, thought leadership, webinars and whitepapers are made more relevant with research, which buyers perceive as high-value when it provides new insight or answers questions they have. The survey didn't include videos as a tactic, but other DGR research documents this as popular with buyers. The 2014 B2B Content Preferences Survey reports that 58% of marketers viewed videos during the past 12 months to research B2B purchasing decisions.
When it comes to channels used, marketers are sticking to traditional outreach for lead nurture campaigns, with 96% using email, and 49% using telemarketing. Retargeting (42%) and Web optimization/personalization (40%) are slightly less popular but still common. Only 20% use chat.
Most send out five or more touches using an every-other-week cadence, while 38% send three our four pieces, and 18% send two to three. Given this volume of touches, its clear a diverse library of content is needed to effectively engage busy buyers. A third of respondents use a weekly cadence to send touches.
These findings point back to a need to develop targeted content because format types vary by effectiveness at each buyer stage. Some are best used as early touches, while others are more effective in later stages.
To review the full DGR report, download now.
Tonya Vinas is Senior Editor at Content4Demand. @TonyaVinas, www.linkedin.com/in/tvinas, tonya@content4demand.com