For real success with content marketing, it's not enough to have a library of content. Strategic marketers develop content that addresses their buyers' needs as they evolve from initial awareness to a final purchasing decision.
This three-part series will discuss the content that serves you and your customers from top to bottom of the funnel. Today, we'll talk about awareness content.
Content for the awareness phase of the buyer's journey is your prospects' introduction to you and your solution. It's educational and light on product info. This is the time to introduce potential customers, create awareness of the problem you'll solve for them and loosen the status quo.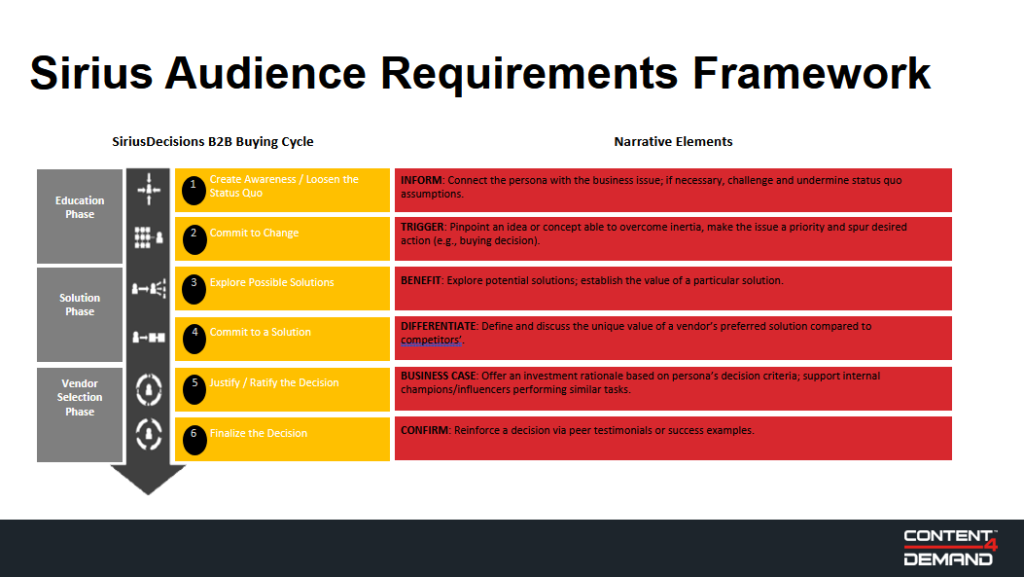 To attract buyers, they first need to know that you exist. Your awareness content is designed to do just that—make them aware of who you are and what you provide, at a very high level.
Awareness content introduces the business issue and challenges their assumptions. You want to loosen the status quo so that they recognize that they have a problem and then open their minds to the prospect of solving it with the right solution. Persuade them that the pain they're experiencing is important enough to prioritize finding that solution.
There are many ways to capture B2B buyers' attention in the awareness stage. Here are a few popular formats.
Your blog is an ideal place to start. Google is always on the lookout for fresh content that answers key search terms, and your blog is where you can feed their algorithms a steady stream of relevant content. Write blog posts that answer their most likely questions and searches, which you can stay on top of with SEO tools like BuzzSumo and Moz. AgilQuest uses its branding effectively to reach early-stage prospects for its workplace hoteling solution.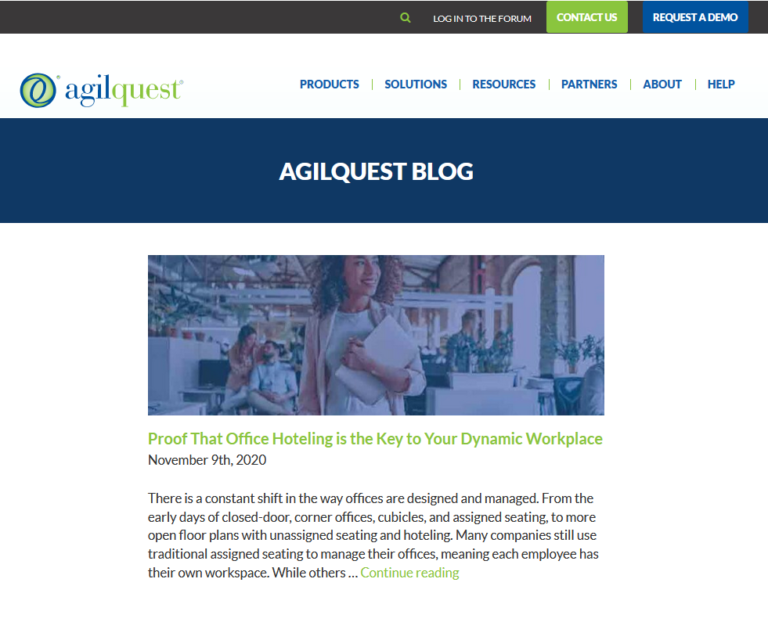 If you have data to share or step-by-step instructions to illustrate, an infographic can bring it to life. The best ones do more than just aggregate facts and figures. They tell a story about industry trends or demonstrate the size and scope of a business problem with a beginning, middle and end. Put your data points into a relevant context that tells readers not just the facts, ma'am, but what those facts mean to them.
Pull the story together with compelling visuals that correspond with your brand. Infographics are versatile. You can post them in your blog or your home page, share them in an email nurture or edit them into mini-infographic teasers to share on social media .
Interactive infographics go a big step forward to turn data visualization into immersive, multi-dimensional experiences they can interact with to manipulate research and make it relevant for them. Here are two examples, an interactive infographic we created with BMC Software and a static infographic for Nasdaq.
Twitter, LinkedIn, Facebook, Instagram, TikTok and the rest are all designed for users to attract each other's attention. These platforms offer some options for longer, in-depth content. But more than anything, they're places for quick-hitting, eye-catching content that says "we're here!" Animated GIFs are simple teasers to build brand awareness and drive viewers to additional content. I pulled this GIF and LinkedIn post from our own library.
These short-form digital assets are typically numbers-based and clock in at fewer than 500 words. A listicle is a quick, interactive way to tell a high-level story. They pack an engagement punch and serve as a driver to engage with a larger story and follow-up content that's more in-depth. Use these Buzzfeed-style assets to drive social engagement and shares while prospects are getting to know your brand. In this example, SOC Telemed makes a quick impact by detailing five pitfalls prospects need to be aware of.
Videos allow you to simplify a story and make it easy to consume, while podcasts give you a forum to explore a topic in detail in an engaging way. Both formats can transcend the individual buyer stages, depending on the content itself. Just match the story to the goal: building awareness and introducing the need for solutions. Approach your podcasts for the awareness stage as if you're doing an audio version of a blog post. Both videos and podcasts make valuable components for your website and can make an impact shared on social media. Bing used this short video to engage social media followers.
There are no hard-and-fast rules that say you have to use a listicle in the awareness stages or that videos are only appropriate as late-stage content. I'm including these asset types in the stages where they typically make the most sense, but as long as you align your assets with the goals of the appropriate step of the journey, you can always find your own new ways to engage.
Come back Friday for part two of this series: Marketing for Every Stage of the Buyer's Journey: Consideration.
Holly Celeste Fisk is an accomplished marketing pro with 20+ years of experience in B2B and B2C. She's responsible for Content4Demand's internal marketing efforts, managing everything from content creation and email marketing to events and sponsorships, blog publishing, website management and social media presence. When she's not working, you'll find her sliding into third at softball, buried in a book or practicing her Italian.